Time is Ticking for Biden on This Urgent Environmental Work
The midpoint of Biden's presidential term reminds us that time is of the essence for meeting environmental commitments.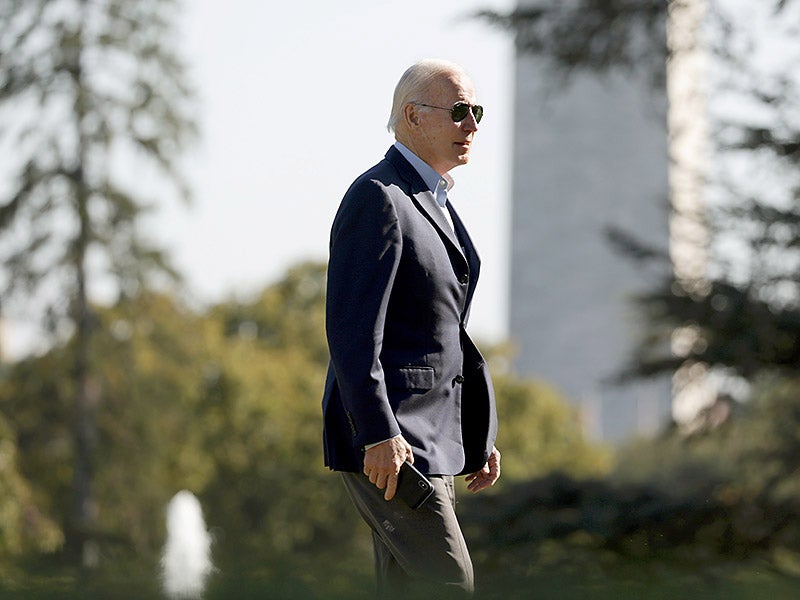 January 20th marks the halfway point in President Biden's term. This midpoint serves as a reminder that time is of the essence for meeting environmental commitments.
The administration has made important strides in some areas of environmental policy. Conversations about environmental justice are finally happening at the highest levels of government. And the Inflation Reduction Act represents the largest-ever U.S. investment in climate solutions.
At the same time, many key regulatory decisions are moving too slowly or falling short. Delay risks ongoing harm to people and the planet, promises going unmet, and opportunities missed before power shifts in a negative direction.
President Biden must meet this moment and urgently get to work to fulfill his climate and environmental justice commitments. Here are some ways he can do so:
Repairing bedrock environmental laws
The Trump administration launched several attacks on the Endangered Species Act, the law that serves as the last safety net for animals and plants facing extinction. While the Biden administration has rolled back some of the damage, it is insisting on only a partial rewrite of certain rules that injected economic considerations into what should be purely science-based decisions. This dangerous shift could weaken the ESA as an essential tool that's needed to tackle the biodiversity crisis. Join us in calling for these damaging changes to be reversed.
Trump also attempted to gut the National Environmental Policy Act, or the people's environmental law that helps communities protect themselves from problematic federal projects. Earthjustice wants the Biden administration to release promised regulations that undo Trump's disastrous changes, thereby returning certainty, clarity, and equity in the NEPA process. Add your voice to this effort here.
Committing to a cleaner future
A carbon bomb is still ticking in Alaska's Arctic and we need the Biden administration to defuse it. If approved by the administration, ConocoPhillips' Willow proposal in the Western Arctic would be the largest oil and gas drilling project in the U.S. The Biden administration has full legal authority to say "no" to this fossil-fuel development. Tell it to protect our public lands from dirty energy extraction.
The Biden administration is expected to release a five-year plan for offshore drilling in federal waters. Since we face a climate crisis, the only just path is a plan that includes no new leasing in federal offshore waters. Such leasing unjustly imposes the burden of harmful industrial pollution onto Gulf communities, while lining the pockets of oil industry giants who are already reaping soaring profits. More fossil fuel development also means greater threats to marine life, such as the endangered Gulf of Mexico whale.
Coal ash, a byproduct of burning coal for electricity, remains one of the largest industrial waste streams in the U.S. This toxic waste contaminates groundwater in many communities and has numerous human health impacts. We filed suit against the EPA after the agency exempted half a billion tons of coal ash in inactive landfills from any federal health protections. We need the EPA to rewrite the rule that made this possible and follow through on promises to make coal plants clean up their toxic coal ash.
Tightening protections for people and the planet
The EPA periodically reconsiders its National Ambient Air Quality Standards (NAAQS). The agency has now begun to take important action to set tougher standards that respond to the mounting scientific evidence of air pollution's horrific toll on public health. The EPA has just proposed standards for fine particulate matter (PM2.5 or soot), but this proposal came late and fell short. The EPA also has yet to take any concrete action to begin the process of strengthening national ozone (or smog) standards, which are essential to protecting people, especially children, from asthma and other illnesses.  Strong action on both air pollutants should be a top priority for the agency, and there is no time to waste.
The administration is moving to safeguard the Mercury and Air Toxics Standards (MATS) from coal industry lawsuits invited by changes to the rule under Trump. But the current standards, which have saved as many as 11,000 lives each year, still need to be strengthened. Power plants are still allowed to emit unlimited quantities of certain harmful pollutants like benzene and dioxins. A truly protective standard would set stronger pollution controls and require more consistent monitoring and maintenance of equipment. Help us tell the administration how badly these changes are needed.
Oil and gas operations emit large amounts of methane, a potent greenhouse gas that accounts for nearly 20% of the planet's warming. Alongside methane, these operations release toxic pollutants that harm nearby communities. Reducing these emissions is critical for tackling climate change and environmental justice. Join us in calling on the EPA and the Bureau of Land Management to strengthen methane standards.
The EPA should use its next opportunity to develop truck standards that transition these large vehicles to zero emissions. Heavy-duty trucks are a significant source of dirty diesel pollution and greenhouse gases across the country, especially in environmental justice communities breathing port and freight pollution. It's time to electrify trucks at the federal level.
Advancing environmental justice
The administration created two new bodies focused on environmental justice. The White House Environmental Justice Committee provides advice and consultation to federal agencies on environmental justice – advice that should be taken seriously. And the EPA has created a new Office of Environmental Justice and External Civil Rights. This office could be a game changer if it is given the power and resources it needs.
Applying an environmental justice lens, there are strides the EPA can and should make without delay, including improving pollution monitoring and compliance provisions, truly grappling with cumulative impacts of multiple sources of pollution, and fully enforcing civil rights laws.
Implementing major legislative wins
The Infrastructure Investments and Jobs Act (IIJA) and the Inflation Reduction Act (IRA) represent huge opportunities to significantly invest in climate solutions. The IRA alone includes $369 billion for climate and justice. Earthjustice is working with partners to implement laws to ensure that these investments target communities on the frontlines of the climate crisis, and that those communities have a say in projects that impact their health and well-being. The administration should also put taxpayer money toward real solutions like clean energy and electrification and reject false solutions that further entrench fossil fuel interests like petrochemicals, carbon capture, and dirty hydrogen.
The Clean School Bus Program launched by the IIJA is off to a blazing start, with the Biden administration awarding 98% of the $1 billion in the first round of funding to school districts to purchase electric school buses. Moving forward, the administration should ramp up funding, particularly for school districts in environmental justice communities.
The Biden administration and Congress have secured significant resources to improve water infrastructure across the United States. We urge the administration to be transparent with the spending, help ensure states distribute funding equitably, and focus the funding on those that need it most: low-income communities and communities of color in dire need of infrastructure for clean water.
Filling key government vacancies
A vacant Democratic seat on the Federal Energy Regulatory Commission (FERC) threatens to become a bottleneck in the clean energy transition. FERC drives energy investment and planning, making it a big player in how quickly the U.S. moves off burning fossil fuels. Urge Biden to fill this seat now.
President Biden has moved at an incredible pace to appoint judges to the lower courts. The Senate confirmed 97 of his nominees last congress, of which 75% were women and 68% were people of color. This means real progress in rebalancing the federal courts after a spree of Trump appointments. With Democrats retaining control of the Senate, we urge senators to keep confirming Biden's accomplished and diverse judicial nominees to the federal bench.
We have a once-in-a-lifetime moment to avert irreparable harm to our planet and protect communities that have long borne the brunt of pollution. President Biden ran on the most ambitious climate agenda in history, and he has two more years of his administration to fulfill those promises. The good news is that the administration has the tools to make these promises a reality.