Trump Admin Just Lost Another Attempt to Nix Commonsense Rules on Methane
The "little rule that could" is back in effect, saving lives and generating millions in taxpayer dollars.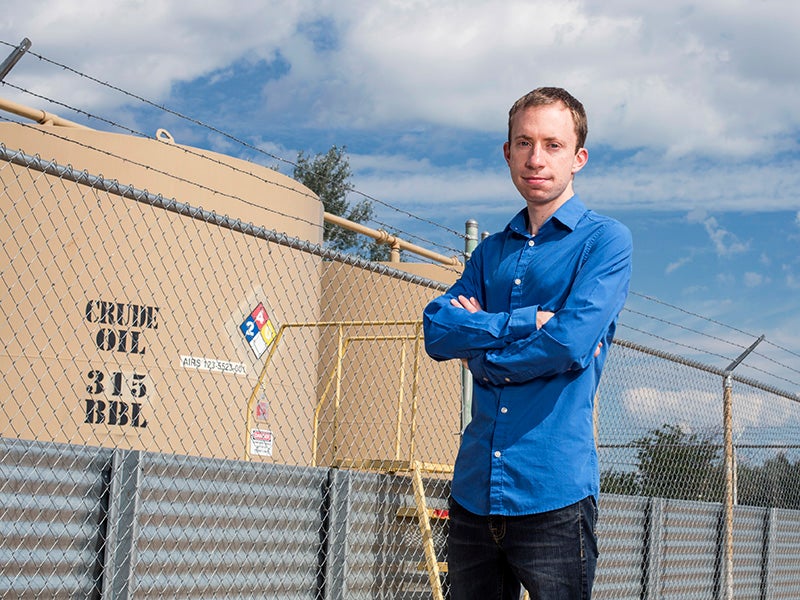 An Obama-era rule meant to improve air quality, curb climate emissions and bring millions of dollars into the public coffers is back in effect once again. Recently, a U.S. District Court judge rejected the Trump administration's latest attack on the Bureau of Land Management's (BLM) methane rule, which requires oil and gas companies to use proven, low-cost technologies to capture publicly-owned natural gas that otherwise would be flared, vented, or leaked into the air.
We call BLM's rule—and a similar EPA regulation—the "little rules that could" because, since their inception, they've stood up to a barrage of attacks in court, from the Trump administration, and from members of Congress who are beholden to dirty fossil fuel interests.
Back in May 2016, the EPA finalized its standards to limit methane pollution from new and modified sources in the oil and gas industry. Months later, BLM finalized a similar rule requiring oil and gas companies to reduce wasteful venting, flaring and leaks from both new and existing operations on public and tribal lands. Together these low cost, crucial protections reduce smog, air toxics, and climate pollution—protecting public health and future generations.
The new methane rules were a great step forward in making the air safer to breathe, especially for those who live near oil and gas drilling operations. Residents of the Fort Berthold Indian Reservation in North Dakota, for example, are currently surrounded by nearly 1,000 oil and gas wells that choke the air with the smell of rotten eggs and burning rubber, deafen their ears with constant drilling noises, and sear the skies with natural gas flares that make the nighttime look like bright summer days.
"My home was once in an area surrounded by natural beauty… [full of] deer, antelope, coyotes, frogs, toads, bats, bumble bees, hummingbirds and monarch butterflies," says Joletta Bird Bear, a retired grandmother and member of the Fort Berthold Protectors of Water and Earth Rights. "Now, industrial noise pollution fills the air."
Thanks to the recent court ruling, which rejected the Trump Administration's second unlawful attempt to suspend BLM's rule, and requires companies to immediately start seeking out and plugging methane leaks, people like Joletta will finally get some reprieve from these operations. So will the 74,000 people within a half-mile of oil and gas facilities on public lands across America who deal with the smog-forming and toxic, cancer-causing air pollutants emitted along with methane during oil and gas operations.
But that's not all. The BLM's rule will also bring millions of dollars into the public coffers as drilling companies must pay royalties when they waste natural gas on public lands. Without the rules, oil and gas companies have been venting or flaring over 15,000 metric tons of methane from publicly-owned oil and gas leases into the air each year—essentially tossing taxpayer money into the air.
Even the oil and gas companies benefit from these protections, because lost methane—the primary component of natural gas—is also lost product, and lost product is lost revenue. That's why many industry groups, like the American Petroleum Institute, are encouraging their members to voluntarily reduce their methane emissions, regardless of what happens with Trump's machinations.
"The whole point of these rules is to capture natural gas, and these companies are in the business of selling natural gas, so it makes total sense," says Earthjustice attorney Joel Minor. "Plus, the rule has significant benefits for public health and the climate—it is win, win, win."
For now, the Trump administration seems bent on ignoring the many benefits of the rule, with Interior Secretary Zinke already proposing his third attack on the BLM methane rule, this time looking to do away with it altogether.
Earthjustice, together with a coalition of conservation and tribal citizen groups, is prepared to fight the administration's efforts. And the law is on our side. After all, the court ruling in February is just the latest to make clear that the Trump administration cannot simply yank away commonsense rules—which were the product of years of careful deliberation—with no justification whatsoever.
"[BLM] must provide at least some basis—indeed, a 'detailed justification'—to explain why it is changing course after its three years of study and deliberation resulting in the Waste Prevention Rule," wrote Judge William H. Orrick in his ruling. "Instead, it appears that BLM is simply 'casually ignoring' all of its previous findings and arbitrarily changing course."
The February decision is also significant in recognizing that the administration's one-year suspension of the BLM methane rule would have caused irreparable harm to our air, the climate and those like Joletta who live and work on or near public and tribal lands with oil and gas development.
Perhaps most importantly, the court decided this suspension was illegal in part because regulators did not provide a meaningful opportunity for you—the public—to comment on suspending the rule, underscoring the importance of your voice in this process.
Over the last three years, you and nearly 40,000 other Earthjustice activists submitted public comments that informed the current rule. As we gear up to fight Zinke's latest attack on methane, we'll need you to raise your voice once again in supporting these rules. Stay tuned.
Jessica is a former award-winning journalist. She enjoys wild places and dispensing justice, so she considers her job here to be a pretty amazing fit.
The California Regional Office fights for the rights of all to a healthy environment regardless of where in the state they live; we fight to protect the magnificent natural spaces and wildlife found in California; and we fight to transition California to a zero-emissions future where cars, trucks, buildings, and power plants run on clean energy, not fossil fuels.