Understanding the Big, Bad Wolf: Using Art to Celebrate and Demystify a Polarizing Animal
Earthjustice teams up with the Creative Action Network to celebrate the mysterious gray wolf in a playful crowd-sourced art campaign.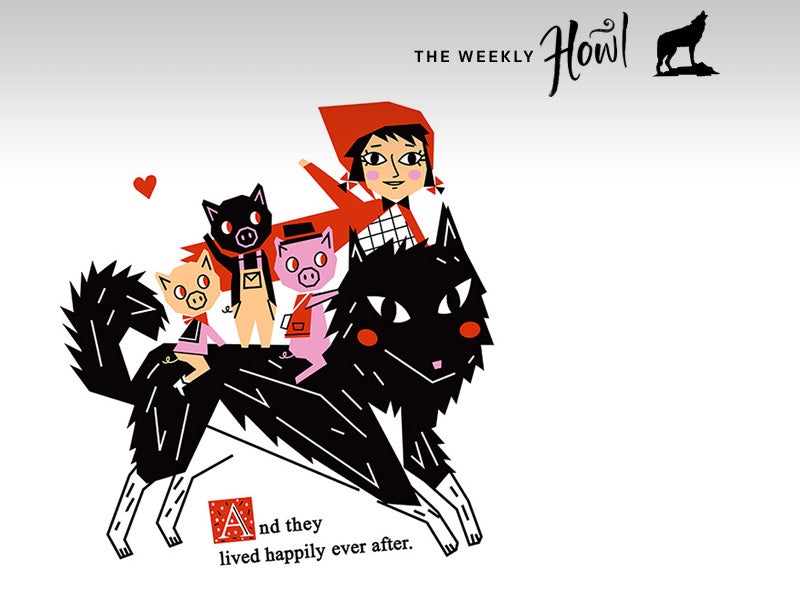 For over a decade now, many American films and prestige television dramas have been dedicated to exploring the lives of society's bad guys. From mobsters to meth cooks, these shows and films examine the lives of the traditional villains, revealing complex motivations and moments of empathy that destroy archetypes and show these characters to be flawed, yes, but much more human than we'd ever imagined.
Even the stories we have known and loved for generations, our fairy tales, have gotten flipped on their heads. Disney's Maleficent gives the bad fairy from Sleeping Beauty a real motivation for seeking revenge on the king, and then complicates things by revealing the title character's begrudging love for the princess she cursed. Wicked tells the complicated backstory of a witch who would become the Wicked Witch of the West in the world of Oz, showing her as deeply misunderstood. Even the ogre, a hideous mythical creature who has a reputation for eating babies, has gotten the sweetheart treatment in Shrek. So then we have to ask, when will the Big, Bad Wolf get his due?
The hope is that a new campaign launching later this month will begin to offer his side of the story.  
Earthjustice is teaming up with the Creative Action Network to crowd-source art and design pieces that celebrate the wolf, rather than vilify it. The idea is to debunk the conceptions of the wolf as inherently evil or monstrous, instead celebrating the species by portraying its wildness, mystique and general cultural appeal in an uplifting art campaign with the social media-friendly title #JoinThePack.
Wolves once roamed the expanses of the United States, but were systematically destroyed over decades of unregulated slaughter, fueled by misunderstanding and unfounded fear. In places like Yellowstone, the removal of the top predator triggered an ecosystem collapse, finally quelled by the species successful reintroduction in the mid-1990s.
"This campaign is meant to strike a playful tone, but the threats to gray wolves are very real," said Drew Caputo, Earthjustice Vice President of Litigation for Lands, Wildlife and Oceans. "The reintroduction of wolves to the northern Rockies 20 years ago has been heralded as one of the greatest achievements of the Endangered Species Act, yet some in Congress are willing to ignore science and toss gray wolves off the Ark for political reasons. We're excited to partner with CAN to remind people why wolves are worth protecting and to get people howling for their right to continue to exist."
Wolves have faced a near-constant threat of losing their federal protections due to premature delisting decisions by the U.S. Fish and Wildlife Service and congressional meddling with the act. This year both the House and Senate slipped a "rider" into unrelated government spending bills that would take away federal protections for wolves in several states, overriding two federal court decisions that found these states' management plans did not sufficiently protect wolves.
Anti-wolf congressmen have relied on fairy tales over facts to garner support for otherwise unpopular actions, disregarding scientific findings about wolf recovery and playing up the myths about the animals' supposed danger to people despite there never being a single recorded human death by wolf attack in the Lower-48.
"We're aiming to combat fear and misunderstandings of wolves by winning over hearts and minds through artwork that celebrates the species and builds a greater appreciation for the iconic creatures," said Max Slavkin, CEO and co-founder of the Creative Action Network.
Members of the public are invited to #JoinThePack by contributing art of your own at http://thecreativeactionnetwork.com/contribute/join-the-pack. The campaign will officially launch on August 26 at an event in San Francisco. (If you happen to be in the Bay Area on that date and would like to attend, shoot us an email at events@earthjustice.org).
All designs will be available for sale after August 26 as posters, t-shirts and more at http://shop.thecreativeactionnetwork.com. Forty percent of all proceeds go directly to the artists involved.
Wolves are much more than misunderstood anti-heroes. They are critical linchpins maintaining the health of ecosystems. A natural world without its apex predators is a world that falls into disarray. The return of wolves to the landscape of the northern Rockies is one of our nation's greatest wildlife stories. But it is a story so often forgotten. With your help, we're going to retell that story.
Stay tuned to this series for much more news from this exciting campaign. 
About this series
2015 marks the 20th anniversary of the reintroduction of gray wolves to the northern Rockies, and since that time wolves have been under nearly constant threat of losing their protections. The Weekly Howl provides insights and education about the gray wolf and updates on the status of its protections while celebrating the iconic species as a vital part of a functioning, healthy ecosystem. Posts will appear every Wednesday starting June 17 and running through the summer.
Don't miss last week's post: From Cecil to Echo, Slaughter of Endangered Animals Stampedes On.
Maggie worked at Earthjustice from 2014–2021.