We'll Take Rick Perry to Court to Defend Commonsense Climate Solutions
The Department of Energy, led by Rick Perry, is needlessly delaying energy efficiency rules that would save customers money and cut greenhouse gas emissions.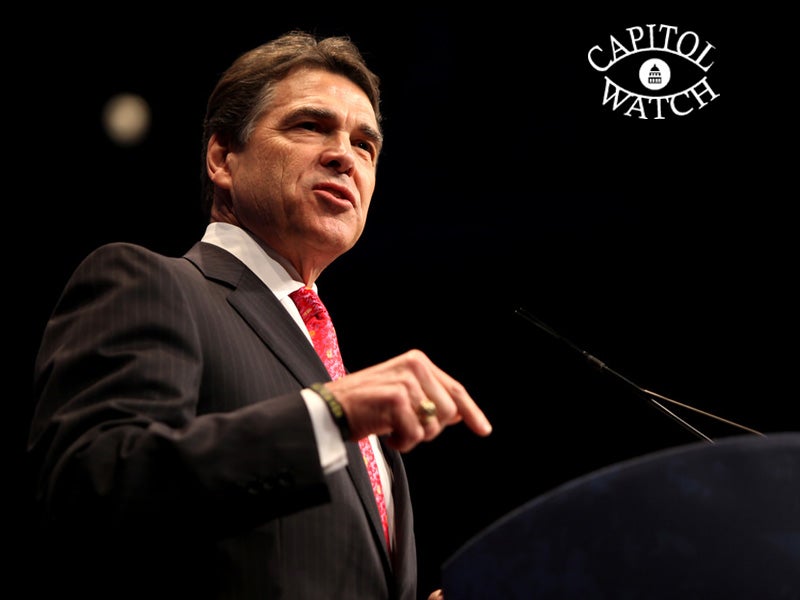 Earthjustice isn't standing by as President Trump tries to block the rise of clean energy—we're fighting back with the full force of the law. Last week, we notified Secretary of Energy Rick Perry that we're prepared to take him to court if his department continues blocking a raft of commonsense energy efficiency measures. The measures are poised to save consumers billions of dollars while slashing climate-wrecking carbon emissions.
Five energy efficiency rules are stuck in limbo at the Department of Energy. These completed rules are one routine step away from going into effect; they simply need to be published in the Federal Register so we can all start to reap their benefits. The Department of Energy's delay in publishing these rules is more than senseless—it's unlawful. That's why, on April 3rd, Earthjustice joined the Consumer Federation of America, the Natural Resources Defense Council and the Sierra Club in notifying the Trump administration of our intent to sue the department to force Secretary Perry to do his job.
We're pursuing this case because greater energy efficiency is the single most affordable and effective solution to climate change, on top of being a huge boon for consumers. The five stalled rules set new efficiency standards for air compressors, uninterruptible power supplies, walk-in coolers and freezers, portable air conditioners and commercial packaged boilers. According to the Department of Energy's own projections, over a 30-year period the rules will save about 3 percent of all the energy used in the United States in a year. These measures will also yield more than $11 billion in net savings on customer energy bills over 30 years.
We're pursuing this case because greater energy efficiency is the single most affordable and effective solution to climate change, on top of being a huge boon for consumers.
The Department of Energy recognized the public health, consumer and climate benefits of these energy-saving rules when they were signed in December 2016. The standards were developed through a robust and transparent public process, and they promise to reduce U.S. emissions of carbon dioxide by more than 25 million metric tons by 2030. That's equal to all the emissions generated by the annual electricity use of more than 3 million U.S. households. Plus, the new rules will help us all breathe easier by reducing the amount of pollutants, such as sulfur dioxide and nitrogen oxides, in the air by hundreds of thousands of tons.
Thankfully, we have strong allies in our fight to hold the Trump administration accountable. On March 31st, Earthjustice joined the same group of advocates, plus the Texas Ratepayers' Organization to Save Energy, in suing the Department of Energy over its attempt to roll back an efficiency standard for ceiling fans that was published in January. That standard will cut the energy use of new fans by more than 25 percent, saving consumers up to $12 billion.
A coalition of climate-conscious states and cities is also challenging the Department of Energy's delays. The coalition filed a complementary lawsuit over the ceiling fan rule and also notified the administration of its intent to sue over the suite of stalled energy efficiency measures. New York, California, Connecticut, Illinois, Maine, Massachusetts, Oregon, Vermont, Washington, Pennsylvania, Maryland and New York City have all joined in the effort.
As Washington state Attorney General Bob Ferguson says, "The Trump administration has no legal right to stand in the way of these important efficiency standards. The benefits to consumers and the environment are too important to allow baseless delays."
We wish we didn't have to take Secretary Perry to court to compel him to take basic, win-win steps like publishing climate- and cost-saving rules. But whenever and wherever the Trump administration decides to stand in the way of commonsense climate solutions—defying the law and scientific reality in order to serve their fossil fuel industry allies—Earthjustice and our partners are ready to act.
ABOUT THIS SERIES
The 45th U.S. president, Donald J. Trump, is bent on gutting environmental protections, and—with a polluter-friendly Congress at his side—he'll likely do everything he can to dismantle our fundamental right to a healthy environment. The Capitol Watch blog series will shine a light on these political attacks from Congress and the Trump administration, as well as the work of Earthjustice and our allies to hold them accountable.
Tim joined the Washington, D.C. office in 2007. Focusing on litigation addressing the problem of global climate change, Tim also works on improving energy efficiency standards, specifically for buildings and appliances.
Established in 1989, Earthjustice's Policy & Legislation team works with champions in Congress to craft legislation that supports and extends our legal gains.
Earthjustice's Washington, D.C., office works at the federal level to prevent air and water pollution, combat climate change, and protect natural areas. We also work with communities in the Mid-Atlantic region and elsewhere to address severe local environmental health problems, including exposures to dangerous air contaminants in toxic hot spots, sewage backups and overflows, chemical disasters, and contamination of drinking water. The D.C. office has been in operation since 1978.