What's Killing the Salmon in Our Urban Streams? A Mystery is Now Solved.
A chemical called 6PPD that's found in tires is devastating aquatic life.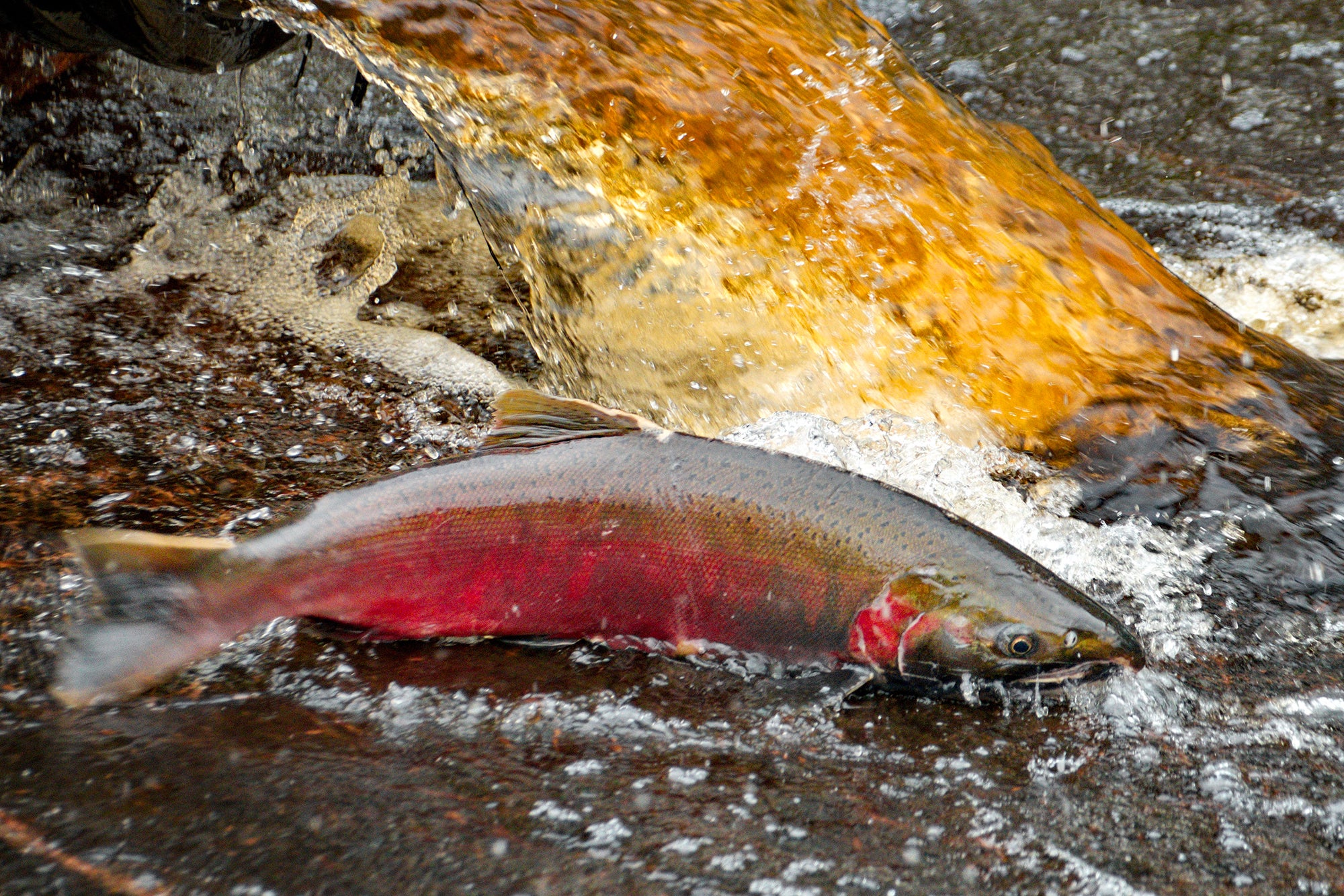 For years, a mysterious phenomenon called "urban runoff mortality syndrome" has been decimating salmon returning to freshwater streams to spawn in the Pacific Northwest. The syndrome can kill up to 100% of salmon in an affected area before they are able to spawn and lay their eggs.
Now, researchers have finally solved the mystery. The culprit is our tires. Or, more correctly, a chemical called 6PPD used in tires since the 1950s to prevent degradation.
To put an end to this existential threat to wild salmon populations, the Yurok, Port Gamble S'Klallam, and Puyallup Tribes are petitioning the Environmental Protection Agency (EPA) to establish regulations prohibiting the manufacturing, processing, use, and distribution of 6PPD for tires.
Here's what you need to know about 6PPD and its impact on the environment.
What is 6PPD and why is it dangerous to use in tires?
For decades, 6PPD has been used in tires as an antioxidant and antiozonant to prevent tire degradation. During normal use, tires made with 6PPD release a breakdown product known as 6PPD-q, which washes into waterways during storms.
6PPD-q is the second most toxic chemical to aquatic species ever evaluated. Exposure to 6PPD-q can kill a coho salmon within hours, and the chemical is responsible for "urban runoff mortality syndrome," which kills up to 100% of coho salmon returning to spawn in affected urban streams. And 6PPD-q can have toxic effects on salmon beyond urban areas where streams are located near roads. It is likely that 6PPD-q is harming aquatic species worldwide.
Only one other chemical is more toxic to aquatic life — the chemical warfare agent parathion — and it's been widely banned due to its toxicity and is no longer on the market in the United States.
Are there human health concerns around 6PPD?
Emerging science has pointed to toxicity in mammals, indicating a potential risk to human health. The chemical is not only present in storm water runoff and urban watersheds, but also in sediments and soils, household dust, and human urine.
Will I need to buy new tires if the EPA bans 6PPD?
The Toxic Substances Control Act (TSCA) requires the EPA to ban or regulate chemicals in commerce that pose unreasonable risks to human health or the environment. It gives the agency authority to order phase-outs of existing chemicals on the fastest practicable timeline.
If 6PPD is banned, it will not mean that consumers need to go out and buy new tires. It will mean that tire companies must phase out this highly toxic chemical in new tires they produce. The onus is on the tire company to produce a safe product that does not pose an unreasonable risk to human health and the environment.
Will my tires still be safe if 6PPD is banned?
Tire companies have known for years that they need to move beyond 6PPD to find viable alternatives and implement mitigation measures. If 6PPD is banned, tire companies must innovate and ensure that our tires remain just as safe. They would remain subject to the same federal standards for tire safety that apply today, but they would be required to comply with those safety standards without inflicting catastrophic environmental harm. It is not acceptable to continue polluting our environment and devastating wildlife with a highly toxic chemical.
Why is this an issue that Tribes are petitioning about?
For many tribal nations in the Pacific Northwest, salmon and steelhead have been a foundational part of diet, culture, and spirituality since time immemorial. The Yurok, Port Gamble S'Klallam, and Puyallup Tribes contend that 6PPD in tires poses unreasonable risks to the environment and inflicts profound harm on their cultures and economies, requiring the EPA to regulate the chemical under the Toxic Substances Control Act.
What is Earthjustice doing about 6PPD?
Earthjustice submitted a petition on behalf of the Yurok, Port Gamble S'Klallam, and Puyallup Tribes, urging the EPA to establish new regulations on 6PPD under the Toxic Substances Control Act. TSCA requires the EPA to ban or regulate chemicals in commerce that pose unreasonable risks to human health or the environment. The EPA must respond to the petition within 90 days.
Salmon are facing a variety of threats, and Earthjustice is doing everything possible to protect this critical species. One way you can help salmon today is to submit a comment calling on the federal government to breach four dams on the Snake River that are pushing Northwest salmon towards extinction.
Based in Maryland, Perry is the Public Affairs and Communications Strategist for the Rocky Mountain Office, Northern Rockies Office, and the Biodiversity Defense Program.
The Biodiversity Defense Program fights to reshape our relationship to lands, water, and wildlife everywhere by confronting the major drivers of the decline in nature, including habitat destruction and over-exploitation of wildlife.