Here's Why Leasing Public Land to Oil and Gas is a Death Sentence for the Planet
Selling public land to companies that carve it up for fossil fuels is a bad deal for people and the environment.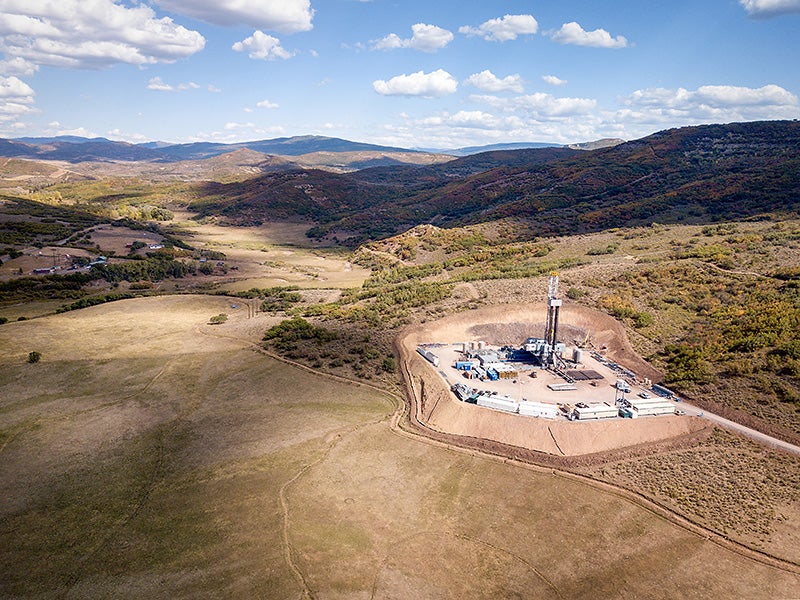 The U.S. government is tasked with managing federal lands and waters for the good of the American people. This management includes overseeing public lands ranging from national parks and forests, to continental shelf waters and marine sanctuaries. The federal agencies involved are supposed to balance conservation with other uses, including fossil fuel extraction — a balance that is now way off in favor of fossil fuel companies in a time of climate change.
Through a process called the federal leasing program, private companies are allowed to carve up public lands and waters to extract fossil fuels. This is a bad deal, for us, the climate, and the environment. These leases lock us into decades of dirty energy and climate-heating pollution: 25% of the nation's total climate emissions come from extracting, transporting, and burning fossil fuels on public land. Reforming the federal leasing program is crucial to meaningfully address climate change.
Read on to learn about the broken federal oil, gas, and coal leasing program and why it's a bad deal. Learn more about what Earthjustice is doing to protect our public lands and waters, and how you can help.
Let's start with the basics: What is a lease sale?
A lease sale is when the government auctions off the rights to extract natural resources on publicly-owned lands or waters. Onshore leases are handled by the Bureau of Land Management (BLM). The Bureau of Ocean Energy Management (BOEM) coordinates leasing offshore. Both are sub-agencies of the Interior Department.
Extraction for fossil fuels can occur in multiple ways:
Drilling for oil beneath the ocean floor (offshore drilling),
Fracking bedrock for oil and gas, and
Mining the earth for coal.
How much public land is being leased by the fossil fuel industry?
A lot.
The oil and gas industry has over 26 million acres of land under lease, and over 12 million acres of ocean.
Over half of those acres are non-producing — stockpiled by the industry and held in reserve. Even if the government stopped mortgaging our future and ceased to issue new leases, fossil fuel companies would still have enough public land in their grips to keep producing for at least 10 years.
While these leases are a boon to the industry, they are a terrible deal for the American people. The government sells land at an incredibly low rate: as low as $2 an acre. The federal royalty rate has not been updated since 1920. These paltry amounts do not include costs associated with climate damage, pollution, and clean-up after fossil fuel companies finish drilling. Companies are often allowed to walk away from their pollution, and leave taxpayers on the hook to pay for clean-up.
What places are especially harmed by oil, gas, and coal development?
No place is undamaged once it's been carved up by fossil fuel infrastructure, but some ecosystems are extremely vulnerable.
In the Arctic, oil drilling can irrevocably poison the tundra, leaving fields devoid of vegetation and wildlife. Infrastructure like well pads, roads, and airstrips disrupt the habitats of rare birds, fish, and mammals, like polar bears and caribou — and cause significant air and noise pollution for neighboring communities. Seismic blasts, used to map potential oil reserves underwater, deafen marine wildlife like whales who depend on sound to communicate. These losses in turn impact local economies that depend on a healthy, robust environment. The Arctic is also ground zero for climate change, with temperatures rising more than twice as fast as anywhere else on Earth.
In the western United States, fossil fuel development has decimated the once vast sagebrush desert. Gas fields and oil infrastructure have mutilated the landscape, disrupting migratory patterns for wildlife like pronghorn antelope and mule deer, and poisoning waterfowl who come into contact with toxic ponds. Development has driven down the population of critical species like the endangered greater sage-grouse, whose life cycle is key to the health of the entire region. And fracking can contaminate groundwater aquifers, which are a critical source of water in the arid West.
In the Gulf of Mexico, Black, Indigenous, and low-income communities have suffered a long history of living in an area that serves as a sacrificial zone for the oil industry. Development in the Gulf has resulted in heavily degraded air, land, and water for decades. One of the worst examples of this, the BP Deepwater Horizon disaster, left eleven rig workers dead and spilled 200 million gallons of oil into the Gulf of Mexico: it decimated tourism and the fishing industry, killed millions of individual marine animals including fish, dolphins, whales, shrimp, and seabirds, and sickened thousands of people. Oil spills are also difficult to fully contain: less than a quarter of the BP oil was recovered, leaving more than 154 million gallons of oil in the water that continue to pollute coastal and ocean ecosystems. Thousands of smaller oil spills occur every year that don't make headlines.
What is Earthjustice doing to fight the harms of fossil fuel development?
Earthjustice takes the government to court to account for the damage caused by oil, gas, and coal development. When federal agencies issue a lease without taking into account a project's environmental and human impacts, we sue to make that analysis happen. We're also pushing for the Earth's most sensitive places to be declared off-limits to the oil and gas industry altogether:
In the far north, we've fended off attempts to open the Arctic Ocean, the Arctic Refuge, and the Western Arctic to fossil fuel drilling.
In the western U.S., we successfully challenged the Trump administration's plan to lease more than a million acres of sage-grouse habitat.
In the Gulf of Mexico, we're suing the federal government for opening 80 million offshore acres to oil and gas leasing.
What are we pushing the government to do?
Perform a comprehensive analysis of the environmental, climate, and economic impacts of the federal fossil fuel program to bring balance to the management of public lands and waters.
End new federal fossil fuel leasing to the extent legally possible, by slowing and eventually stopping new leases, and withdrawing sensitive areas from availability.
Adopt new regulatory requirements to protect the environment and ensure fair returns to taxpayers as long as extraction continues on existing leases.
How can I help?
Take action: Sign a letter asking the Biden administration to overhaul the federal fossil fuel program and end new fossil fuel leasing.
Alison Cagle is a writer at Earthjustice. She is based in San Francisco. Alison tells the stories of the earth: the systems that govern it, the ripple effects of those systems, and the people who are fighting to change them — to protect our planet and all its inhabitants.
Earthjustice's Oceans Program uses the power of the law to safeguard imperiled marine life, reform fisheries management, stop the expansion of offshore oil and gas drilling, and increase the resiliency of ocean ecosystems to climate change.
Established in 1989, Earthjustice's Policy & Legislation team works with champions in Congress to craft legislation that supports and extends our legal gains.