Court Ices Dangerous Arctic Drilling Plan
Our court victory in the Arctic underscores that the law is a powerful tool in stopping climate-wrecking projects.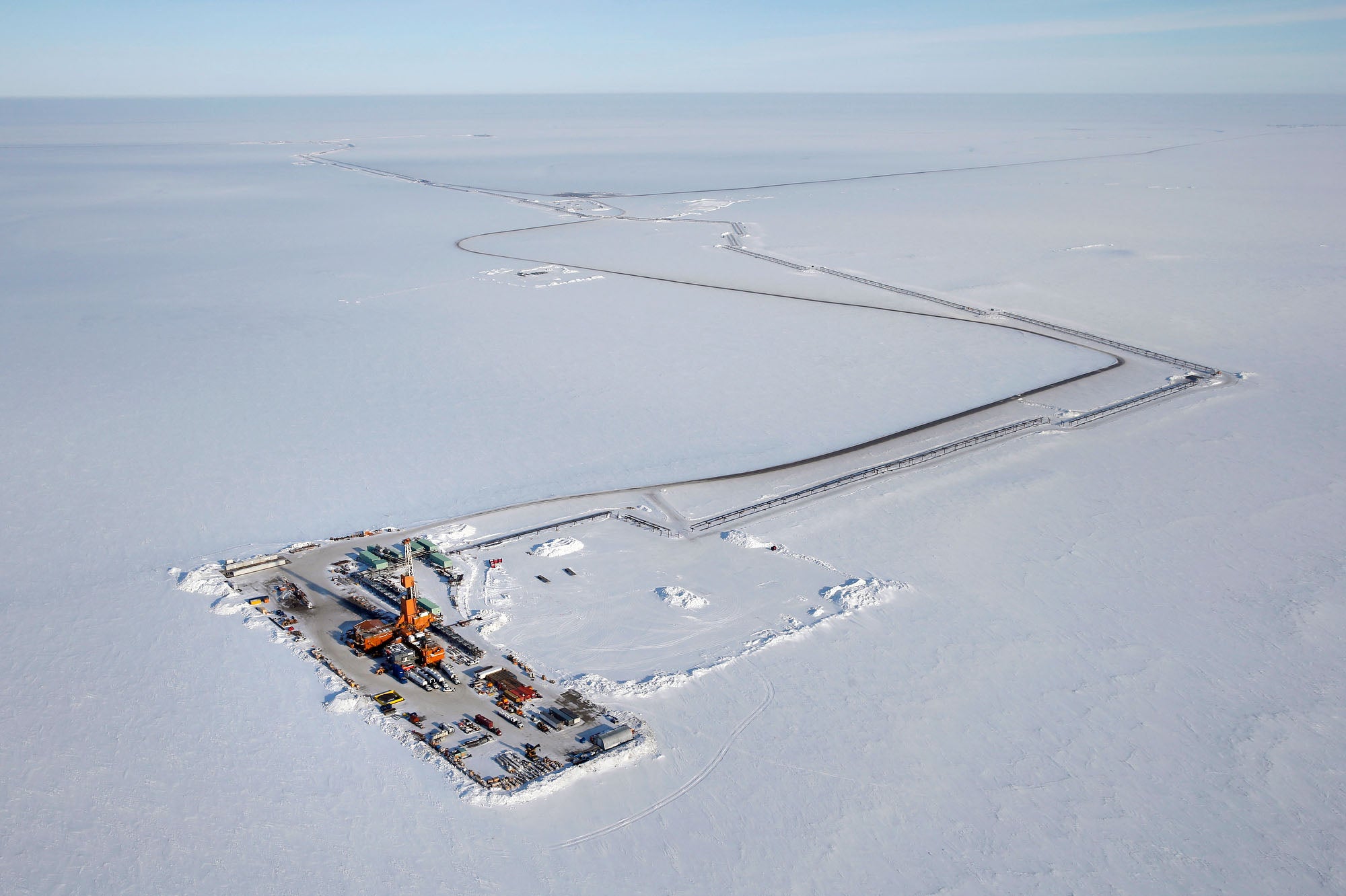 During the Trump administration, the oil industry made a mad dash to drill into the oil-rich depths beneath the Arctic tundra. But there's one big problem: As fossil fuel emissions heat our planet, permafrost — the once permanently frozen layer of Arctic soil — is melting, making it harder (and more expensive) for oil and gas companies to set up drilling operations.  
This literally shaky ground might encourage some companies to change their ways and invest in clean energy. But ConocoPhillips has a different solution. Refreeze the tundra — then drill it for oil.
The company's plan is a classic example of the fossil fuel industry's capacity for single-minded greed, even as the climate careens toward disaster. Thanks to Earthjustice litigation and several courtroom wins, ConocoPhillip's plan is temporarily on ice. More recently, the Biden administration ended its support of Conoco's destructive plan, dealing yet another blow to the ill-conceived project.  
ConocoPhillips' Arctic drilling plan began back in 2018, when it sent a letter to the Bureau of Land Management requesting approval of the so-called "Willow Project." Though an innocent-sounding name, Willow would nevertheless permanently scar the largest tract of public land in the U.S.
The project involves constructing five drill sites, as well as building 37 miles of new gravel roads, seven bridges, an airstrip, almost 500 miles of ice roads, and a gravel mine on publicly-owned lands. Over 30 years, Willow would produce more than half a billion barrels of oil, releasing a climate bomb equal to building 66 new coal-fired power plants and operating them for a year. The project would also threaten imperiled species like polar bears and caribou and jeopardize the health and traditional practices of nearby Indigenous communities.
Willow is obviously bad for people and the planet, yet the previous administration did everything it could to ram Willow and other oil-drilling projects through in its final days. This included gutting key safeguards to open up the Western Arctic for more oil and gas drilling and silencing Indigenous voices by holding public hearings on the Willow Project during the COVID-19 crisis. On the morning of President Biden's inauguration, the Trump administration signed Willow's final authorizations, giving the finger to the American public and its desire to act decisively on climate on its way out the door.
Earthjustice, which sued the Trump administration in December 2020 for its approval of the project, quickly filed a request for a preliminary injunction. With Willow, we wanted to stop ConocoPhillips from breaking ground on its gravel mine and building roads while the case played out, which would irreparably damage the Arctic ecosystem and Indigenous peoples' uses of it. We also argued that, given how lawlessly and sloppily the previous administration had reviewed the project, the court was likely to side with us in the end anyway.
After initially denying our request in early February 2020, a district judge reversed course and temporarily halted the project, citing testimony from our client Rosemary Ahtuangaruak, an Alaska Native resident of Nuiqsut. She convinced the judge that construction should be stopped because it would cause harm to her and the community.
A week later, the Ninth Circuit Court of Appeals went further, delivering an early valentine to conservation and Indigenous groups by granting a preliminary injunction that effectively paused the project while the court considers several legal questions in the case. Since the court wasn't expected to finish this process until at least May, that meant there was no construction during the winter season — a huge win for those who depend on this area for their livelihoods.
In its ruling, the Ninth Circuit relied on a previous decision to reject another oil and gas proposal in the Arctic called the Liberty Project. Like Willow, the Liberty Project was approved by Trump regulators who used faulty economic modeling to reach the conclusion that this project would result in almost no harm to the climate, which is patently false. After we sued the administration over Liberty, the Ninth Circuit rejected its bogus argument, determining that the Trump administration's approval violated federal law and ignored climate change.
In August 2021, a federal district court judge vacated the Trump administration's approval of the Willow project, which meant that Biden's Interior Department must go back and conduct a thorough environmental assessment before the court could make a new decision. Initially, the Biden administration seemed poised to do just that, continuing to defend the Willow project despite its promise to enact historic progress on climate change.
But in October 2021, after significant public pressure, the Biden administration decided to end its support of the destructive plan. It's a significant first step that signals the administration's willingness to reject Trump-era fossil fuel projects that are incompatible with addressing the climate crisis. Now, Earthjustice is urging the Biden administration to demonstrate that it is serious about taking on climate change by protecting the Western Arctic from all new oil and gas activity.
This blog was originally published in February 2021. It was updated in March 2022.
Jessica is a former award-winning journalist. She enjoys wild places and dispensing justice, so she considers her job here to be a pretty amazing fit.
Opened in 1978, our Alaska regional office works to safeguard public lands, waters, and wildlife from destructive oil and gas drilling, mining, and logging, and to protect the region's marine and coastal ecosystems.