Why "Fish Vs. Farmers" Is a False Dichotomy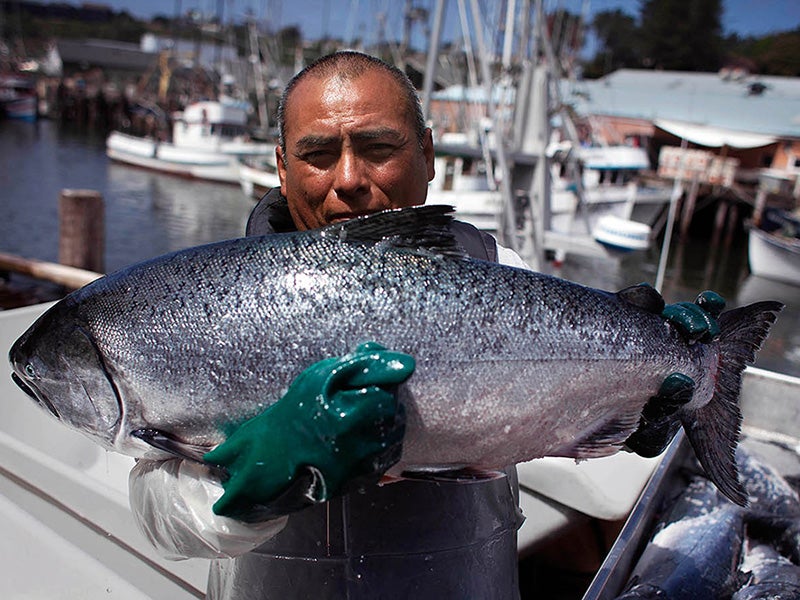 Chris Jordan-Bloch / Earthjustice
I've seen a lot of smart reporting by the press lately about the California drought and the need for a forward-thinking water management plan for the state. Earlier this month, this article appeared in the San Francisco Chronicle along with a related editorial about Senator Dianne Feinstein's support for weakening protection of California's imperiled salmon to benefit powerful Big Agriculture interests.
The story and editorial were right on the mark, decrying Feinstein's plans to abandon crucial environmental protections in order to funnel water to Central Valley farmers at the expense of the Bay Delta. My only objection was to the story's headline, "Feinstein aids farms over fish." This framing of the issue, which I've seen repeated over and over in the press, perpetuates the myth that the fight to restore California's Delta ecosystem is a matter of "fish versus farmers." Nothing could be further from the truth.
In reality, it is about a small group of politically powerful, highly subsidized water agencies in a semi-arid area of the Central Valley demanding that drought policy cater to their desires while leaving the rest of California high and dry. This year, these agencies have succeeded in getting the government agencies charged with safeguarding the environment to waive critical salmon protections in the midst of the migration of baby salmon to the Pacific, doing great harm to these imperiled fish already overtaxed by the drought.
But, in drastically reducing freshwater flows through the Delta, these waivers also allow salt water to penetrate its myriad channels, degrading drinking water supplies for millions of people who rely upon the Delta for their domestic water. This salt water intrusion also deprives the many farmers in the Delta of suitable water to irrigate their crops, which, ironically, are located in close proximity to the Delta's channels. Unlike the irrigators in the southern Central Valley, the Delta farmers don't require giant pumps, miles of canals, and massive amounts of energy to artificially transport that water to distant arid lands.
This isn't about fish versus farmers. It's about coddling powerful special interests at the expense of average citizens, Delta farmers, commercial and sport fisherfolk, and, yes, our iconic salmon runs and a healthy Delta ecosystem.