EPA Ears Filled With Toxic Refinery Stories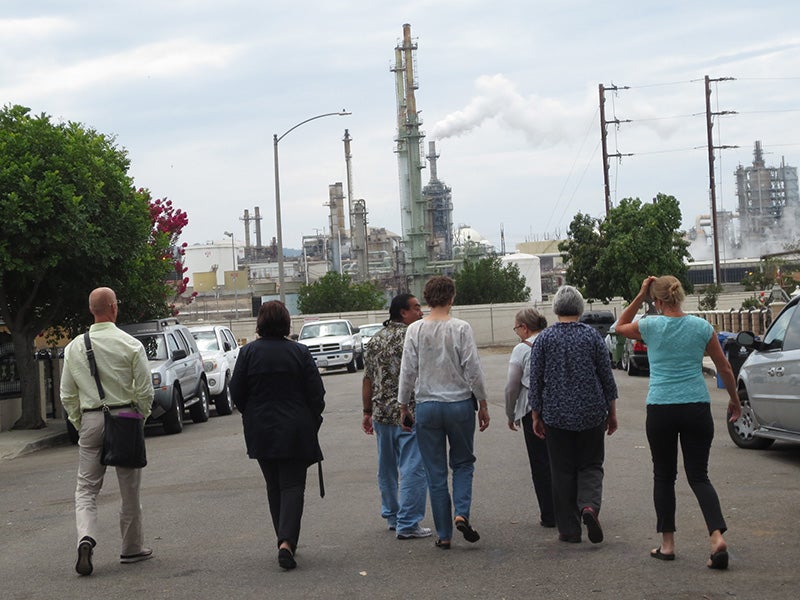 Jessica Hodge / Earthjustice
On a sunny Wednesday in Wilmington, California, this week, instead of spending the day at work or taking their kids to the beach, community members gathered to tell the Environmental Protection Agency what it is like living near large oil refineries. The stories kept pouring in; children who were too sick to be allowed outside, explosions that send neighbors scurrying to safety, a pre-school teacher explaining how she has to evacuate her kids when the odors get too strong, and parents who can't afford the medicine their kids need.
The EPA went to California because it is home to 18 of the nation's oil refineries. It is also the home of the most polluted census tracts in California. Coincidence?
After being taken to court for not following the Clean Air Act, the EPA agreed to update their long overdue protections for these communities. That is why they showed up in Southern California to take public comment on their proposal to reduce these dangerous emissions from oil refineries.
The proposed standards have some good stuff in them that is desperately needed, including the first-ever fenceline monitoring requirements that alert communities about levels of benzene—a cancer-causing pollutant—drifting into their yards, homes and schools nearby. They also warn of leaking tanks, pipes and other equipment; a significant problem this proposal addresses through tighter controls that will remove 5,600 tons of years of toxic releases. They have also removed the "get out of jail free card" which allowed refineries to not count emission during start up, shut down and malfunctions of the equipment.
Is the current proposal strong enough? We don't think so. People today were asking the EPA to strengthen the monitoring program so they know even more about what they are breathing. They want a community notification system that is accessible and gives the community important information they need to keep their families safe; quick and strong actions taken against refineries when they violate these limits; and a ban on routine flaring that allows refineries to unnecessarily burn their toxic fumes.
The day ended with a gentleman in a breathing mask asking for relief from the refineries polluting his community.
The EPA's plan to protect fenceline communities from toxic oil refinery pollution includes long overdue health standards and expanded air monitoring. It is a great start, but we need your help in making it go further—send your public comment by August 29 in support of effective, on-the-ground protections.