Our First National Park: More Precious Than Gold
Photo courtesy of William Campbell
Update: On April 25, 2017, U.S. Senator Jon Tester introduced legislation to protect more than 30,000 acres of public land bordering Yellowstone National Park—an area that has been targeted by two industrial-scale gold mine proposals. 
Editor's note: U.S. Secretary of the Interior Sally Jewell recently responded to calls from local community leaders, joined by environmental groups including Earthjustice, to protect more than 30,000 acres of public land near Yellowstone National Park from two gold mine proposals. The lands serve as some of the last refuges for our nation's most iconic symbols of wildness—grizzly bears, lynx and wolverines. The new protections are the result of a mineral withdrawal proposal, which triggers a two-year moratorium on mining activity. (Wondering what is a "mineral withdrawal"? Read the explainer.) If finalized after a public process, the withdrawal could prevent mining on these public lands for 20 years. While celebrating this important milestone, Earthjustice will continue to fight until the threat from mining on Yellowstone's doorstep is permanently removed.
Este blog está disponible en español aquí.
"For the Benefit and Enjoyment of the People."
These are the words inscribed on the Roosevelt Arch, visited by millions who pass through the north entrance of Yellowstone National Park every year. President Theodore Roosevelt stood beside the arch in 1903 and praised Yellowstone, the planet's first national park. It would still be more than a decade before the formation of the National Park Service, but the core value of preserving and protecting stunning wildlands for universal benefit had been carved in stone.
New plans for a pair of nearby gold mines have prompted Earthjustice to team up with a coalition of citizen groups and longtime allies in the fight to protect Yellowstone. The mines would cause irreversible environmental harm to this natural wonder and fray the economic fabric of the region.
The Yellowstone Gateway Business Coalition
If a gold mine is developed on Crevice Mountain, just a mile outside the park boundary, as planned, vacationers pausing for a snapshot beside the historic gate on their way to Old Faithful might see heavy mining equipment and floodlights in the background. Further north, a proposed gold mine on Emigrant Peak would mar the view from the road that cuts through Paradise Valley.  Travelers gazing at the majestic peak jutting up from the Absaroka Mountains—a refuge for bighorn sheep, elk, grizzly bears and other creatures—would be confronted with the destruction of an open-pit mine.
But a blemished view of the cinematic Yellowstone landscape is just one of the problems anticipated with this proposal. The Emigrant mine threatens to send acid runoff flowing into tributaries of the Yellowstone River, while nearly 100,000 tons of waste rock containing elevated levels of arsenic would be dumped near tributary headwaters. Both could impact wild trout and other species that depend upon the rushing rivers of Yellowstone for pure, freshwater habitat.
Don't Mine Yellowstone from Eric Ian Photography on Vimeo.
The Yellowstone gateway mines would also carve up precious habitat for endangered grizzly bears. Not only would grizzlies have to pick their way around waste rock storage areas and risk fatal encounters with humans due to road construction, but they might also be exposed to the industrial noise of mining equipment and helicopters overhead, used to haul core samples and transport people to remote drill sites. Biologists have found that this kind of noise disturbance can cause grizzlies to abandon their dens.
And wildlife, including wolverines, lynx, elk, and other species, wouldn't be the only inhabitants impacted by the mines. Destroying natural habitat to make way for mines threatens the local community by taking a toll on the regional economy. Maintaining large swaths of connected wildlands is a proven strategy to support sustainable recreation and a healthy tourist economy. Barreling ahead with a gold mine for short-term financial gain could come at the expense of the primary driver of economic growth in the Yellowstone area: an intact landscape that attracts millions of visitors from around the globe and supports a diverse business community and highly skilled workforce.
The temptation to extract precious minerals from the mountains around Yellowstone means short-sighted mining proposals have cropped up time and again. Mining flourished in the greater Yellowstone region in the 1870s and continued all the way to the 1950s. But as the mines sat idle in the decades that followed, three watersheds in the surrounding area were stained with orange, acid-tainted water that found its way into Yellowstone National Park.
Photo courtesy of William Campbell
In the late 1980s, Canadian mining giant Noranda quietly bought up most of the existing mining claims from the areas that were leaching acid-tainted water. The company then unveiled plans for a massive new mine where it would spray liquid cyanide onto piles of crushed ore to extract gold. The National Park Service and local citizens were horrified, and a United Nations committee even designated Yellowstone as a "world heritage site in danger."
Earthjustice filed suit on behalf of the Beartooth Alliance, the Greater Yellowstone Coalition and other citizens groups, calling on Noranda to clean up the toxic runoff from the old mines it had purchased before it started on the new project. It was forced to abandon the project. (Read the full story here). 
Park lovers understand that the only way to preserve the natural beauty of Yellowstone is to spring into action whenever new mining proposals start to gain momentum. That's why Earthjustice is now working in partnership with local and national groups to defend our oldest national park against the gold mine proposals that threaten to undermine the area's immeasurable environmental, social, cultural and economic value.
As the National Park Service turns 100 this summer, the 100 Years Wild series celebrates the value of public lands as refuges to wildlife and people, while also shining a light on the threats to these irreplaceable landscapes in a changing and warming world.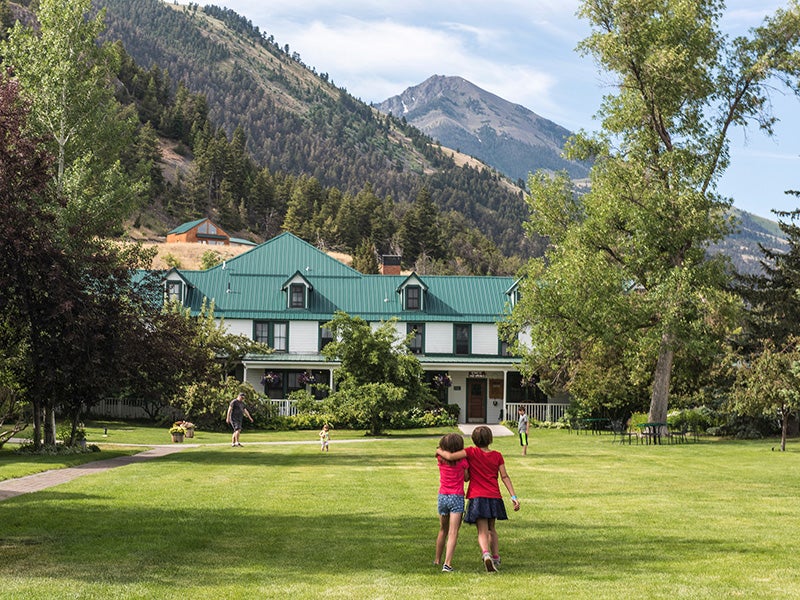 Photo courtesy of William Campbell
Nuestro Primer Parque Nacional: Más Valioso Que el Oro
"Para el Beneficio y Gozo de la Gente."
Estas son las palabras inscritas en el Arco Roosevelt, visitado por millones que pasan por la entrada norte del Parque Nacional de Yellowstone cada año. El Presidente Theodore Roosevelt hizo una parada a un lado del arco en 1903 para elogiar a Yellowstone, el primer parque nacional del planeta.
Pasaría más de una década antes de la formación del Servicio de Parques Nacionales, pero el valor central de preservar y proteger las impactantes tierras silvestres para beneficio universal han sido talladas en la piedra.
Los nuevos planes para operar un par de minas de oro cerca del parque han motivado a Earthjustice a unirse a una coalición de grupos ciudadanos y aliados de mucho tiempo en una batalla para proteger a Yellowstone. Las minas causarían daño ambiental irreparable en esta maravilla natural y devastarían la economía de la región.
Si una mina de oro fuera a operar en Crevice Mountain, apenas a una milla de los límites del parque, como se planea, los vacacionistas que ahorita hacen una pausa para tomar fotos en la histórica puerta de entrada hacia el géiser Old Faithful puede que también vean equipo pesado de minería y lámparas de alumbrado al fondo. Más hacia el norte, la propuesta para una mina de oro en Emigrant Peak podría obstruir la vista desde el camino que llega hasta Paradise Valley. Los viajeros admirando la majestuosa montaña que sale de las Montañas Absaroka—un refugio para carneros salvajes, alces, osos grizzly y otras especies—podrían toparse con la destrucción causada por una mina a cielo abierto.
Pero una vista con defectos en el paisaje de sueño que es Yellowstone es apenas uno de los problemas que seguramente sucederían a raíz de este proyecto. La mina Emigrant amenaza con arrojar químicos ácidos a los tributarios del Río Yellowstone, mientras que casi 100,000 toneladas de desechos de roca con altos niveles de arsénico pudieran ser vertidos cerca del nacimiento de los tributarios. Ambos podrían afectar la trucha silvestre y otras especies acuáticas que dependen de las corrientes del agua de los ríos del parque Yellowstone donde tienen su hábitat de agua dulce y pura.
Las minas de la entrada de Yellowstone podrían disminuir áreas de hábitat para los osos grizzly que son una especie amenazada. Los grizzlies no tan sólo tendrían que huzmear en zonas de acopio de piedra que aumentarían el riesgo de encuentros fatales con los humanos debido a la construcción de caminos, pero también estarían expuestos al ruido industrial del equipo de minería y de helicópteros volando que se usan para hacer muestreo y transportar trabajadores a sitios de perforación remotos. Los biólogos han encontrado que este molesto nivel de ruido puede causar que los grizzlies abandonen sus cuevas.
Y la vida silvestre, incluyendo glotones, linces, alces y otras especies, no serían los únicos habitantes afectados por las minas. Destruír el hábitat natural para dar paso a las minas amenaza la comunidad local al afectar la economía de la región. Mantener grandes áreas de terrenos silvestres conectados es una estrategia comprobada de apoyar las actividades recreativas y una saludable economía basada en el turismo. Avanzar a toda costa en el plan de permitir la operación de una mina de oro para recibir ganancias financieras a corto plazo podría lograrse a expensas de la principal causa de crecimiento económico en la zona de Yellowstone: el paisaje intacto que atrae a millones de visitantes desde todos los rincones de la tierra y que soporta a una diversa base empresarial y una fuerza de trabajo especializada.
The tentación de extraer minerales preciosos de las montañas alrededor de Yellowstone significa que proyectos mineros a corto plazo han estado haciendo su aparición de vez en cuando. La minería floreció en la región aledaña a Yellowstone en la década de 1870 y continuó hasta los años 50s. Pero mientras que las minas estaban inactivas en las décadas siguientes a este tiempo, tres cuencas en la zona de los alrededores se mancharon de color naranja por el agua llena de ácido que fue a dar al Parque Nacional de Yellowstone.
En los últimos años de la década de los 80s, el gigante canadiense de la minería Noranda calladamente compró la mayoría de las peticiones de explotación minera existentes de las áreas que estaban chorreando agua llena de ácido. La compañía luego reveló planes para una enorme mina nueva donde iba a rociar cianuro líquido a pilas de mineral triturado para extraer oro. El Servicio de Parques Nacionales y residentes locales se horrorizaron, y un comité de las Naciones Unidas incluso designó a  Yellowstone como "sitio de patrimonio mundial en peligro."
Earthjustice presentó una demanda a nombre de Beartooth Alliance, Greater Yellowstone Coalition y otros grupos ciudadanos, en donde le piden a Noranda que limpie el deslave tóxico que se está escurriendo de las viejas minas que había comprado antes de empezar el nuevo proyecto. Fue obligada a abandonar el proyecto. (Lea la historia completa aquí). 
Los amantes de los parques entienden que la única manera de preserver la belleza natural de  Yellowstone es poner manos a la obra en cuanto los proyectos de minería empiecen a tomar impulso. Esa es la razón por la que Earthjustice ahora está trabajando en asociación con grupos locales y nacionales para defender nuestros parques nacionales contra las propuestas que amenacen los inmensos beneficios ambientales, sociales, culturales y económicos de la región.
En conmemoración del centenario del Servicio de Parques Nacionales, la serie 100 Years Wild celebra el valor de las tierras públicas como refugio para la vida salvaje y para la gente mientras que al mismo tiempo le echa un vistazo a las amenazas contra estos paisajes irremplazables en un mundo cambiante y cada vez más caluroso.