Fighting the Oakland Coal Nightmare
Developers, politicians and Utah coal barons wanted to bring California's largest coal export facility to West Oakland. Who schemed up the idea to send trainloads of coal to one of the most burdened neighborhoods in the area, and who worked to keep this nightmare from becoming a reality?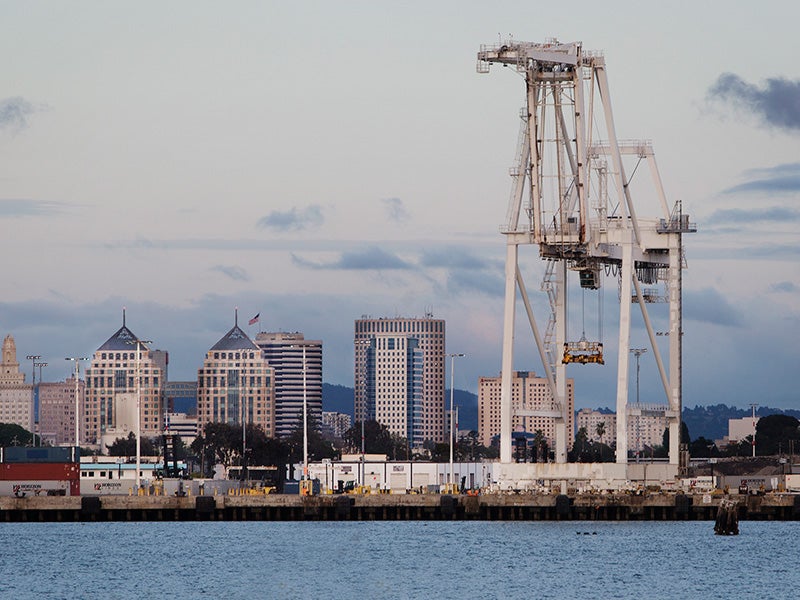 Update: June 19, 2018
San Francisco Baykeeper and the Sierra Club, represented by Earthjustice, filed an appeal in support of the City of Oakland's ban on coal storage and handling. Last month, U.S. District Judge Vince Chhabria ruled in favor of coal terminal developer Phil Tagami in his lawsuit challenging the City's ban. After a three-day trial, the judge found that the City had not yet compiled sufficient evidence to support its ban. We are appealing the District Court's decision to the Ninth Circuit and asking it to protect West Oakland communities from dirty and dangerous coal. (Read more.)
On April 7, 2015, a small newspaper in Utah ran a story about a previously unreported plan by four coal-producing counties to invest in a new West Coast export terminal. An emailed memo, later obtained through public records requests, showed how Utah officials were trying to keep the project under wraps:
"We've had an unfortunate article appear on the terminal project…the script was to downplay coal…
"[Terminal developer] Phil Tagami had been pleased at the low profile that was bumping along to date on the terminal and it looked for a few days like it would just roll into production with no serious discussion…"
But the secret was out.
When West Oakland residents learned that a local private developer had quietly cut a deal to bring trainloads of climate-disrupting coal to their neighborhood and then export them to the rest of the world, opposition quickly coalesced.
What was the deal?
What was the deal? Follow the money:

Many experts see coal as a dying industry due to the collapsing domestic market for this product. But not Bowie Resource Partners LLC. Bowie is trying to buy the assets of other coal companies that are in, or near, bankruptcy. To make the bet pay off, Bowie needs a way to get its coal out of the U.S. to overseas markets.

Enter: West Coast port cities, such as Oakland, California.

The proposed Oakland Bulk and Oversized Terminal, slated for completion in early 2017, is part of the city of Oakland's waterfront redevelopment project. When he introduced the project, developer Phil Tagami said the terminal would ship commodities like iron ore, corn and wind turbines. He stated explicitly in person and online that coal would not be a part of the project.

"The Oakland Bulk and Oversized Terminal…is saying NO to coal," Tagami wrote on Facebook in 2014. "We share this one planet, and the only path to clean the air is to at some point stop polluting it."

However, like all projects under development, this one needed money.

Bowie and four counties in Utah proposed a deal that would guarantee Tagami money and Bowie a way to ship coal to foreign markets.

When the counties' original deal was met with a storm of criticism because it appeared to misuse federal funds—money intended to help Utah communities impacted by mineral mining—the Utah legislature stepped in to approve a new scheme. The legislature's deal would funnel $53 million in state money to invest in the Oakland terminal. The money would buy the Utah counties the right to ship goods, including coal, through the terminal.
Thanks to the dogged efforts of locals, in July 2016 the Oakland City Council banned coal from being handled and stored in the city. Weeks later, Governor Jerry Brown delivered another crushing blow to coal by signing a bill that blocks future state funding for all coal shipping terminals in California.
Citizens, faith leaders, politicians, environmentalists and labor organizers in Oakland came together to successfully defeat this antiquated idea for their modern city.
These are some of their stories.
Margaret Gordon
West Oakland Environmental Activist
"It's already hard enough to breathe around here."
Years ago, when Margaret Gordon first became aware of the pollution in her community, she set up air monitors and used the data to justify emissions reductions that led to improvements in air quality. She held community meetings, formed the non-profit West Oakland Environmental Indicators Project and was elected to the Oakland Board of Port Commissioners.
Most importantly, Gordon says, she's empowered community members by giving them a seat at the table where decisions are made that impact their health. Now, Gordon and many of her neighbors are claiming that seat.
Gordon says she welcomes the new bulk terminal and the jobs it will bring. She does not welcome the coal. "It's already hard enough to breathe around here," Gordon said. "Now you want to add coal trains? Not on my watch."
Why is it so hard to breathe in West Oakland?
West Oakland residents are sandwiched between the Port of Oakland and three freeways. Thousands of trucks make daily trips past local homes en route to the port. Additionally, metal recycling centers, industrial facilities and a wastewater treatment plant all contribute to the toll on local air quality.

If 5 to 10 million tons of Utah coal were shipped through the new terminal, mile-long coal trains, running 6 to 10 times a day, would pour fine particulate coal dust into the already polluted air.

The bulk goods terminal is being built at the port in West Oakland, an area in the northwest corner of the city of Oakland. Eighty-five percent of West Oakland residents are people of color. Nearly two-thirds of households in the area earn less than $30,000 a year, compared to 26 percent of households county-wide.

Public health studies have uncovered stark inequities across populations and neighborhoods in Oakland. In one finding, the life expectancy for an African American child born and raised in lower-income areas of Oakland, such as West Oakland, is at least 15 years less than for a white child born and raised in the wealthier Oakland Hills area.

All of this has led local residents and health experts to argue that West Oakland is bearing an unfair burden. And trainloads of coal would be one more problem on top of many.
Rev. Ken Chambers
West Side Missionary Baptist Church Leader
"We're looking at the future. I want my grandkids to breathe fresh air and for West Oakland not to be underwater…in 50 years."
A cancer survivor whose children grew up struggling with asthma, Reverend Ken Chambers has been organizing monthly meetings at his church to educate the faith community about coal exports. Rev. Chambers has been the pastor at West Side Missionary Baptist Church for more than 25 years.
"When I first heard about this I thought, 'I'm not sure if this is my fight.' But then I saw that other churches were speaking out in favor of coal and I learned that they were taking money from the company that intends to export coal," said Rev. Chambers. "It was then that I said, 'Well now this is my fight.'"
About the Faith Leaders in This Fight
In February, Rev. Chambers was joined by a broad spectrum of faith leaders, from the Nation of Islam to Jewish, Roman Catholic, Buddhist, Evangelical and Episcopal clergy. Sixty-eight faith leaders from across the Bay Area signed a letter to Oakland Mayor Libby Shaaf, opposing coal exports in Oakland.

"This is bigger than West Oakland," said Rev. Chambers. "We are organizing citywide support from every council district to stand up against this environmental injustice."

Rev. Chambers is concerned about the impacts that coal dust could have on his parishioners and on the greater community. He also believes that humans have a duty to protect future generations from the effects of climate change.

"This is really essential for the quality of life for the planet," said Rev. Chambers.
Lora Jo Foo
Labor Attorney & Organizer
"If they want to invest $53 million, we welcome it. But not for coal."
Soon after news of the coal export plans slipped out and gained widespread notice, Oakland residents Lora Jo Foo and Aaron Reaven traveled to Utah to speak to members of the Permanent Community Impact Fund Board, the potential source of money for the Oakland coal export deal. They made the case that this would be a bad investment for Utah because of opposition in the Bay Area.
Foo, who worked for years as an attorney representing immigrant sweatshop workers, told the East Bay Express, "If [the Utah counties] want to invest $53 million, we welcome it. But not for coal."
Brittany King
Sierra Club Organizer
"We don't want to have to compromise the health of the community for the commodity."
An Oakland-native, Brittany King has spearheaded many of the phone banks, canvassing sessions, teach-ins and visits to city councilmembers that go into local organizing. "Some people say, 'If we don't have coal, we don't have a terminal,' but that's not true," King said. "There's a ton of other things that can be shipped."
A Sierra Club poll found that 76 percent of Oakland voters oppose the use of the bulk terminal for handling coal. King points out that most Oakland residents want the waterfront land redeveloped as a shipping terminal for rice, lumber, steel or wind turbines—anything but coal.
In September 2015, the Oakland City Council held a hearing to collect information and testimony about the health and safety concerns associated with shipping and storing coal. If the city determines that there is a public health and safety threat, it has the authority to regulate coal shipments.
It was the longest hearing in the history of the Oakland City Council, as nearly 700 residents requested to speak. The overwhelming majority of them opposed coal. The Sierra Club's local organizing effort played a key role in making sure community members knew the hearing was taking place, as well as mobilizing the massive turnout of concerned residents.
Derrick Muhammad
International Longshore and Warehouse Union Local 10 Representative
"Coal is not the right way to bring jobs to Oakland."
"When I heard about the possibility of coal coming through this port I just had a really bad feeling come over me," said Derrick Muhammad, one of the people who spoke at the city council meeting. "Oakland families are already worried about asthma and other sickness because of highways and port activities. It's not right to ask them to take on the worry and risk of nine million tons of coal passing through their neighborhoods on trains each year."
Muhammad says the union supports the construction of the new port terminal and the jobs the terminal will bring. But he rejects the developer's claim that the jobs are dependent on coal.
In fact, the bulk terminal would only lead to 117 full-time jobs. And those jobs would exist regardless of the type of goods being shipped.
Sejal Choksi-Chugh
Executive Director of San Francisco Baykeeper
"Coal trains don't belong on San Francisco Bay's shoreline or in Bay Area neighborhoods."
Several years ago, San Francisco Baykeeper was out on a patrol of the bay when staff members saw coal dust flying through the air at the Levin-Richmond Terminal in Richmond. They took the terminal operator to court to get the area cleaned up. When they found out about the Oakland project, they joined the coalition battling the proposal. The new bulk terminal would have the capacity to ship ten times the amount of coal that's currently moved through the Levin terminal.
Baykeeper is concerned about water quality impacts as a result of the project. "What would the San Francisco Bay be like if toxic coal dust blew into its waters every day?" asked Choksi-Chugh.
Irene Gutierrez
Earthjustice Attorney
"Allowing coal exports through Oakland not only harms the community and the environment, but is also inconsistent with the progressive climate goals set by the city of Oakland and the state of California."
For years, Earthjustice has been battling and blocking coal export proposals up and down the West Coast. We were part of a broad coalition tackling the issue in Oakland, working with local residents, unions, religious leaders and social justice advocates to educate the public about the coal proposal.
More on Earthjustice's work to stop coal export terminals
What's Happened In Utah?
The money to help fund the Oakland terminal could ultimately come from Utah's Permanent Community Impact Fund Board. Under federal law, the funds are intended for public works projects in communities impacted by mining—not for out-of-state developers or private coal companies looking to turn a profit.
After months of public criticism about the inappropriate use of these protected funds—and conspicuous silence from the Utah attorney general—in March the Utah legislature passed SB 246. The bill routes $53 million in community impact funds through the state's transportation budget, to then be spent on the Oakland terminal. One Utah senator criticized the law as a money-laundering "shell game."
Public records requests later revealed that some of the same lawmakers who helped speed the bill through the legislature received campaign contributions from Bowie Resource Partners LLC—the coal company that had hoped to ship its coal through Oakland.
"This scheme is a testament to the desperate measures coal interests must use to try to sneak through their damaging export proposals," said Ted Zukoski, a staff attorney in Earthjustice's Rocky Mountain office who has been closely investigating this issue.
On June 20, Earthjustice and our partners sent a letter to U.S. Attorney General Loretta Lynch, calling for a formal investigation into potential legal and ethical violations in Utah's extraordinary taxpayer-funded loan to build the Oakland terminal.
In August, the four Utah counties behind the multi-million dollar application for community impact funds withdrew their request, but county officials say they're prepared to try again in the near future. A new public poll shows that more than half of Utah residents oppose spending public money on an Oakland coal terminal.
What's Happened In California?
The Oakland City Council has the power to ban coal from the export terminal. Instead, they first referred the matter to city staff for review, where it sat in limbo for months.
California Governor Jerry Brown, the former mayor of Oakland and a self-proclaimed environmental champion, was roundly criticized for his months of inaction on the issue. Over the years Brown has shared business and political ties with terminal developer Phil Tagami, journalists noted.
Meanwhile, state Senator Loni Hancock took the problem into her own hands, introducing legislation to restrict coal exports statewide. "I cannot sit by while the residents of West Oakland face their own Keystone Pipeline," said Hancock. She added that the city of Oakland should do its job to protect residents by using its authority to ban coal exports.
In early May, the city council took a key step forward by approving a contract with a consulting firm to evaluate the health and safety impacts of coal exports. The council used the firm's report to assist in making a final decision.
On June 27, the Oakland City Council voted to approve an ordinance banning coal from being handled and stored in Oakland. The council included a resolution to apply the ordinance to the proposed Oakland Bulk and Oversized Terminal. The ban became final following a second vote on July 19.
Weeks later, Governor Brown followed the council's lead by signing a bill that blocks state funding for all coal shipping terminals in California.
Epilogue
City officials heard from the community loud and clear. From the longest city council meeting on record to the editorials in local papers; from the thousands of petition signatures to an open letter signed by hundreds of community organizations and businesses, the message was clear: No coal in Oakland.
"We commend the Oakland City Council for using its powers to protect the health and safety of its citizens," said attorney Irene Gutierrez. "There is no place for a dirty and dangerous commodity like coal in Oakland, and this ordinance allows the city to build an economy based on good, clean jobs and progressive climate policies."
Rev. Ken Chambers says he is "very excited" about the outcome. "It proves that working together works," he said.
"No matter your race, religious denomination or sexual preference, we all want fresh air to breathe, good jobs to provide for our families, houses to live in…The challenges we have can go away if folks work together, demand more, and government partners with communities to plan ways around these environmental injustices." (Read an extended interview with Rev. Chambers in the aftermath of the community's achievement.) 
Update: June 19, 2018
San Francisco Baykeeper and the Sierra Club, represented by Earthjustice, filed an appeal in support of the City of Oakland's ban on coal storage and handling. Last month, U.S. District Judge Vince Chhabria ruled in favor of coal terminal developer Phil Tagami in his lawsuit challenging the City's ban. After a three-day trial, the judge found that the City had not yet compiled sufficient evidence to support its ban. We are appealing the District Court's decision to the Ninth Circuit and asking it to protect West Oakland communities from dirty and dangerous coal. (Read more.)
By Chris Jordan-Bloch and Heather Kathryn Ross. Updated June 19, 2018. Originally published June 7, 2016. About the legal case.