Coalition Praises Sen. Cantwell's Call for Immediate Ban on Dangerous Railcars Carrying Crude Oil
Proposed bill calls for strong, comprehensive regulations to improve safety of oil transport by rail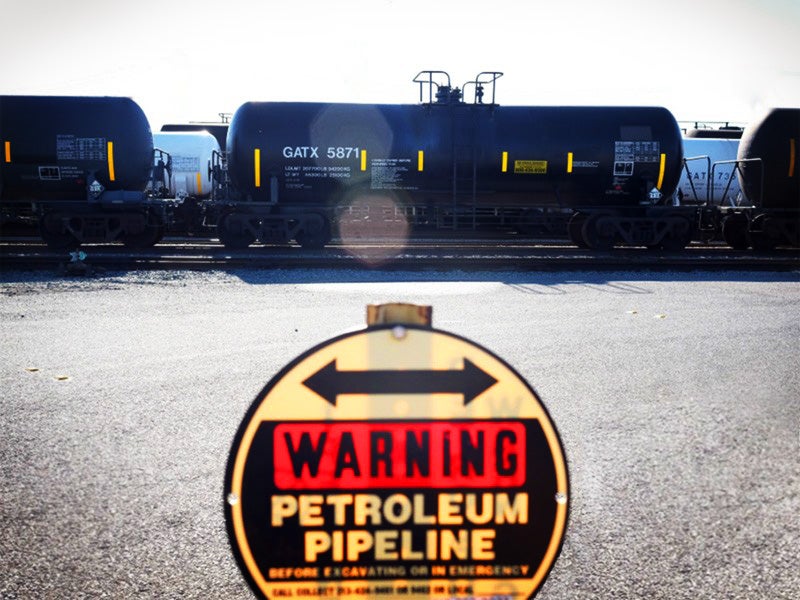 Chris Jordan-Bloch / Earthjustice
Seattle, WA —
Today Senator Maria Cantwell introduced legislation addressing the growing threat of oil by rail that includes a call for the immediate ban of the most dangerous tank cars used to transport crude oil on America's railways. Sen. Cantwell's legislation calls for the immediate ban of DOT-111 and unjacketed CPC-1232 oil tank cars, models that have been involved in a number of accidents in the past two years including a string of four derailments and explosions that occurred in a one month period earlier this year.
Other provisions of the proposed bill include:
Establishing a maximum volatility standard for crude oil transported by rail
Requirements for thicker tank car shells and electronic braking mechanisms
Increased inspections of rail infrastructure and energy products
Disclosure of train movements through communities and emergency response plans
A close-call reporting system
Comprehensive oil spill response planning and studies
Stand Up To Oil, a coalition of environmental, community, and public health groups fighting crude-by-rail proposals in Washington and Oregon, applauded Senator Cantwell's bill.
Said Kristen Boyles, attorney at Earthjustice:
"DOT allows exploding oil trains to rumble through communities and along rivers and streams and now seems poised to finalize new rules that again fail to protect people and the environment. Senator Cantwell's legislation comes not a moment too soon—it shouldn't take four massive oil train accidents in a month to know that explosive crude oil cannot be safely transported by rail in substandard tank cars. Senator Cantwell's legislation is comprehensive, common sense, and critical for the safety and well-being of communities all along the rail lines."
Said Rebecca Ponzio, oil campaign director at Washington Environmental Council:
"Senator Cantwell's oil by rail legislation is an important and needed step in the right direction. We urge the Senate to move this legislation forward swiftly—delay is unacceptable in the face of this pressing threat to our public safety.
"Local and state officials in the Pacific Northwest are working hard to address the safety risks of oil transportation and this common-sense measure at the federal scale is critical to protecting our communities—working towards safer rail cars, increasing inspections, requiring more public disclosure, and improving emergency response."
Matt Krogh, extreme oil campaign director at ForestEthics:
"Senator Cantwell's bill will help protect the 25 million Americans who live in the oil train blast zone. The bill bans unsafe DOT 111 and CPC 1232 tank cars for crude oil and puts into place other critical safety measures. The explosive, toxic extreme crude oil moving by train is too dangerous for America's rails. This bill is huge step in the right direction."
Devorah Ancel, attorney at Sierra Club:
"Communities and elected officials across the country are calling on the Department of Transportation to take aggressive action on crude by rail safety to ensure the safety of all Americans. This comprehensive legislation will ensure that communities impacted by crude by rail transport are protected against the unreasonable and significant risks posed by sub-standard tank cars carrying massive quantities of highly volatile crude. To meet its primary duty to protect public health and safety, the Department of Transportation must finalize new standards that accomplish no less than what Senator Cantwell has set out to do in drafting this legislation."