Alabama Residents Speak Out Against Alleged Civil Rights Violations Involving Coal Ash Dump in Black Community
Residents are exposed to toxins linked to cancer, asthma, and nerve damage
Keith Rushing, Earthjustice, (202) 797-5236, (757) 897-2147
Washington, D.C
—
Investigators from the U.S. Environmental Protection Agency interviewed residents of the predominantly black and low-income community of Uniontown, in Perry County, Ala., this week, to probe charges that their civil rights were violated when the Alabama Department of Environmental Management (ADEM) decided to re-permit a municipal landfill containing four million cubic yards of poisonous coal ash.
The coal ash came from a massive spill in Kingston, Tennessee, where coal ash burst through a dike in 2008 and sent a billion gallons of toxic waste across 300 acres of riverfront property, destroying two dozens homes. It was the largest coal ash spill in U.S. history.
In 2010, after residents of the predominantly white, middle class Kingston community complained about the lack of cleanup, the Tennessee Valley Authority chose to move it 350 miles south to Arrowhead landfill in Uniontown. ADEM reissued the landfill's permit without proper and enforceable protections of public health despite the dangers of coal ash and the objections of Uniontown residents. The agency failed, according to the civil rights complaint, to take actions to avoid disproportionate adverse impacts on the basis of race.
Hurricane Creekkeeper John Wathen visited both Kingston, Tennessee, and Uniontown after the spill and the transfer of the coal ash. He commented, "When it was in Tennessee, it was treated as if it was hazardous material because the white middle class folks made sure it was handled that way. Then it came down here and they treated it like it was just household waste. Why is it hazardous in Tennessee and not in Uniontown?"
In 2013, Earthjustice began representing community residents who filed the civil rights complaint. Esther Calhoun, a complainant who was born and raised in Uniontown, asked, "Why doesn't ADEM do its job and do the footwork required to protect people? ADEM doesn't care. What does it take? Us in a casket?"
Marianne Engelman Lado, lead attorney on the complaint, stated, "Many people live across the street from the dump, just yards away. People return to Uniontown to live on their family homestead and enjoy the fresh air and quiet way of life. Now, they worry that their water is polluted. They can't sit on their porch without the acrid smell of the landfill and fear for their health."
Coal ash, which contains arsenic, mercury and lead, is the waste that remains when coal is burned in coal-fired plants to generate electricity. Coal ash has been linked to cancers, stroke, heart disease, kidney, liver and brain damage, asthma, and anemia and developmental damage in fetuses.
After the coal ash began arriving, the residents of Uniontown began experiencing headaches, dizziness, skin rashes, nausea and vomiting.
The landfill is permitted to receive waste from more than 30 states along the East Coast from Rhode Island to Florida, and as far west as Oklahoma.
Coal ash is America's second largest form of industrial waste and is known to have contaminated 200 lakes, rivers, streams and water aquifers in the U.S. The EPA will finally regulate coal ash disposal by publishing a final rule in December 2014 after years of pressure but the impact on Uniontown is unclear.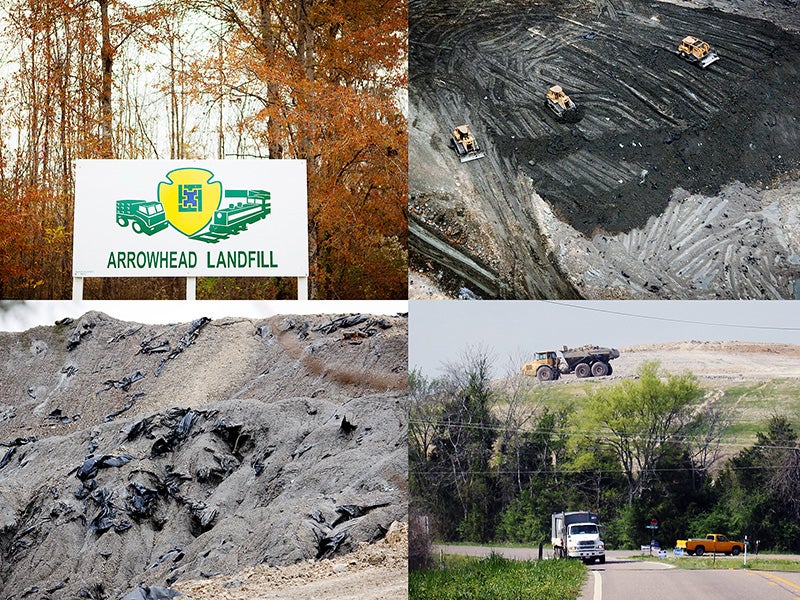 Earthjustice is the premier nonprofit environmental law organization. We wield the power of law and the strength of partnership to protect people's health, to preserve magnificent places and wildlife, to advance clean energy, and to combat climate change. We are here because the earth needs a good lawyer.