Oakland City Council Formally Opposes Transport of Hazardous Fossil Fuels
Local residents applaud council for officially raising concerns about oil and coal export proposals
Maggie Caldwell, Earthjustice, (415) 217-2028
,
Meg Matthews, Sierra Club, (206) 291-5942
Oakland, CA
—
Community members rallied at City Hall last night, urging the Oakland City Council to support a resolution that opposes transporting coal, petroleum coke, crude oil and other hazardous materials along rail lines in Oakland and the East Bay. A few hours later, the council unanimously passed the resolution, officially raising city concerns about environmental problems, public health hazards, economic pitfalls and public opposition to exports. The resolution marks the first step in addressing the hazards of Bay Area coal and oil exports.
Oakland is the first city in California to pass a resolution that addresses railway transportation of not only oil but also coal and petcoke. The resolution was originally introduced by councilmembers Dan Kalb, Lynette Gibson McElhaney and Rebecca Kaplan.
"This resolution is critical to protect the health, safety and well-being of Oakland and East Bay families and businesses, not to mention the cultural and economic vitality of our communities," said Councilmember McElhaney. "Oakland is leading the way for Californians who want to tell Big Coal and Big Oil that we cannot bear the risk they impose upon on our town."
A coalition of local community members and organizations mobilized to support passage of this resolution, including the West Oakland Environmental Indicators Project, Communities for a Better Environment, Asian Pacific Environmental Network, San Francisco Baykeeper, Earthjustice and the Sierra Club.
"From the Gulf Coast to the Pacific Coast, from mine to rail and port to plant, local communities are standing up against dangerous coal and oil exports," said Jess Dervin-Ackerman, conservation organizer with the Sierra Club's San Francisco Bay Chapter. "We want our local economy to be bolstered by clean, renewable energy from wind and solar, not carbon-intensive, highly-polluting fossil fuels."
Due to strong community organizing, coal, petcoke and oil export facilities have been unable to move forward along much of the West Coast. Other communities in California have passed similar resolutions regarding oil transport, including Berkeley and Richmond. In Washington and Oregon, three coal export proposals have been abandoned and the remaining three face fierce opposition from tens of thousands of citizens and hundreds of groups, businesses and elected officials.
"If we allow fossil fuel exports to travel through our communities, it will undo our region's energy and climate leadership and threaten the health and safety of our local communities," said Suma Peesapati, staff attorney with Earthjustice. "It makes no sense to move backwards at a time when the EPA and our state leaders are taking real steps to protect Californians from dirty fossil fuels, carbon pollution and the threat of climate disruption."
Coal dust and diesel particulate matter from the numerous open top mile-long trains to transport these commodities would pose significant air and water quality threats to Bay Area families. On average, each car loses 500 pounds of coal per trip for more than 60,000 pounds lost per train. Coal breaks apart easily to create dust that contains lead, arsenic, uranium, and hundreds of other heavy metal toxins harmful to fish and human health.
The city of Oakland has an asthma hospitalization rate that is two times higher than the rest of Alameda County.
"Ten years of advocacy have cleaned our windowsills of diesel soot," said Brian Beveridge, co-director at West Oakland Environmental Indicators Project. "We don't want to replace it with coal dust."
"We've seen damage from the Cosco Busan oil spill continuing to impair the Bay years later, and yet shipment of crude by rail lacks most of the basic safety protections in place for marine vessels," said Jason Flanders, Program Director at San Francisco Baykeeper. "Oakland is simply playing self-defense, while more state and federal regulations are needed."
Coal dust can also contribute to train derailments, which is especially troubling in light of the oil train traffic also moving through the densely populated urban area.
"I'm thrilled that Oakland City Council took a strong stand to protect our communities by opposing transport of dangerous Fossil Fuels by rail through the heart of Oakland," said councilmember Kalb. "Let's protect the health and safety of our communities by investing our expertise and resources in choices that keep Oakland on the leading edge of the country's clean energy economy."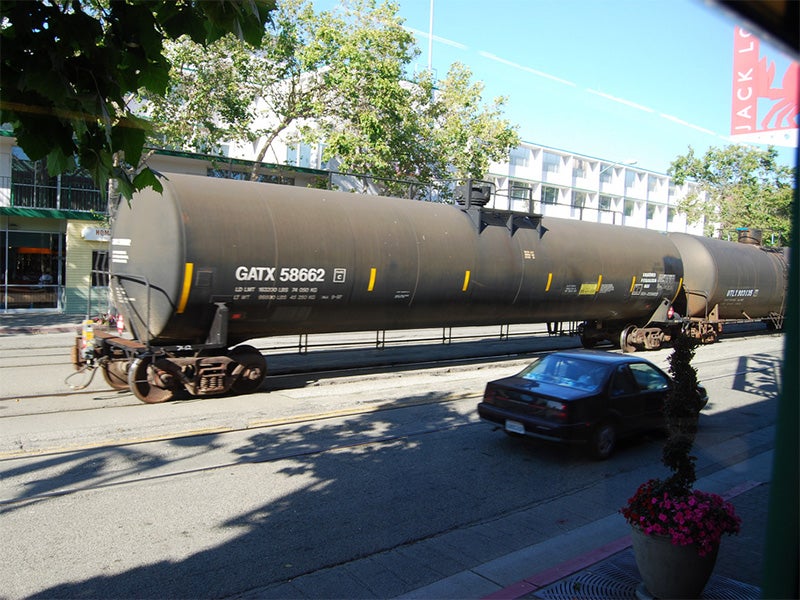 Earthjustice is the premier nonprofit environmental law organization. We wield the power of law and the strength of partnership to protect people's health, to preserve magnificent places and wildlife, to advance clean energy, and to combat climate change. We are here because the earth needs a good lawyer.