Public Health and Environmental Groups File Suit Against Weak Smog Standard
EPA set standard at level that allows thousands more deaths, hospitalizations
David Baron, Earthjustice, (202) 745-5203
,
Catherine Thomasson, MD, Physicians for Social Responsibility, (202) 587-5240, C: (503) 819-1170
,
Eric Bontrager, National Parks Conservation Association, (202) 659-0650, C: (202) 770-7419
,
Brian Willis, Sierra Club, (202) 675-2386
,
Stanley Fritz, West Harlem Environmental Action, (212) 961-1000, ext 320
Washington, D.C.
—
Today, Earthjustice representing the Sierra Club, Physicians for Social Responsibility, West Harlem Environmental Action, Appalachian Mountain Club, and the National Parks Conservation Association filed suit to challenge the national ozone standards adopted in October. The EPA's standards are weaker than what medical experts have called for. They fail to protect against thousands of deaths and hospital and emergency room visits, and hundreds of thousands of asthma attacks that could be prevented by more protective standards, the groups contend.
The EPA set its new standards at the very weakest level it considered, 70 parts per billion (ppb), despite findings by the agency's science advisors that harms to health occur below this level, especially for vulnerable populations. The EPA also rejected calls from the National Park Service to establish a separate standard calibrated to protect trees, crops and other plants from ozone-caused damage.
"This standard leaves kids, seniors and asthmatics without the protection doctors say they need from this dangerous pollutant," said David Baron, an attorney at Earthjustice, the nonprofit law firm representing the coalition of health and environmental organizations. "The EPA has a duty to set standards that assure our air is safe to breathe. We say they violated that duty here."
"Health professionals see more patients with asthma attacks and heart attacks on bad air days. Ground-level ozone is the most prevalent air pollutant in the U.S., affecting tens of millions of people. A dangerous health hazard, ozone can cause permanent lung damage, exacerbate chronic lung and heart diseases, and affect fetal development. It poses a serious threat to asthmatics, children and the elderly," said Catherine Thomasson, MD, Executive Director, Physicians for Social Responsibility. "Regrettably, the EPA's failure to adopt stronger ozone standards leaves people without the full protection that is needed. The health benefits of a 60 ppb standard would be far greater than 70 ppb, because—as the latest science shows us—ozone is clearly harmful to health at levels down to 60 ppb."
"Outdoor enthusiasts—including many visitors to national parks—are not protected from unhealthy levels of ozone pollution under the new standards," said Stephanie Kodish, Clean Air Program Director, National Parks Conservation Association. "And the new standards will not protect plants and trees from ozone damage as the law mandates. To safeguard national park ecosystems, our members and their interests, we are joining this petition."
"The EPA's updated ozone standard falls well short of the Clean Air Act's requirements to protect the health of vulnerable populations like children, seniors, and people with breathing ailments like asthma," said Terry McGuire, Sierra Club's Washington Representative on Clean Air. "To any parent whose children suffer frequent asthma attacks because of air pollution, the EPA's new standard is not nearly strong enough, and this legal challenge is about holding the Administration, and polluters, accountable to them and their children. Every American, no matter where they live or how much money they make, deserves clean and healthy air."
"A Standard of 70 ppb does not protect the most vulnerable communities, not when the asthma rate in Northern Manhattan is higher than the national trend. It is extremely important that we use all of the regulatory and non-regulatory mechanisms to protect the health of our most overburdened, sensitive populations. This standard does not accomplish that, and once again leaves our communities to fend for themselves," said WE ACT Deputy Director, Cecil Corbin-Mark.
Ozone, the primary component of smog, is a corrosive gas that causes asthma attacks and other respiratory problems that can keep kids from school and adults from work. It can send kids and adults to the hospital, and is also linked to premature death. Somebody exercising can breathe in up to 10 times more air than normal and bring it deeper into their lungs, thus exposing them to more ozone. It also damages plants and forests, harming growing trees and crops and causing some trees' leaves to blacken and wither.
This case is the latest in a series of court actions over more than a decade that seeks stronger protections against deadly ozone pollution. In 2008, the Bush EPA set national standards for ozone at 75 ppb, weaker than the unanimous recommendation of the EPA's own science advisors. Earthjustice challenged the 2008 standards on the ground that the EPA's action was arbitrary and contrary to the language and purpose of the Clean Air Act. In March 2013, EPA missed its legally binding deadline to review and update the standards, and Earthjustice later secured a court-ordered deadline to enforce compliance.
Though the groups contend the 2015 standards are too weak, they are an improvement over the existing Bush-era standards. As a result, Earthjustice representing several health and environmental groups last month filed court papers to oppose a major coal company's efforts to roll them back.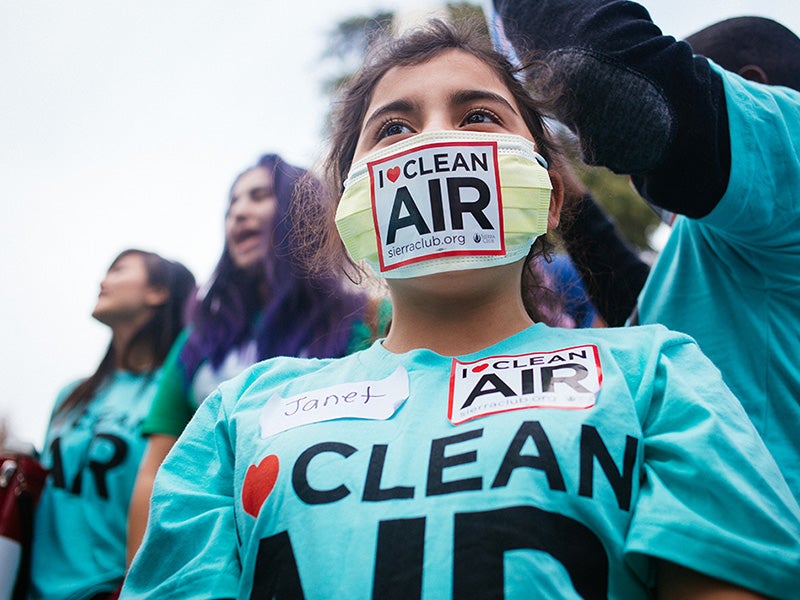 Earthjustice is the premier nonprofit environmental law organization. We wield the power of law and the strength of partnership to protect people's health, to preserve magnificent places and wildlife, to advance clean energy, and to combat climate change. We are here because the earth needs a good lawyer.