Earthjustice Reacts to the President's Final State of the Union
Key ways the President can further define history with his climate and energy legacy
Washington, D.C.
—
The following is a statement on the President's State of the Union address from Abigail Dillen, Earthjustice Vice President of Litigation for Climate and Energy:
"Tonight, Earthjustice applauds President Barack Obama and stands with him in his visionary call to secure the future. Now is the moment to harness, in the President's words, 'our optimism and work ethic, our spirit of discovery and innovation, our diversity and commitment to the rule of law' so that we can arrest climate change, advance justice for all of us, safeguard our health, and ensure a secure, bright future for ourselves and generations to come.
"We at Earthjustice are working every day to spur the transformational shift away from fossil fuels to clean energy—a centerpiece of the President's address. We, too, are thrilled that 'on rooftops from Arizona to New York, solar is saving Americans tens of millions of dollars a year on their energy bills' and that the solar industry now employs more Americans than the coal industry.
"But solar energy is coming under attack from utilities and fossil fuel interests around the country, and the coal industry is working at every turn to lock us into power that kills thousands of people every year and hurtles us toward catastrophic climate change. We are fighting back to end our dependence on coal and champion the rise of clean energy to benefit all Americans.
"The President also previewed coming reforms to the way we manage our coal and oil resources. This is essential.
"We have to rein in methane pollution from the oil and gas industry, which is driving climate change in the near term. That is something the President can do.
"We have to keep federal fossil fuel reserves unburned, and that too is change the President can lead. This year, the President finalized landmark limits on carbon pollution in the Clean Power Plan. Building on that achievement, last month, President Obama helped to lead the world to a historic, global agreement to address climate change. To meet our commitments to limit temperature rise to 1.5°C and safeguard a livable planet, we have to stop drilling and mining our treasured public lands, and we can't afford to open up a perilous new frontier for oil in the Arctic and off the Atlantic coast.
"We thank the President for his climate and environmental leadership to date, for the excellent team he brought to Washington, and for his commitment to doing more in the face of urgent threats to the health of communities, our natural world, and our climate.
"We pledge to stand strong to defend the great progress made over the past seven years of the Obama Administration and to accelerate the pace of needed change into the future."
See Earthjustice statement in Spanish, here.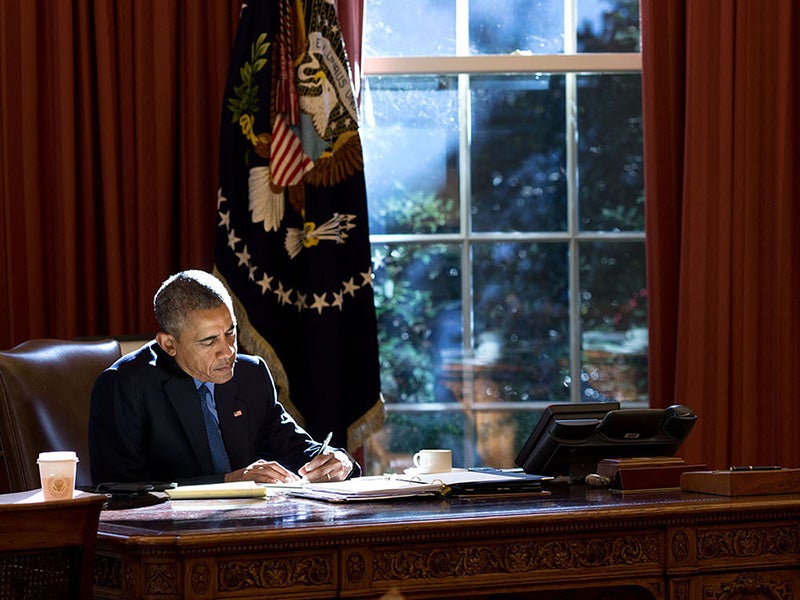 Earthjustice is the premier nonprofit environmental law organization. We wield the power of law and the strength of partnership to protect people's health, to preserve magnificent places and wildlife, to advance clean energy, and to combat climate change. We are here because the earth needs a good lawyer.