EPA Takes Next Step Toward Banning Toxic Pesticide Chlorpyrifos
Scientific Advisory Panel to review health standard to prevent harm to children's brains
Betsy Lopez-Wagner, Earthjustice, (415) 217-2159
,
Erik Nicholson, United Farm Workers, (206) 255-5774
,
Paul Towers, Pesticide Action Network, (916) 216-1082
,
Virginia Ruiz, Farmworker Justice, (202) 800-2520
Washington, D.C.
—
The Environmental Protection Agency (EPA) will convene an independent Scientific Advisory Panel today through Thursday to review health-based limits for the dangerous and widely-used pesticide chlorpyrifos. This decision comes after years of advocacy by farmworker, environmental health and conservation groups, urging EPA to ban chlorpyrifos because of the neurodevelopmental harm it causes to children.
The panel will assess EPA's proposal to establish a limit that would prevent brain damage to children.
"This is an important step in the right direction," said Virginia Ruiz of Farmworker Justice. "But it is only a step. Every month and every year, farmworkers and their families are exposed to illegal and dangerous levels of brain-damaging chlorpyrifos. EPA must protect farmworkers and their children—right away."
"This is a long-awaited step by EPA to do what science and the law demand: outlaw chlorpyrifos to prevent further harms to children's brains," said Earthjustice Attorney Patti Goldman, on behalf of a coalition of groups. "It is time to stop the unconscionable brain damage to children, often rural and farmworker children. We applaud EPA for taking this step toward protecting children and farmworkers from this pesticide."
"It is astonishing that harm to a generation of our children has been ignored and allowed," said Erik Nicholson of United Farm Workers. "But we are encouraged that EPA is moving toward protecting the next generation, to make sure they don't suffer the same brain damaging effects of chlorpyrifos that no child and no parent should ever have to fear. We all have a right to a fair chance at a healthy life—this announcement brings that vision a step closer to reality."
Background
Earthjustice and a broad coalition of partners have been fighting for years to convince the Environmental Protection Agency to ban chlorpyrifos. Chlorpyrifos is an organophosphate (OP), a group of pesticides that cause acute pesticide poisonings when people come into contact with them. They suppress an enzyme that regulates nerve impulses through the body. When this enzyme—cholinesterase—is inhibited, people can experience a range of symptoms from nausea, vomiting, headaches, and dizziness to seizures, paralysis, and even death in some instances.Not only do these pesticides put our nation's farmworkers at risk of pesticide poisonings, but they also contaminate food and drinking water and expose children and other bystanders to toxic drift.
After years of persistent advocacy, EPA finally acknowledged the extensive scientific evidence documenting damage to children's developing brains, including such alarming deficits as reduced IQ, loss of working memory, and attention disorders. EPA also found that these brain impacts occurred at far lower doses than EPA's regulatory limit set to prevent acute pesticide poisonings. We strongly criticized EPA for continuing to use acute pesticide poisoning as its regulatory endpoint in the face of brain damage occurring at far lower doses. EPA has now developed an exposure limit based on the levels of chlorpyrifos in pregnant women associated with a 2 percent loss in working memory in their children.
Pregnant women are currently exposed to 1.5 to 300-plus times this limit from food, and formula-fed infants experience 200 to nearly 1,000 times this limit. EPA has submitted this analysis to its Scientific Advisory Panel for peer review, which will be conducted on April 19-21, 2016. Farmworker Justice, Natural Resources Defense Council, Earthjustice, Pesticide Action Network, United Farm Workers, California Rural Legal Assistance Foundation, and Pineros y Campesinos Unidos del Noroeste are submitting comments supporting EPA's assessment and urging EPA to act quickly to ban all uses of chlorpyrifos.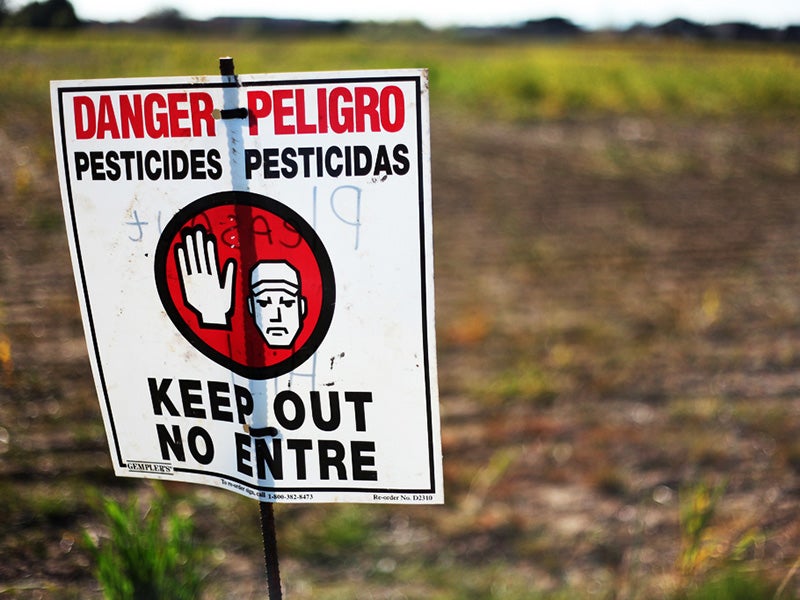 Earthjustice is the premier nonprofit environmental law organization. We wield the power of law and the strength of partnership to protect people's health, to preserve magnificent places and wildlife, to advance clean energy, and to combat climate change. We are here because the earth needs a good lawyer.