Major Victory in Albany Crude-By-Rail Fight
Victory
—
Groups hail about-face by New York State requiring full environmental review of Global Companies Albany facility
Albany, NY
—
Late last Friday, the New York Department of Environmental Conservation (DEC) in a stunning about-face notified Global Companies, the operator of a major crude oil-to-barge terminal at the Port of Albany, New York, that it will need to submit a new application and conduct a comprehensive environmental review to continue operations, rather than simply renewing its existing permit. The announcement came after a lawsuit challenging the lack of a full environmental review was filed by Earthjustice on behalf of the Ezra Prentice Homes Tenants Association, a tenant advocacy group for the public housing development at the fenceline of Global's Albany facility, and several environmental groups.
The Global facility is located in Albany's South End, which is home to residences, schools, churches, businesses, and social service agencies.
This action was a major victory for residents of Albany's South End, who have been demanding a full environmental and public health assessment of Global's operations for nearly three years.
Statement from Charlene Benton, President of the Ezra Prentice Homes Tenants Association:  "We welcome DEC's decision to at long last require Global to answer for its impacts on our community. For too long, we have been forced to breathe polluted air and fear for our safety as Global has turned our neighborhood into a major crude oil hub. We will continue to fight for clean air and a healthy and safe environment for our children and for the entire South End community."
Statement from Chris Amato, the Earthjustice attorney who has filed suit over this issue on behalf of the community: "Today's announcement that DEC will require a full environmental review for all crude-by-rail operations at the port of Albany is a tremendous victory for the neighboring community in Albany's South End that has long been overburdened by pollution.

Photo by Earthjustice
Learn more about the community of Ezra Prentice Homes. Read story: Watching The Rails.
"In March, we requested that DEC assess the cumulative health impacts of air pollution emissions from the Port, and we are gratified that the Department has agreed to do just that. We also welcome DEC's insistence that unsafe levels of benzene in the air be fully evaluated, something we have been asking for since 2014. We applaud DEC's decision to examine the climate change implications of the proposal that brings tar sands oil into the Port.
"This victory is a tribute to the tremendous effort by the people of Albany's South End, and particularly to the work of Charlene Benton, president of the Ezra Prentice Homes Tenants Association, who tirelessly led the community's fight for environmental justice."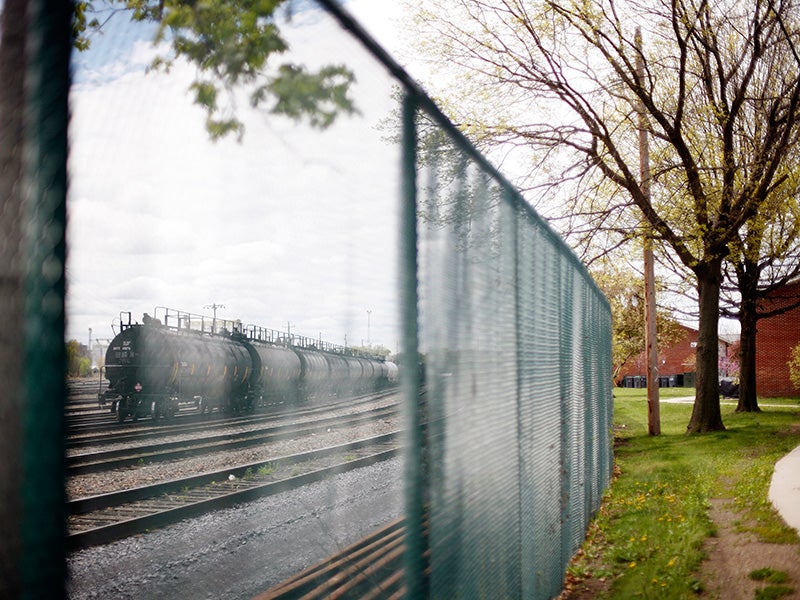 Earthjustice is the premier nonprofit environmental law organization. We wield the power of law and the strength of partnership to protect people's health, to preserve magnificent places and wildlife, to advance clean energy, and to combat climate change. We are here because the earth needs a good lawyer.