More than 80,000 People Urge EPA to Ban Dangerous Pesticide Chlorpyrifos
Doctors, scientists, farmers, farmworkers and others from across the country ask for long overdue ban of neurotoxic agricultural chemical
Kari Birdseye, Earthjustice, (415) 217-2098
,
Sara Knight, PANNA, (510) 717-8193
,
Erik Nicholson, United Farm Workers, (206) 255-5774
,
Kimiko Martinez, NRDC, (310) 434-2344
Washington, D.C.
—
More than 80,000 people urged the Environmental Protection Agency (EPA) to ban the use of the dangerous, widely-used pesticide chlorpyrifos from use on all crops. 
On October 30, 2015, EPA proposed to ban the neurotoxic pesticide on food crops, 15 years after banning it for residential use. Today is the end of the public comment period on EPA's proposed ban. Recent appeals court decisions gave EPA a deadline to take meaningful action on a 2007 legal petition to ban the chemical. EPA's open comment period on the proposed ban on chlorpyrifos ends today, January 5.
"A total ban on chlorpyrifos is what farmworkers, agricultural communities and all consumers deserve," said Patti Goldman, the Earthjustice attorney handling the case. "EPA's and other independent findings show that chlorpyrifos causes brain damage to children and poisons workers and bystanders. It is imperative that EPA move quickly to protect workers and children by issuing a final and total ban to this widely-used pesticide."
A coalition of farmworker, environmental health and labor groups submitted comments on behalf of legal experts, scientists and the general public. Earthjustice and Farmworker Justice submitted technical comments on behalf of a coalition of groups, including Pesticide Action Network (PAN), Natural Resources Defense Council (NRDC) and United Farm Workers (UFW.) 
"Given the incredibly strong science on the health harms of chlorpyrifos, it's absurd that EPA has taken so long to act," said Dr. Margaret Reeves, senior scientist at PAN. "Kids, farmworkers and families in rural areas are getting an extra dose of this brain harming chemical as it drifts from nearby agricultural fields—its on produce, in the air and in the water. A full ban of all uses will finally ensure that communities are safe from this highly hazardous pesticide."
Milestones In The Fight To Ban Chlorpyrifos
1965
Chlorpyrifos is first registered as an insecticide in the U.S. for both agricultural and residential uses.
1995
DowElanco pays an $876,000 fine for violating federal law requiring it to report human health problems from chlorpyrifos.
2000
Dow withdraws chlorpyrifos from most indoor and pet uses, after reaching an agreement with EPA.
2007
Earthjustice sues EPA for failing to protect farmworkers and their children from chlorpyrifos use in the fields.
2009
Earthjustice files petition on behalf of farmworker and health advocates asking EPA to protect kids from pesticide drift.
2010
Earthjustice files the first of three lawsuits to compel EPA to act on banning chlorpyrifos.
A Columbia University study links chlorpyrifos exposure to mental and motor skill impairments in children.
2012
EPA finally protects children from chlorpyrifos drift by requiring buffers around places they inhabit like schools and day cares.
2014
EPA acknowledges the extensive body of peer-reviewed science correlating chlorpyrifos exposure with brain damage to children.
August 2015
9th Circuit Court of Appeals orders EPA to act on the petition filed in 2007 to ban chlorpyrifos.
October 2015
EPA proposes to ban chlorpyrifos on all food crops. The agency will have two rounds of public comment and anticipates a final rule at the end of 2016.
January 2016
More than 80,000 people urge EPA to ban the use of chlorpyrifoson all crops in the comment period ending January 5.
Calling EPA's delay "egregious," the 9th Circuit Court of Appeals ordered EPA to respond to the 2007 petition by October 30 and to make a final decision on the ban by the end of 2016. Earthjustice filed the original lawsuit spurring the court deadline on behalf of PAN and NRDC.
"For too long, farmworkers have worked around this chemical deemed too dangerous for household use," said Virginia Ruiz, director of occupational & environmental health at Farmworker Justice. "EPA needs to ban all uses of chlorpyrifos and end this double standard."
Today, EPA also received a letter from more than 65 environmental health scientists and healthcare professionals, citing extensive evidence that chlorpyrifos harms children and urging the government to ban the pesticide.
"Studies indicate that disruptions in children's brain development are associated with very low levels of chlorpyrifos exposure, and the effects appear to be permanent, irreversible and lifelong. Given the seriousness of these effects," said Dr. Jennifer Sass, senior scientist with NRDC. "EPA should act now to ban this dangerous pesticide and protect children."
In December 2014, EPA acknowledged the extensive body of peer-reviewed science correlating chlorpyrifos exposure with brain damage to children, including reduced IQ, delayed development and loss of working memory. The agency found that drinking water contaminated with the pesticide is particularly harmful to infants, and highlighted the serious risks to workers from handling chlorpyrifos or entering fields after spraying. 
"Farmworkers and their families deserve the same protections as the rest of the workers in this country," said Erik Nicholson, national vice president of United Farm Workers. "It is now time for EPA to take chlorpyrifos out of all fields and nurseries to ensure a safer workplace for all."
Read this in Spanish, here.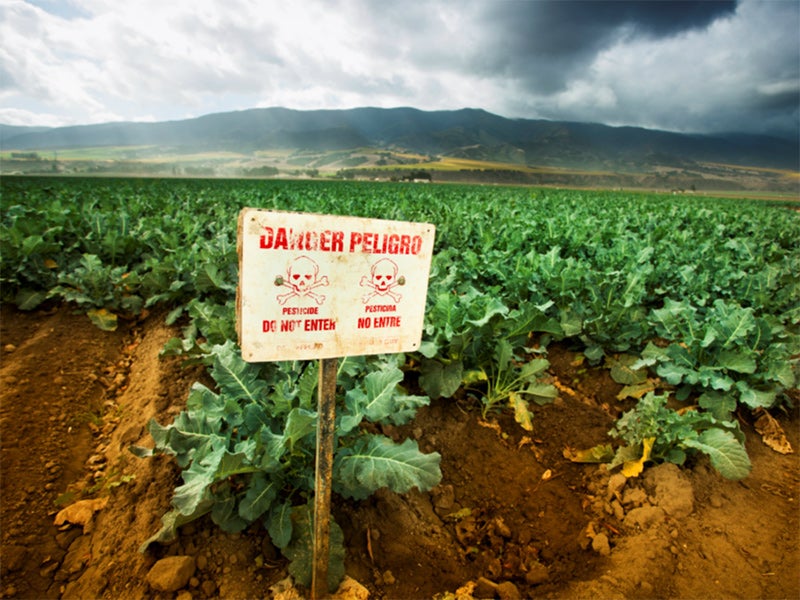 Earthjustice is the premier nonprofit environmental law organization. We wield the power of law and the strength of partnership to protect people's health, to preserve magnificent places and wildlife, to advance clean energy, and to combat climate change. We are here because the earth needs a good lawyer.