Oakland City Council Takes Final Vote, Confirming Coal Ban
Victory
—
Community unites to ban what would have been the largest coal export facility in California
Oakland, CA
—
Late last night, the Oakland City Council voted to confirm an ordinance that would ban coal from being handled and stored in the City of Oakland, including a resolution to apply the ordinance to the proposed Oakland Bulk and Oversized Terminal. With the second vote—following the first vote on June 27th—the ban is confirmed.
The City of Oakland, home to one of the West Coast's major ports, is located across the Bay from San Francisco.
BACKGROUND
A portion of the former Oakland Army Base is being developed as a bulk export facility, known as the Oakland Bulk and Oversized Terminal (OBOT). CCIG, the developer, promised not include coal as a commodity handled by the terminal, but then solicited a partnership with Utah counties that would have allowed the state to export up to 10 million tons of coal from their mines each year.

Chris Jordan-Bloch / Earthjustice
The Port of Oakland is the site of the new bulk export terminal. Learn more »
A Utah funding body approved $53 million to buy space at Oakland Bulk Terminal for these exports. This deal was conducted behind the backs of the Oakland City Council and the Port, both of which oppose coal as a commodity for shipping in Oakland. Additionally, the developer promised residents that the city-owned port would be coal free. 
For over a year, community members and advocacy groups have voiced concerns over how this decision will affect the community's health, safety, and the environment. According to a national train company, each open-top rail car of coal can lose up to one ton of dust between the mines and the port, resulting in the release of 60,000 pounds of toxic fine particulate matter in communities near the rails. Additionally, this deal would have stifled California's strong commitment to cutting carbon pollution, especially as the state continues to suffer from extreme drought, forest fires, and other signs of climate disruption.
STATEMENTS
"We commend the Oakland City Council for using its powers to protect the health and safety of its citizens," said Irene Gutierrez, attorney at Earthjustice. "There is no place for a dirty and dangerous commodity like coal in Oakland, and this ordinance allows the City to build an economy based on good, clean jobs and progressive climate policies."

Chris Jordan-Bloch / Earthjustice
Margaret Gordon, in West Oakland near the site of the new terminal. See photo feature »
"This is a victory for the residents of West Oakland who have been overburdened with pollution for decades," said Margaret Gordon, co-founder and co-director of West Oakland Environmental Indicators Project. "Black and brown people, workers and all Oakland residents would continue to be impacted by the existing air pollution on top of new coal dust if not for the ban on coal. West Oakland residents are already twice as likely to visit the emergency room for asthma as other Alameda County residents. We had a lot at stake in this fight, so the City Council's decision is a huge relief to the folks in West Oakland who are already struggling with asthma, heart disease and other health challenges that would have been worsened by coal dust."
"SEIU 1021 represents workers not only in Oakland, but all along the railway coal cars would have been traveling through Northern California," said Gary Jimenez of SEIU 1021. "Thousands of our members' and their families' lives would have been endangered.  We reject the myth that labor must choose jobs over the health and welfare of our community and our environment, and we celebrate this ban on coal as a victory for union families."
"We and our members, low-income Chinatown residents, celebrate the leadership and commitment to environmental justice from our City Council," said Kenneth Tang, Oakland Organizer at Asian Pacific Environmental Network. "We celebrate this victory won by a major coalition of labor, environmental justice, green groups, and many others. The coal ban is a first step in a just transition away from fossil fuels and toward a local economy that protects people and planet." 
"The transport and handling of coal in Oakland would have endangered local communities and polluted San Francisco Bay," said Erica Maharg, Staff Attorney at San Francisco Baykeeper. "We applaud the City Council for taking such strong action to adopt a ban that will protect residents, workers, and our shoreline from the negative impacts of coal." 
"Over the past year, thousands of people have contacted the City Council to say no to coal in Oakland," said Brittany King of the Sierra Club Bay Chapter. "Over 500 people testified at Council hearings about the risks to public health and safety posed by this dangerous proposal. Hundreds of doors were knocked on, and 20,000 petitions signed. People from all different struggles came together in this campaign—the faith community, racial justice activists, Oakland's anti-displacement movement, students, teachers, health workers, the labor movement, and the environmental movement all worked together to protect the Oakland community. Thank you to the Oakland City Council and Mayor Schaaf for listening to the voices of the people of Oakland by banning coal, and particular thanks to Councilmember Dan Kalb for his leadership throughout this process. This is the kind of leadership that communities need up and down the West Coast—particularly in cities like Richmond where residents are already living with the impacts of dirty coal."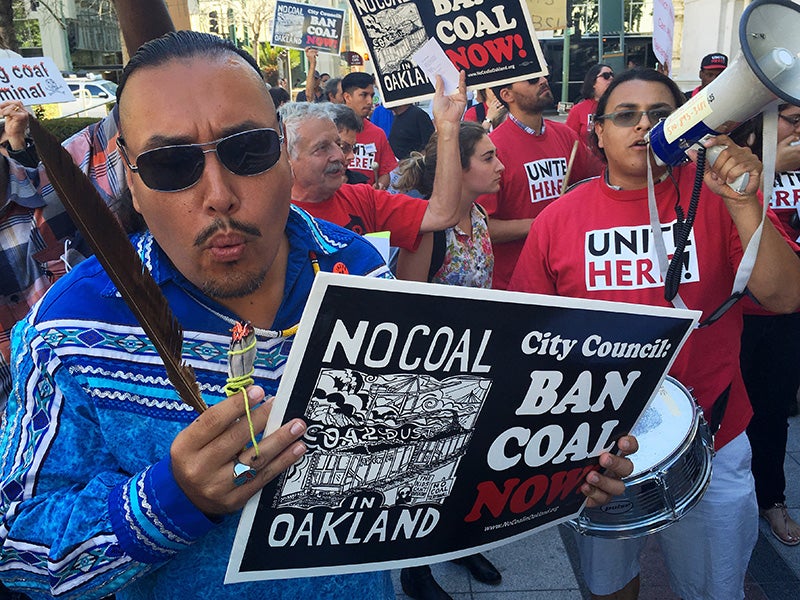 Earthjustice is the premier nonprofit environmental law organization. We wield the power of law and the strength of partnership to protect people's health, to preserve magnificent places and wildlife, to advance clean energy, and to combat climate change. We are here because the earth needs a good lawyer.