Hawai'i Supreme Court Orders Halt of Commercial Aquarium Fishery
Victory
—
State must study environmental impacts before permitting unlimited extraction of reef fish
Summer Kupau-Odo, Earthjustice Mid-Pacific Office, (808) 599-2436
,
Rene Umberger, (808) 283-7225
,
Marjorie Ziegler, Conservation Council for Hawai'i, (808) 284-3071 
Honolulu, HI
—
Yesterday, the Hawaiʻi Supreme Court sided with citizens and conservation groups in their fight to protect the State's coral reefs from the aquarium industry's unlimited collection and sale of reef fish and other wildlife. In 2012, plaintiffs Rene Umberger, Mike Nakachi, Kaʻimi Kaupiko, Willie Kaupiko, Conservation Council for Hawaiʻi, The Humane Society of the United States and the Center for Biological Diversity—all represented by Earthjustice—sued the State Department of Land and Natural Resources (DLNR) for failing to comply with Hawaiʻi's Environmental Policy Act (HEPA) and undertake environmental review before issuing dozens of aquarium collection permits annually. 
In its unanimous decision, the Supreme Court agreed with plaintiffs, reversed the decisions of the Circuit Court and Intermediate Court of Appeals denying plaintiffs' claims, and ordered the Circuit Court to grant an injunction prohibiting commercial aquarium collection pending compliance with the law.
"The justices unanimously agree DLNR's practice of blindly doling out aquarium collection permits without studying environmental impacts is illegal," said Earthjustice attorney Summer Kupau-Odo.  "The law demands and Hawaiʻi's people have every right to expect more from the agency charged with conserving our natural resources." 
The aquarium industry strips vast numbers of fish and other marine animals from Hawaiʻi's reefs and sells them outside the state; the catch may be in the millions of animals every year.
Most of the wild fish captured for aquariums are herbivorous reef-dwellers that coral reef ecosystems depend upon because they control algae growth that smothers corals. Studies have shown that reducing reef fish and shellfish diversity impairs a reef's ability to respond to stresses or disturbances. Minimizing such impacts is vitally important as climate change and ocean warming and acidification threaten reefs. The Court's ruling requires analysis of the industry's impacts before any commercial permits can be issued and collection allowed.
"Hawaiʻi's nearshore reefs and fish populations have been massively altered by commercial fish capture for the mainland household aquarium hobby," said plaintiff Rene Umberger, who has done thousands of scuba dives on reefs around the Hawaiian islands over the years. "We are ecstatic these reef ecosystems will finally get some reprieve."
"Taking tropical fish from Hawaiian reefs harms that fragile ecosystem," said Miyoko Sakashita, ocean program director with the Center for Biological Diversity. "We're happy to see the court recognize that it's time to disclose the impacts of the aquarium trade. Maybe now people will begin to realize that people are loving these beautiful fish to death."
Plaintiff Kaʻimi Kaupiko noted how the industry also affects Native Hawaiian and subsistence fishing practices: "The fish we've traditionally caught for generations to feed our families are disappearing. Collectors take fish we eat—like pākuʻikuʻi (Achilles tang) and kole—and by taking yellow tang, they disrupt the ecosystem so that other fish, like uhu, won't come in. We mahalo the Hawaiʻi Supreme Court for putting the brakes on commercial collection before there's no fish left for future generations."
Throughout the five-year legal battle, DLNR refused to acknowledge the trade's impacts or even seriously study it. Instead, it argued the activity was not subject to HEPA because the agency hands out permits to anyone who applies and pays a nominal fee—that is, that DLNR lacked any discretion to prevent the reefs from being stripped by unlimited commercial extraction. The Supreme Court rejected this argument, pointing out that DLNR's failure to exercise the authority the legislature expressly gave it does not excuse noncompliance with HEPA.
Marjorie Ziegler, Executive Director of the Conservation Council for Hawaiʻi said, "Thanks to the Hawaiʻi Supreme Court, our reefs now have a chance to heal."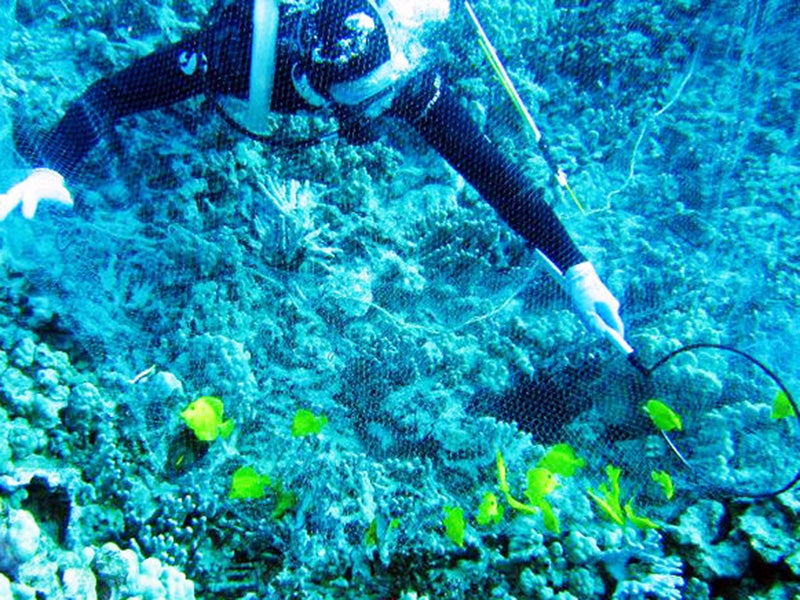 Earthjustice is the premier nonprofit environmental law organization. We wield the power of law and the strength of partnership to protect people's health, to preserve magnificent places and wildlife, to advance clean energy, and to combat climate change. We are here because the earth needs a good lawyer.