Interior Order on Oil and Gas Drilling Puts Arctic Public Lands at Risk
Secretary Zinke's push to drill threatens irreplaceable lands and species and would take us in the wrong direction on climate
Anchorage, AK
—
Yesterday, Secretary of the Interior Ryan Zinke signed a Secretarial Order that threatens to open sensitive and irreplaceable public lands in Alaska's Arctic for oil and gas development.
The Order kicks off an effort to rewrite the management plan for the National Petroleum Reserve-Alaska, which spans nearly 23 million acres in the Western Arctic. The current plan, finalized in 2013, was developed after years of consultation with federal and state agencies, Alaska Native tribes and organizations, environmental groups, industry, and the public. It protects many critical habitat areas in the reserve from destructive oil and gas drilling. Secretary Zinke's order threatens to unravel these vital protections. And as with Trump's announcement today that the U.S. will withdraw from the Paris climate agreement, the oil drilling this order is designed to encourage takes us in the wrong direction on climate.
The order also calls for renewed study of the oil and gas potential of the 1.5 million acre Coastal Plain of the Arctic National Wildlife Refuge. The Refuge is home to hundreds of species that depend on its unique wilderness characteristics, including wolves, polar bears, caribou, and migratory birds from all fifty states. The Arctic Refuge has sustained the Gwich'in people, who call it "the sacred place where life begins," for thousands of years. The majority of Americans want the Coastal Plain permanently protected because some places are too special to drill.
The following is a statement from Earthjustice attorney Erik Grafe:
"Secretary Zinke's order—announced at an oil industry conference in Anchorage, Alaska—is the latest example of the Trump administration's push to hand over our public lands to narrow oil and gas interests and further lock us into an unsustainable fossil fuel future. The areas that could be affected by this decision provide essential habitat for caribou, polar bears, and countless birds from around the world and are already suffering dramatic effects from climate change. They are no place for oil drilling. Earthjustice will use the power of the law to fight the Trump administration's attempts to sacrifice our iconic and special public lands to the oil and gas lobby."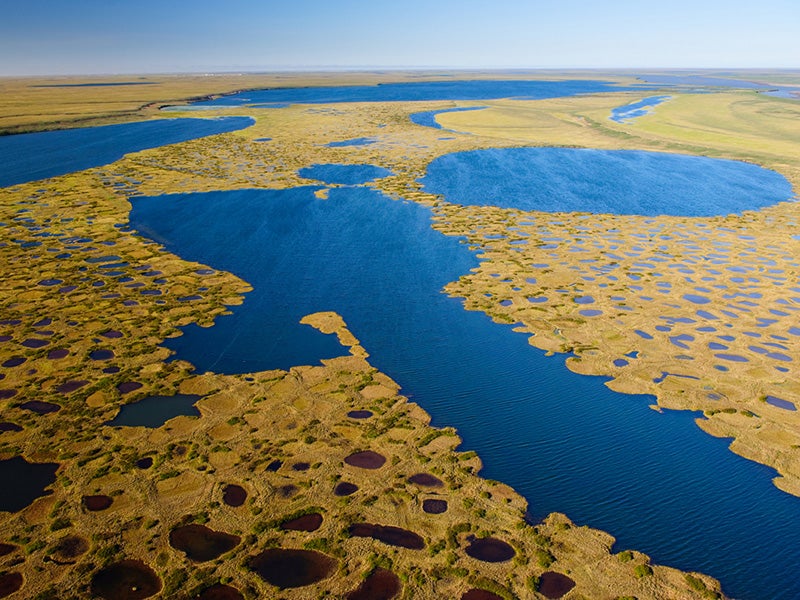 Earthjustice is the premier nonprofit environmental law organization. We wield the power of law and the strength of partnership to protect people's health, to preserve magnificent places and wildlife, to advance clean energy, and to combat climate change. We are here because the earth needs a good lawyer.