Wheeler's EPA Keeps Brain-Damaging Chlorpyrifos In Food, For Now
Court rules to rehear chlorpyrifos case
Patti Goldman, Earthjustice, (206) 227-4193
Seattle, WA
—
Health and labor organizations will have to argue again in court that chlorpyrifos, a brain-damaging pesticide, must be banned from all food uses, the 9th Circuit Court of Appeals ruled today. The decision comes four months after Andrew Wheeler's Environmental Protection Agency asked the court to rehear the case either by the 3-judge panel that originally banned chlorpyrifos in 2018, or by a panel of 11 judges.
What You Need To Know About Chlorpyrifos
The court will schedule proceedings that will likely include further briefings and argument.
"EPA's own scientists have said for more than two years that chlorpyrifos is harmful, particularly to children," said Patti Goldman, the Earthjustice managing attorney handling the case. "Any delay to ban this toxic chemical is a tragedy. Chlorpyrifos should be banned based on the agency's own scientific conclusion, and the law."
Last year, the 9th Circuit Court of Appeals ordered EPA to finalize its proposed ban on chlorpyrifos based on undisputed findings that the pesticide is unsafe for public health, and particularly harmful to children and farmworkers. That court ruling happened nearly two years after the Trump administration reversed EPA's own proposal to ban this pesticide.
Chlorpyrifos is a widely-used agricultural pesticide linked to reduced IQ, attention deficit disorder and other developmental damage in children. Chlorpyrifos, an organophosphate that comes from the same chemical family as sarin nerve gas, is used on staple foods, such as strawberries, apples, citrus, broccoli, and more. Weeks after former EPA boss Scott Pruitt met with the head of the largest manufacturer of chlorpyrifos, Dow Chemical (now DowDuPont), Pruitt falsely claimed in 2017 the science is "unresolved" and decided EPA would study the issue until 2022.
First developed by the Nazis for chemical warfare, organophosphates like chlorpyrifos were later repurposed for agriculture. Chlorpyrifos has been banned from home use for about two decades, as it is too toxic to children.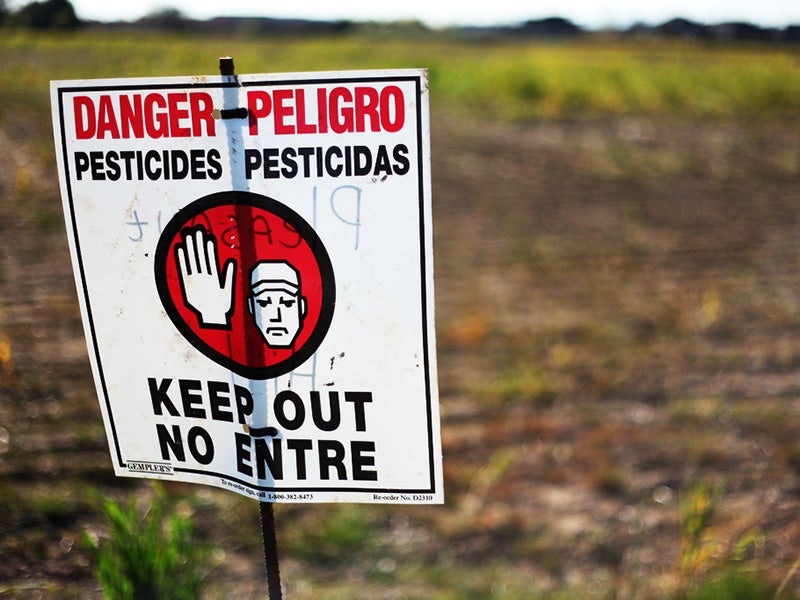 Earthjustice is the premier nonprofit environmental law organization. We wield the power of law and the strength of partnership to protect people's health, to preserve magnificent places and wildlife, to advance clean energy, and to combat climate change. We are here because the earth needs a good lawyer.