HHS is Withholding Health and Safety Data on Active Migrant Detention Center
Health, immigration, & labor groups sue agency for failing to respond to FOIA requests
San Francisco, CA
—
Today, Earthjustice on behalf of health, immigration, and labor groups filed a lawsuit against the U.S. Department of Health and Human Services (HHS) for violating the Freedom of Information Act (FOIA) by improperly withholding requested agency records concerning the expansion of a migrant child detention facility in Tornillo, Texas. This facility was a temporary detention center for migrant children that was overseen by HHS and operated by a private contractor from June 2018 until the facility closed in January 2019, amidst health and safety concerns. This site is still operational for adults in detention.
Previously, two separate FOIA requests were submitted to Department of Homeland Security (DHS) and HHS in December 2018, just prior to the government shutdown, seeking records concerning the expansion of the Tornillo facility, including the environmental review of the site and analysis of the health and safety impacts on those in detention, among other things. The FOIA request submitted to DHS is currently being processed by U.S. Customs and Border Protection (CBP), a component of DHS, after CBP denied the request and the groups successfully appealed the agency's determination. Since submitting the request to HHS, we have not received anything more than an acknowledgement letter from the agency.
"The United States government has shown time and again a careless disregard for environmental regulations and an absolutely immoral disregard for the health and safety of immigrants in their custody," according to the coalition of groups being represented by Earthjustice. "How can we trust that these agencies have followed appropriate environmental impact regulations, if they can't even be trusted to provide basic human rights to families in their detention centers? The information that we've requested in this FOIA is critical to understanding just how far the Trump administration's malfeasance has gone."
Previous FOIA requests have revealed details of multiple proposed migrant detention centers on military bases that may have been in proximity to toxic waste sites. Fort Bliss has several Superfund sites, which are polluted locations requiring a long-term response to clean up hazardous material contamination. At Goodfellow Air Force Base, the area where tents would have been constructed is directly over a former firing range and adjacent to a closed but uncapped landfill. Exposure to toxic chemicals from these sites can cause cancer, neurological damage, developmental harm, and many other diseases. The plans for detention facilities at these sites have since been put on hold.
This lawsuit was filed on behalf of Alianza Nacional de Campesinas, Hispanic Federation, GreenLatinos, and Labor Council for Latin American Advancement.
Quotes from our Clients:
"As a farmworker women's organization, we know how important it is to protect migrant communities and campesinas and their families from the detrimental effects of toxic exposures," said Mily Treviño-Sauceda with Alianza Nacional de Campesinas. "We have every right to know about the risks involved in detaining members of our communities in unsafe conditions. We won't stand idly by as the government ignores the law while vulnerable people are kept in cages during a pandemic."
"It is unfathomable that amid a pandemic our nation's government agencies refuse to disclose timely and crucial information regarding the safety and health of immigrants in custody," said Jose Vargas, LCLAA Executive Director. "Detaining immigrant families, depriving them of their basic human rights, and denying public access to this information poses a dangerous risk to our nation's democracy, as it undermines our legal right to demand accountability and transparency from our nation's government."
"This administration clearly cannot be trusted with the health and safety of vulnerable migrant children or adults," said Laura M. Esquivel, Vice President for Policy and Advocacy for Hispanic Federation. "The reluctance of CBP, and refusal of HHS to release records related to potential exposure to unsafe or toxic conditions reinforces that lack of trust. This administration must be held accountable for its ongoing, callous disregard for the health and welfare of detained migrants, as we are again seeing by the mishandling of the COVID-19 crisis in detention centers, including allowing the improper use of toxic chemicals that can cause asthma and lead to birth defects. These intentional actions only serve to compound the irreparable damage to the physical and mental wellbeing of thousands of migrants being detained under this Administration's inhumane policies."
"As Hispanic Heritage Month begins, our nation must reflect its values — Latino communities cannot truly be honored while this administration has no regard for the health and safety of immigrant children and families at the U.S./Mexico border," said Mark Magaña, Founding President and CEO of GreenLatinos, a national network of environmental and conservation advocates. "DHS and HHS continue to hold these immigrants in inhumane conditions with no regard for their mental, emotional, and physical wellbeing or their basic human rights. These are humans, many climate refugees from Latin America, who are struggling for survival and must be provided with civil rights protections to safeguard them from potentially toxic environmental hazards located on or near those detention centers."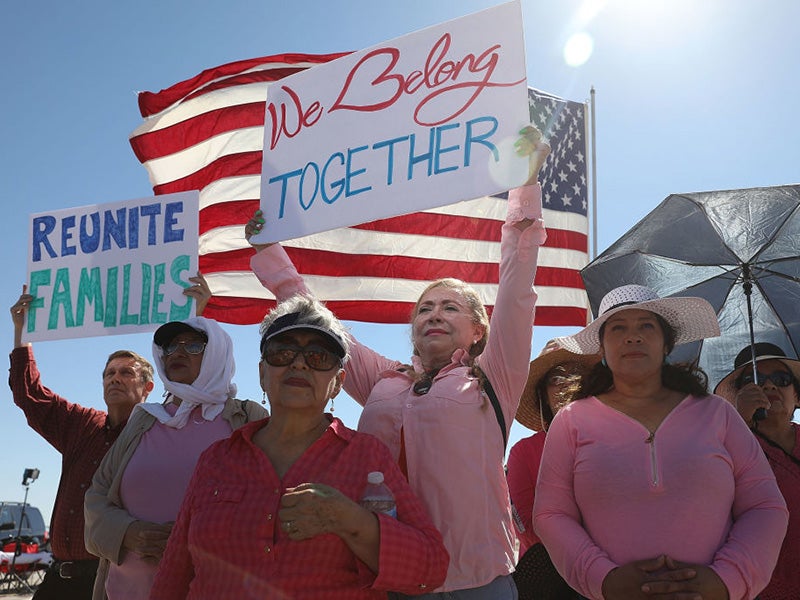 Earthjustice is the premier nonprofit environmental law organization. We wield the power of law and the strength of partnership to protect people's health, to preserve magnificent places and wildlife, to advance clean energy, and to combat climate change. We are here because the earth needs a good lawyer.