California Finds Southern California Gas Company Inflicted "Appreciable Harm" in Climate Obstruction and Abuse of Funds, but Fails to Levy Penalty
Decision from the California Public Utilities Commission not nearly enough to hold SoCalGas accountable for web of deceit
Zoe Woodcraft, Earthjustice, (818) 606-7509
San Francisco, CA
—
In a tense proceeding that could influence utility behavior in California for years to come, an administrative law judge recognized that SoCalGas has improperly used customer money to fight stronger energy efficiency rules at the federal, state, and local levels in a campaign that sabotaged California's clean energy progress. But the decision failed to penalize SoCalGas, beyond forcing the company to return some of the customer money it abused and barring the gas company from using customer money to shape future energy codes and standards in California.
Environmental and watchdog groups that worked to expose SoCalGas's shocking campaign and had asked the state to fine SoCalGas $255 million to dissuade future violations were angered by the lack of accountability for the company's unlawful actions.
"SoCalGas fought energy standards that would save customers money and reduce pollution, and then forced customers to foot the bill for its influence operations," said Sara Gersen, attorney on Earthjustice's Right to Zero campaign. "It is outrageous that the Public Utilities Commission could fail to impose fines for these documented violations that held California's climate goals back time and time again."
SoCalGas's campaign stretches back at least seven years. From at least 2014 to 2017, SoCalGas fought efficiency rules that threatened its profits, dipping into funds that the Commission had authorized the utility to spend on promoting stronger efficiency rules because these rules save customers money and reduce pollution. For example, SoCalGas used ratepayer funds to undermine a California Energy Commission plan to strengthen water heater standards, after briefing senior management on the threat to company revenue. SoCalGas' internal documents reveal its worry that the higher standards would make electric heat pump water heaters a "highly attractive consumer offer." In 2019 SoCalGas began using customer funds to undermine city and county proposals to strengthen building codes, despite Commission policy that utilities should support these vital efforts.
"What kind of message is California sending if the Public Utilities Commission finds that SoCalGas inflicted 'appreciable harm' in its campaign of climate obstruction, and then fails to impose meaningful consequences?" said Alison Seel, attorney with the Sierra Club. "This decision is a dereliction of the PUC's oversight responsibilities that further emboldens utilities to violate California's energy regulations."
Instead of levying a fine on SoCalGas, the decision merely orders the company to refund the money it spent on a few of its efforts against stronger efficiency rules and a portion of the incentives the Commission paid to SoCalGas shareholders for contributing to energy efficiency. The actions highlighted in the decision are just a sampling of how SoCalGas has treated customer funds like a slush fund for its campaigns against climate action.
Contrary to the decision's reasoning that there are no criteria for imposing penalties on SoCalGas for its misconduct, there is an established framework for imposing fines for utilities violating Commission rules that could have been applied. The Commission could have granted the request from their own internal watchdog to levy over $255 million in fines for SoCalGas's misuse of ratepayer funds to fight climate action.
"The full Commission must review this misguided decision and hold SoCalGas truly accountable for the way it treated customer money like a slush fund to undermine climate action in California," said Matt Vespa, attorney on Earthjustice's Right to Zero campaign. "By giving no more than a slap on the wrist for this kind of flagrant unlawfulness and climate obstruction, the Commission invites future misconduct. If California's energy regulators won't penalize this kind of unlawfulness and climate obstruction, what else will they permit from utilities?"
California must dramatically increase energy efficiency to meet its climate goals. As SoCalGas has warned its gas industry allies, stronger efficiency rules could "eliminate use of gas." Stronger efficiency standards pose twin threats to SoCalGas: first, by knocking outdated gas appliances out of the market, efficiency decreases the company's sales. Second, efficiency standards make electric appliances an even more attractive option for customers because it is difficult for gas appliances to deliver the energy savings that are readily available with efficient electric models. With its business at risk, SoCalGas defied Commission policy and used customer funds to fight measures that are essential to meeting California's climate goals.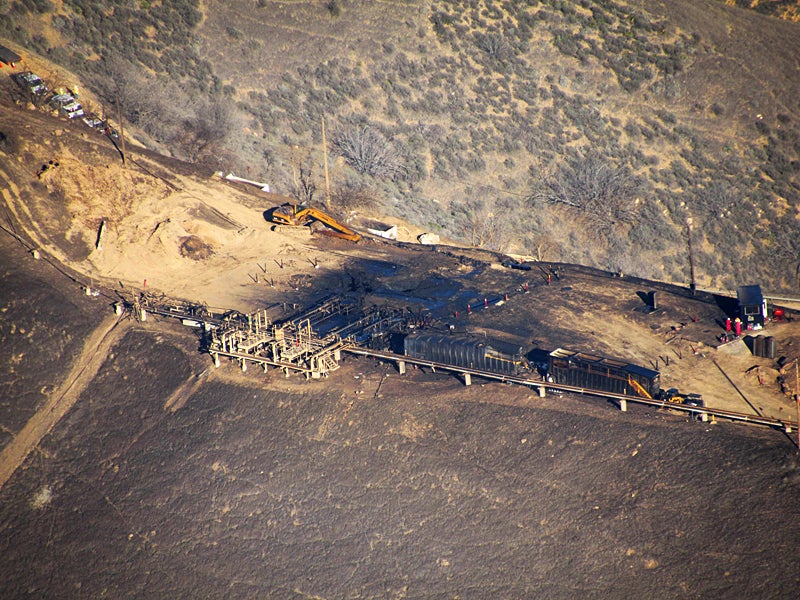 Earthjustice is the premier nonprofit environmental law organization. We wield the power of law and the strength of partnership to protect people's health, to preserve magnificent places and wildlife, to advance clean energy, and to combat climate change. We are here because the earth needs a good lawyer.