Environmental Justice Groups Join Legal Fight to Defend EPA Waivers for California's New Zero Emissions Truck Standards
Environmental justice groups in California are going to court to fend off lawsuits from trucking and oil industry groups attacking life-saving standards
Washington, D.C.
—
Today, environmental justice organizations in California filed a motion to intervene in lawsuits from trucking and oil industry groups that would hinder life-saving regulations to shift large polluting vehicles to zero emissions. The collection of lawsuits from polluters like the trucking industry and the oil and gas industry, as well as 18 states, sues the Environmental Protection Agency (EPA) for granting California waivers for four vital zero emissions regulations.
The lawsuits from groups like the Western States Petroleum Association and the Western States Trucking Association seek to hamstring a slew of regulations, including the nation's first zero emissions truck regulation, slated to save lives and deliver $9 billion in public health benefits in California alone.
"California is doing the right thing by its residents in protecting our lungs and our health from the scourge of diesel exhaust with these new standards," said Yasmine Agelidis, attorney on Earthjustice's Right to Zero campaign. "Trucks are the worst polluters on the road in a state breathing the dirtiest air in the nation year after year — so it's well past time for California to use its express authority in the Clean Air Act to shift these vehicles to zero emissions with regulations like the Advanced Clean Trucks rule. We stand by EPA, the California Air Resources Board, and 17 additional states in this fight for clean air and healthy lungs."
Altogether, industry lawsuits are targeting EPA for granting waivers for the Advanced Clean Trucks rule, the Zero Emission Airport Shuttle rule, the Heavy-duty Emissions Warranty amendments, and the Zero Emissions Powertrain Certification rule. The motion to intervene from environmental justice groups follows in the footsteps of the motion to intervene by California Governor Newsom, California Attorney General Bonta, and a phalanx of states filed yesterday.
California passed the Advanced Clean Trucks rule in 2020. The regulation charts out a timeline for zero emissions truck sales and has already been adopted by nine additional states: New York, New Jersey, Washington, Oregon, Massachusetts, Maryland, Rhode Island, Vermont, and Colorado. Over 100 million Americans are lined up to breathe cleaner air under the rule.
"The health harms from tailpipe pollution and diesel exhaust are too great to excuse in the name of quick profits for the trucking and oil industries. These petitioners from the oil and gas industry are going after the California Air Resources Board and life-saving regulations all in the name of making a dollar at the expense of people's lives," said Taylor Thomas, Co-Director of the East Yard Communities for Environmental Justice. "We're not putting up with that — we've lost too many people to the impacts of freight pollution."
California has some of the worst air quality in the nation, and for communities living near freeways, ports, and warehouses, diesel pollution can be deadly. Medium and heavy-duty vehicles are the largest source of NOx emissions in California, making them one of the largest producers of California's dangerous smog problem. Trucks are the largest source of diesel particulate matter in California, which is responsible for an astounding 70% of cancer risk related to air toxins in California. This pollution isn't felt equally — diesel truck pollution is concentrated in low-income communities and communities of color that are surrounded by freeways, ports, and the goods movement industry.
"My eight-year-old little sister's ride to school is filled with polluting trucks, and that's just the beginning of her day," said Tania Gonzalez, Fontana resident and member of the People's Collective for Environmental Justice. "Heavy-duty trucks rumble past her school all day, which means she is breathing in their tailpipe pollution around the clock. The children in our communities do not deserve to be breathing these levels of pollution. We have the right to clean air."
Nearly 50 years ago, Congress gave California the explicit right under the Clean Air Act to adopt standards that are more protective than the federal government's in order to protect residents from vehicle pollution. After EPA grants a waiver for California's regulations, other states can then adopt California's more protective regulations for the health of their own residents.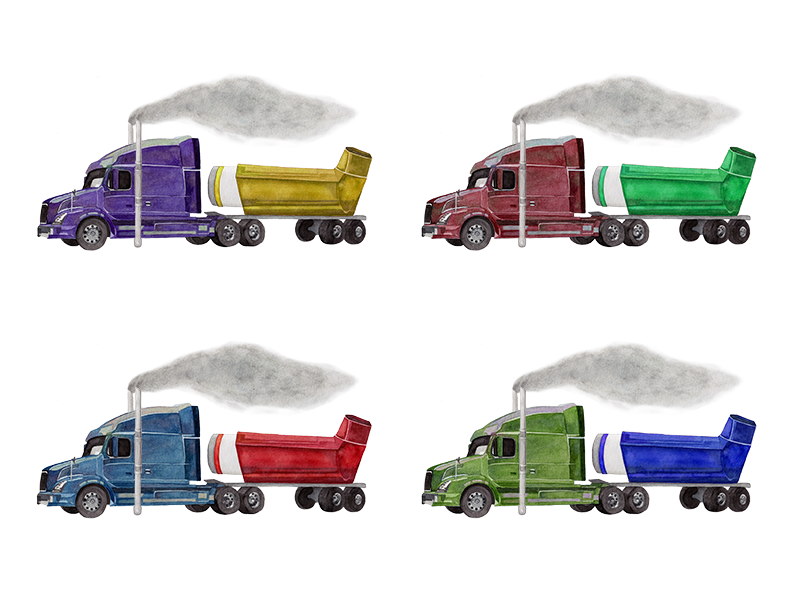 Earthjustice is the premier nonprofit environmental law organization. We wield the power of law and the strength of partnership to protect people's health, to preserve magnificent places and wildlife, to advance clean energy, and to combat climate change. We are here because the earth needs a good lawyer.