Los Angeles Makes a Major Leap in Electrifying School Buses
LAUSD is making the single largest purchase of new electric school buses, chargers, and electric infrastructure owned and operated by a school district in the U.S.
Los Angeles, CA
—
Today, the board of the LA Unified School District voted on key measures to help transform its fleet of school buses for an electric future. In a momentous hearing, LAUSD unanimously approved its largest electric school bus purchase yet of 180 electric school buses to replace approximately 15 percent of its aging combustion bus fleet. The board also approved an agreement with the LA Department of Water & Power to establish program funding of up to $4.8 million for electrifying LAUSD's fleet, including up to $4.5 million for charging stations, and $45,000 for feasibility studies on how to make the big shift. Altogether this represents the largest single purchase of new electric school buses, chargers, and electric infrastructure owned and operated by a school district in the nation.
"LAUSD has clearly done its homework and figured out that electric school buses are a win-win for protecting our kids' lungs and the climate. Today's vote was a major milestone in the district's route to a fully electric school bus fleet," said Yasmine Agelidis, an attorney on Earthjustice's Right To Zero campaign. "We're excited to see the waves this makes among other school districts in the country."
LAUSD's investment in 180 electric school buses is anticipated to remove 780,000 tons of carbon dioxide from the environment per year and save the district a yearly average of $10,000 per bus in maintenance and fuel costs when compared to combustion school buses for a total savings of $2 million per year.
"This major purchase of electric school buses, built by union workers in Georgia, is showing that LAUSD, once again, is leading the nation by example for how the transition to electric school buses can support good jobs and protect the health of students' lungs," said Hector Huezo, California director of Jobs to Move America.
Children growing up in Southern California breathe some of the most polluted air in the nation. In LA County, roughly one in eleven children has asthma (9%). Diesel school buses produce some of the most toxic forms of air pollution, fouling the air in neighborhoods and lodging deep in the lungs where it can cause breathing and heart problems. A 2005 UC Berkeley study looked at pollution from Southern California school buses and found that a large amount of that pollution gets inside the buses, where the kids riding the bus then breathe it in. Over a thousand concerned Angelenos submitted comments to LAUSD this year urging the district to electrify its fleet.
"As a parent of two LAUSD students, I'm beyond thrilled that the district is a trailblazer in the shift to clean energy. The purchase of these electric school buses will have an exponentially positive impact on the air my kids breathe," said Sybil Azur, an LAUSD parent.
School districts around the U.S. are starting to convert their fleets from dirty diesel buses to pollution-free electric ones, sparking a transformation in how the country's 25 million schoolkids get to school every day. Federal funding streams are helping districts make the big shift — the Bipartisan Infrastructure Law provided $5 billion to EPA's Clean School Bus Program to electrify the nation's school buses. The shift carries economic benefits as well, saving school districts money on maintenance and fuel, and providing good clean energy jobs to communities.
"LAUSD's groundbreaking purchase of 180 electric school buses not only showcases its outstanding leadership in sustainability and unwavering commitment to the health of its students, but thanks to its important workforce policies will create local high-road careers," said Joe Sullivan, director of energy solutions for IBEW 11/NECA LA.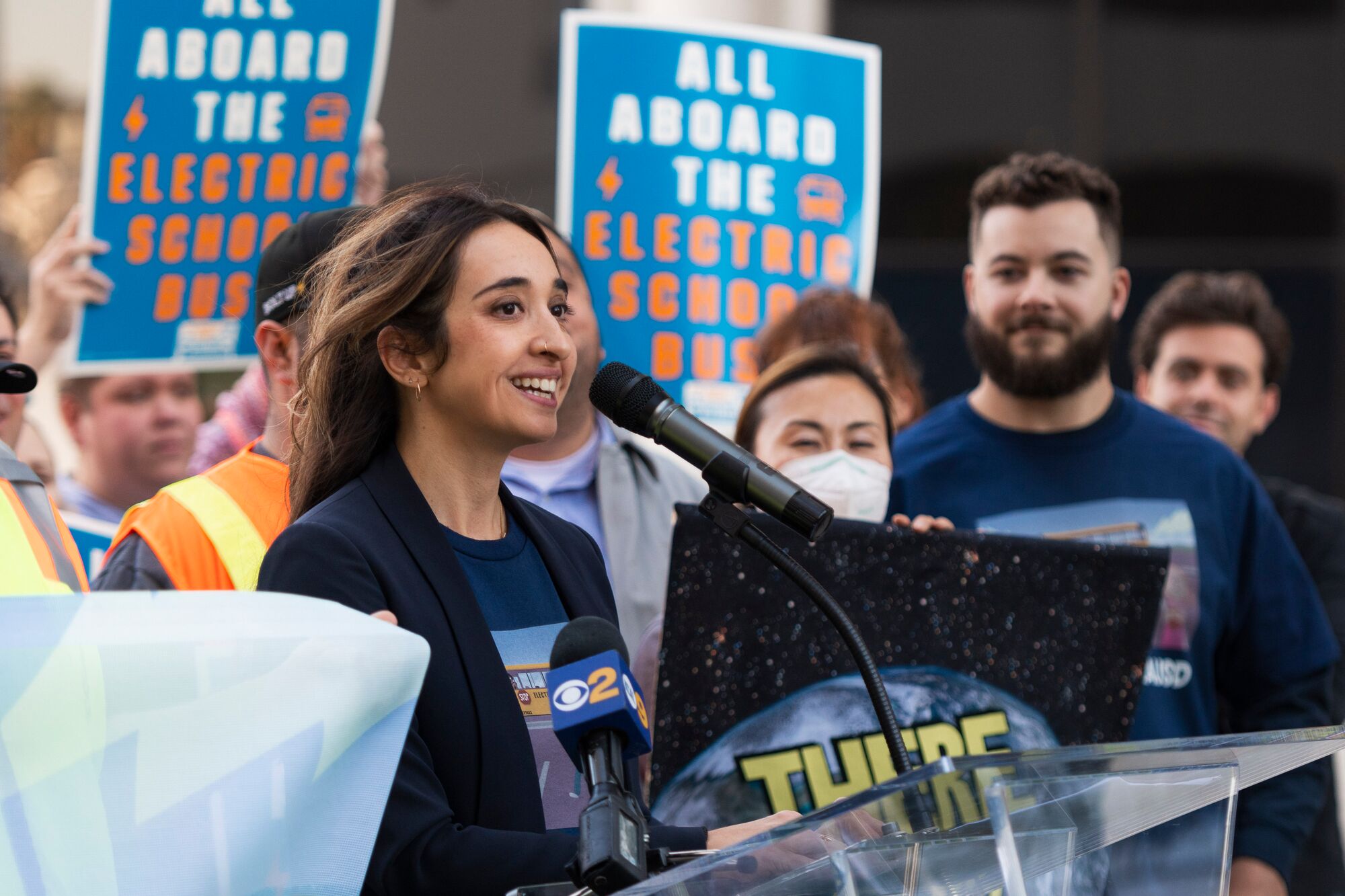 Earthjustice is the premier nonprofit environmental law organization. We wield the power of law and the strength of partnership to protect people's health, to preserve magnificent places and wildlife, to advance clean energy, and to combat climate change. We are here because the earth needs a good lawyer.