Over 60 Tribal Nations Side with AG Nessel in Line 5 Lawsuit
Amicus brief asks 6th Circuit Court of Appeals to remand Nessel v. Enbridge to state court
Timna Axel, Earthjustice, (773) 828-0712
Cincinnati, OH
—
A coalition of more than 60 Tribal Nations from across the Midwest and Canada led by the Bay Mills Indian Community has weighed in on Michigan Attorney General Dana Nessel's lawsuit to remove the Line 5 oil pipeline from the heart of the Great Lakes. The Tribes submitted an amicus brief supporting Nessel's claims and asking the U.S. Court of Appeals for the 6th Circuit to remand Nessel v. Enbridge to state court, a move opposed by the Canadian giant Enbridge, which owns Line 5. Line 5 is an outdated oil-and-gas pipeline that poses unacceptable risks of an oil spill, especially as it travels along the lakebed through the Straits of Mackinac in a four-mile section known as the dual pipelines.
"Near and far, Anishinaabe people have united to protect the Great Lakes," said President Whitney Gravelle of the Bay Mills Indian Community. "We stand behind Attorney General Nessel because we know that shutting down Line 5 is the only way to protect everyone who depends on the land, water, and natural resources within the Great Lakes, including Anishinaabe people exercising our treaty rights."
Not only do the Great Lakes provide fresh drinking water to more than 40 million people, but in the creation stories of the Anishinaabe, the Straits of Mackinac are where the Great Turtle emerged after a flood to create the North American continent, which the Anishinaabe refer to as "Turtle Island." Bay Mills and other Tribal Nations have hunted, fished, and gathered medicines in the Straits for thousands of years — since time immemorial.  In 1836, they ceded vast acres of land and water including the Straits to the U.S. government.
"That 1836 treaty guarantees these Tribes the right to maintain their way of life in the ceded territory — a right that will be irrevocably destroyed if an oil spill from the dual pipelines contaminates the waters and aquatic life of the Straits," said Managing Attorney David Gover of Native American Rights Fund (NARF).
Nessel sued Enbridge in Ingham County Circuit Court in June of 2019, alleging that Enbridge is violating the Michigan Environmental Protection Act (MEPA), state public nuisance laws, and the public trust doctrine by operating Line 5 in the Straits of Mackinac. Although the case has been ready for a decision by the state court for more than two years, Enbridge has prolonged it by removing the case to federal court, missing the deadline by over 850 days.
"Enbridge is plainly trying to game the system, but no oil company is above the law," said Earthjustice Associate Attorney John Petoskey. "The 6th Circuit should remand this case to state court, where the attorney general's claims can be swiftly resolved."
Earthjustice and NARF represent Bay Mills Indian Community, Fond du Lac Band of Lake Superior Chippewa, Grand Traverse Band of Ottawa and Chippewa Indians, Keweenaw Bay Indian Community, Lac Vieux Desert Band of Lake Superior Chippewa Indians, Little River Band of Odawa Indians, Little Traverse Bay Bands of Odawa Indians, Match-E-Be-Nash-She-Wish Band of Pottawatomi, Nottawaseppi Huron Band of the Potawatomi Tribe, Saginaw Chippewa Indian Tribe, Sault Ste. Marie Tribe of Chippewa Indians, Bad River Band of the Lake Superior Chippewa, Grand Portage Band of Lake Superior Chippewa, Ho-Chunk Nation, Lac du Flambeau Band of Lake Superior Chippewa Indians, Leech Lake Band of Ojibwe, Menominee Indian Tribe of Wisconsin, Mille Lacs Band of Ojibwe, Minnesota Chippewa Tribe, Prairie Island Indian Community, Red Cliff Band of Lake Superior Chippewa, Red Lake Band of Chippewa Indians, St. Croix Chippewa Indians of Wisconsin, Stockbridge-Munsee Community Band of Mohican Indians, and the Anishinaabek Nation of Ontario as amici in this case.
The Tribes and First Nations are based in Michigan, Wisconsin, Minnesota, and Canada. All twelve of Michigan's federally recognized Tribes have passed resolutions calling to decommission Line 5.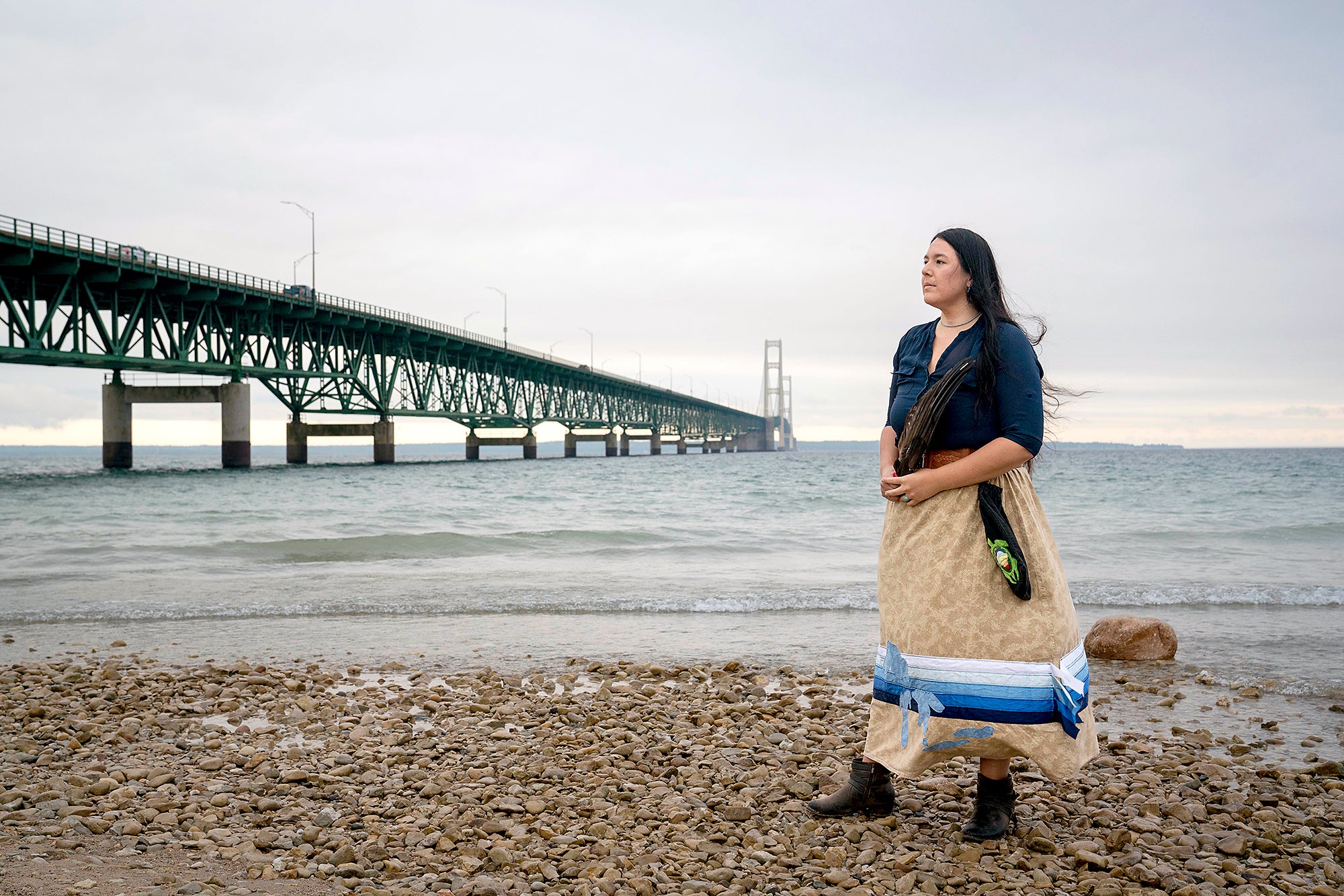 Earthjustice is the premier nonprofit environmental law organization. We wield the power of law and the strength of partnership to protect people's health, to preserve magnificent places and wildlife, to advance clean energy, and to combat climate change. We are here because the earth needs a good lawyer.