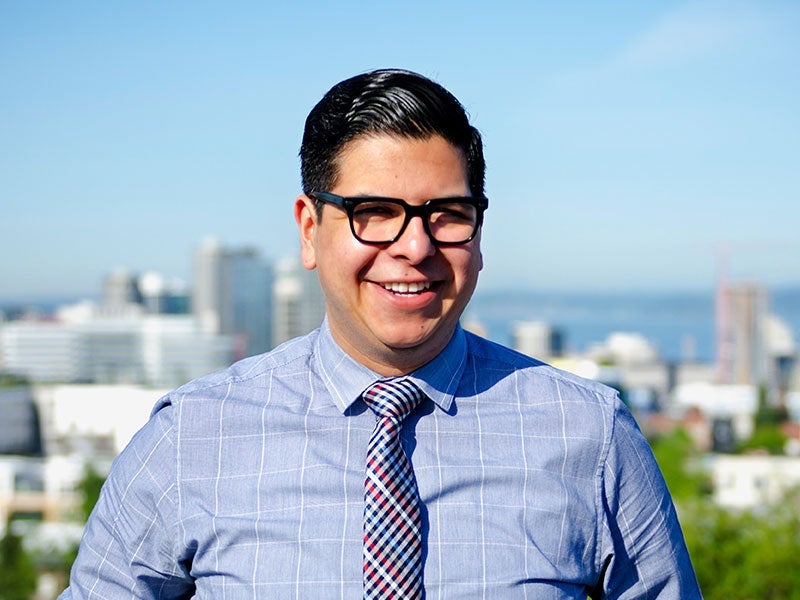 Eric Gonzalez Alfaro is the policy advocate for the Northwest Regional Office, and is responsible for leading the administrative rulemaking and legislative strategies.
Prior to joining Earthjustice, Eric served as legislative director for the American Civil Liberties Union of Washington, where he led legislative strategies to address the criminal legal system, technology assisted surveillance, health care, immigrant rights, houselessness crisis, and to uphold the state's paramount duty of providing quality education to all students in Washington.
Between 2016 and 2019, Eric served as the legislative & policy director for the Washington State Labor Council, AFL-CIO. While there, he led strategy on workers' rights (on and off the jobsite), healthcare, education, voting justice, immigrant rights, civil liberties, and strategies to end mass incarceration.
Prior to WSLC, Eric served as staff lobbyist for the state's largest immigrant and refugee rights organization: OneAmerica (founded by Congressional Progressive Caucus Chair Rep. Pramila Jayapal).
Eric has also worked as the director of the Equal Justice Coalition, organizing to increase federal and regional funding for Washington civil legal aid programs. These free legal services are essential for helping families in crisis avoid foreclosure, thwart fraudulent and predatory practices, assist victims of domestic violence, and remedy inaccurate, unlawful termination of unemployment, healthcare, and other state supported basic need programs.
Eric is a first-generation Mexican-American, son of former migrant farmworkers who attained 3rd and 9th grade educations, and who continue to rely on farm jobs for their livelihood. He is also a first-generation college graduate.
Eric grew up on an orchard in a single-wide, then a double-wide trailer, outside East Wenatchee in the heart of Washington state.
At a young age, he learned to work the fields, laboring alongside family members and new members of the community who struggled but worked hard to realize the ever-fleeting American Dream. Their hardships mirrored those of Eric's father endured in the 1970s, traveling job to job in Central Valley, California to the Yakima and Wenatchee Valleys. Their stories informed Eric's perspective throughout his upbringing, and they are the foundation to who Eric is today.
This is why Eric has dedicated his career to promoting meaningful social and economic justice that is generational, and long overdue.
Eric serves as commissioner of the Washington State Commission on Hispanic Affairs, board secretary of the Unemployment Law Project, and a board member of Mi Centro (previously known as Centro Latino). He has previously served on the State Dept. of Labor & Industries' Washington Industrial Safety and Health Act Advisory Board, and as chairperson of the Healthy Washington and Farm Worker Coalitions.
Outside of work, Eric is a part time student at the Northwest Wine Academy where he is mastering the art of wine production, a photographer working in digital and analog mediums (120 film, and wet glass plate and tintype collodion), and the proud adoptive parent of Red, a rescue Norfolk Terrier mix that enjoys almost everything with the exception of children, the zipping by of electric scooters, the sound of skateboards on pavement, and especially the sound of children enjoying the aforementioned wheeled devices.