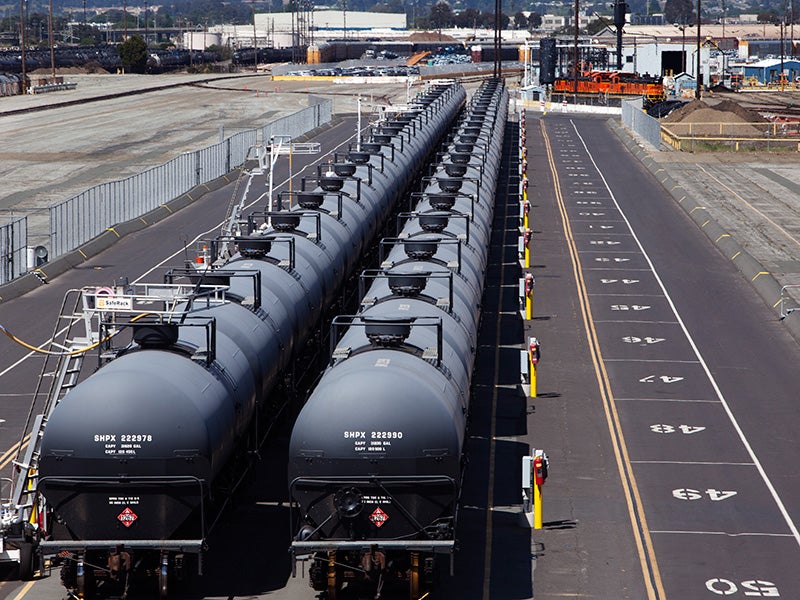 Chris Jordan-Bloch / Earthjustice
What action are the organizations taking?
In July, two conservation organizations, Sierra Club and Forest Ethics, filed a formal legal petition with the U.S. Department of Transportation ("DOT") demanding that the agency issue an emergency order prohibiting the use of some unsafe rail cars—known as DOT-111s—to carry Bakken crude oil and other similarly explosive crudes.
The petition came in response to the huge volumes of explosive crude oil that continue to travel through the nation's communities in unsafe rail cars and a series of catastrophic accidents.
DOT never responded to the petition, nor has it taken necessary action to immediately protect the public from the risks of these trains. Accordingly, the groups have filed a lawsuit asking the courts to order DOT to take action.
What are DOT-111s?
DOT-111s are rail cars designed to carry liquids, including crude oil, and have been in service in North America for several decades. They are prone to punctures, oil spills, fires and explosions and lack safety features required for shipping other poisonous and toxic liquids.
As crude production in the United States has surged exponentially in recent years, these outdated rail cars have been used to transport the crude oil throughout the country. The U.S. and Canadian government recognized decades ago that the DOT-111s were unsafe for carrying hazardous materials, finding that the chance of a "breach" (i.e., loss of contents, potentially leading to an explosion) is over 50% in some derailment scenarios.
U.S. and Canadian safety investigators have repeatedly found that DOT-111s are unsafe and recommended that they not be used for explosive or hazardous materials, including crude oil; however, the U.S. government's proposal to phase out these rail cars fails to take sufficient or immediate action to protect the public.
What is Bakken crude oil?
Bakken crude refers to oil from the Bakken shale formation which is primarily in North Dakota, where production has skyrocketed in recent years due to the availability of newer hydraulic fracturing ("fracking") techniques. The increase in the nation's output of crude oil in 2013, mostly attributable to Bakken production, was the largest in the nation's history.
Bakken crude is highly flammable, much more so than some crude oils. Today, Bakken crude moves in "unit trains" of up to 120 rail cars, as long as a mile and a half, often made up of unsafe DOT-111s.
Have there been accidents involving these trains?
Yes, many of them. (See an interactive map of major accidents since 2012.) More oil spilled in 2013 than the last 38 previous years combined. Just in the last year, there have been a number of high profile derailments of DOT-111s carrying Bakken crude that have led to massive oil spills, catastrophic explosions, evacuations, and deaths.
In December 2013, a unit train of 106 cars derailed less than a mile outside of Casselton, North Dakota, spilling 400,000 gallons of crude and causing a gigantic fireball. The entire town was evacuated. In November 2013, a train of DOT-111s derailed outside of Aliceville, Alabama, spilling 630,000 gallons of Bakken crude into sensitive wetlands and causing a massive fire. Most tragically, just over a year ago, 60 DOT-111s derailed in the small Canadian town of Lac-Mégantic and exploded, killing 47 people. Victims ranged in age between four and 93 years old.
Given the extraordinary volume of Bakken crude currently being transported in unsafe rail cars, it is only a matter of time before another disaster of this magnitude—or worse—occurs.
Are there alternative tank cars available?
Transporting Bakken crude by rail is risky under the best of scenarios because of its flammability. But legacy DOT-111s represent the worst possible option. All new tank cars built since October 2011 have additional some safety features that reduce the risk of spilled oil by 75%. Even so, safety investigators, the Department of Transportation, and the railroad industry believe tank cars need to be made even safer. Some companies are already producing the next-generation rail cars that are 85% more crashworthy than the DOT 111s.
Petitioners support the safest alternatives available, and expect that the ongoing rulemaking process will phase out all unsafe cars. In the meantime, an emergency prohibition on shipping Bakken crude in DOT-111s—which virtually everyone acknowledges is unreasonably dangerous—is required immediately.
What steps have the U.S. and Canadian governments taken to date?
The U.S. government recognizes that Bakken crude oil should not be shipped in DOT 111 tank cars due to the risks, but has done shockingly little to limit their use. In May 2014, the DOT issued a safety alert recommending—but not requiring—shippers to use the safest tank cars in their fleets for shipments of Bakken crude and to avoid using DOT 111 cars.
Canada, in contrast, responded to the Lac-Mégantic disaster with more robust action. It required the immediate phase-out of some DOT-111s, a longer phase-out of the remainder, and the railroads imposed a surcharge on their use to ship crude oil in the meantime.
In the absence of similar standards in the U.S., the inevitable result will be that newer, safer cars will be used to ship crude in Canada while the U.S. fleet will end up with the most dangerous tank cars.
What about the rulemaking process?
In September of 2013, in the wake of the Lac Mégantic disaster, the U.S. Department of Transportation took the first steps in a rulemaking process to set new standards for crude oil rail cars. A proposed rule was issued in late July, which would update tank car standards, and DOT is currently accepting public comment on the proposal.
To the surprise of many, the proposal does not immediately ban the use of DOT-111s for carrying Bakken oil and other crudes. Instead, it proposes to phase out the DOT-111s over years with the phase out for shipping Bakken not occurring until October 2018.
The proposal includes other elements which will increase safety on the rails over time. However, the rule will not be adopted until 2015 at the earliest, and does shockingly little to protect the public from dangerous DOT-111s carrying explosive cargo in the meantime. That's why the groups are seeking emergency action in the meantime, and have gone to court to require DOT to address these concerns directly.
What happens next?
The case has been filed with directly with the U.S. Ninth Circuit Court of Appeals. The court will review the petition—known formally as a mandamus petition—and determine whether to accept it or reject it. If accepted, DOT will be allowed to respond. The organizations are asking for the case to be reviewed on an expedited schedule.
If the groups prevail in the lawsuit, DOT will be required to formally respond to the underlying petition within a short amount of time.
(Updated September 11, 2014)
Read Next
Rail shipments of volatile crude oil have dramatically increased, with explosive results. Find out where major accidents have occurred—and the communities that are fighting back.