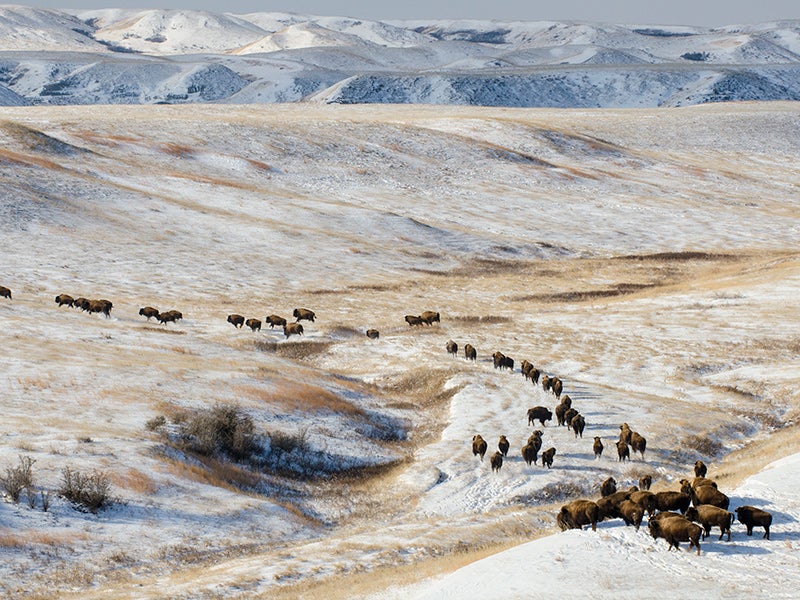 Photo provided by Ted Wood
Case Overview
Earthjustice, representing Defenders of Wildlife and the National Wildlife Federation, asked the Montana Supreme Court to allow state wildlife officials to move ahead with a plan to transfer to north-central Montana's Fort Belknap Reservation approximately 30 wild bison originally moved from Yellowstone National Park.
A state court judge issued a preliminary injunction in May 2012 that blocked that bison transfer in response to a lawsuit filed by Citizens for Balanced Use. In June 2013, in response to the conservationists' appeal, the Montana Supreme Court overturned that decision and voided the lower court's injunction, allowing the Fort Belknap bison transfer to proceed.
Once numbering approximately 30 million across the Great Plains and Rocky Mountains, wild bison were almost driven to extinction by market hunters in the late 19th century. Montana was among their last strongholds, but the slaughter persisted until in 1903 only about 25 of the animals remained in the wild. Those last wild bison were located in the Pelican Valley of Yellowstone National Park. Since then, Yellowstone's wild bison population has rebounded to more than 4,000 and Montana officials have developed plans to transplant some bison from the park to the species' historic home on the plains.
To that end, the Montana Department of Fish, Wildlife and Parks in March 2012 released 61 bison for transfer to northeast Montana's Fort Peck Indian Reservation. That contingent included animals destined for further transfer to Fort Belknap, and those bison have remained in the custody of the Fort Peck Tribes during the state court proceedings.
In addition to its importance for wildlife conservation and restoration, the return of wild bison to reservation lands has tremendous cultural significance for Native American people. As the Fort Peck Tribes explained in a submission to the Montana Supreme Court in support of the conservationists' appeal, "the Tribes were finally successful—after a 130 year break in the historic relationship—in reuniting the descendants of the Assiniboine and Sioux people who survived the 19th Century with the descendants of wild bison who survived the bison holocaust of the same period."
The June 2013 court ruling allows a similar reunion of the Assiniboine and Gros Ventre people of the Fort Belknap Reservation with the descendants of the last wild bison.
Stay Connected For Updates
Join our community of 1 million supporters and receive urgent action alerts.