100% Carbon-Free Electricity is a Golden Opportunity for California
A proposed state bill calls for 100 percent carbon-free electricity in California by 2045.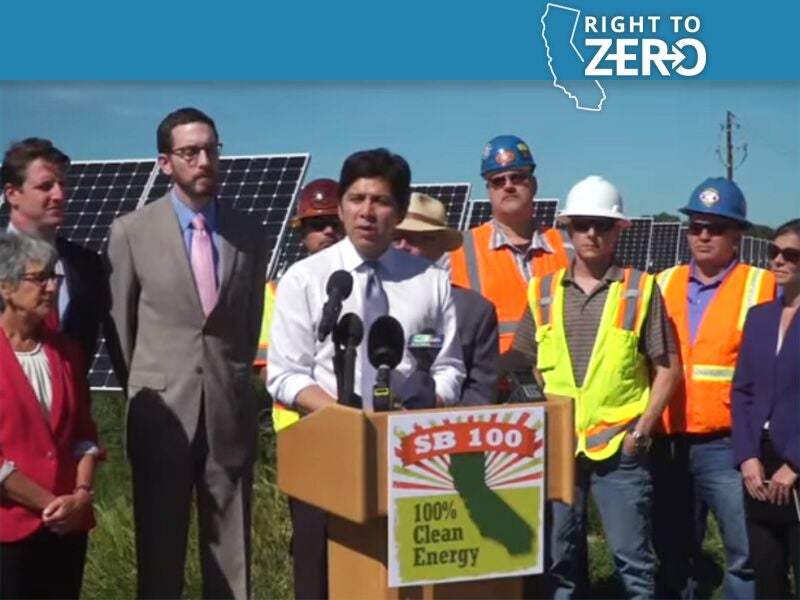 Earthjustice's  Right to Zero campaign is all about pushing California toward a zero-emission economy—but we can't get to zero without first achieving 100 percent clean, zero-carbon electricity.
This goal could be jumpstarted with Senate Bill 100 which is now making its way through the Capitol building in Sacramento.
This bill fast-tracks California's current goal of achieving 50 percent renewable energy by 2030 to a 60 percent target and sets California on a path to a 100 percent zero carbon grid by 2045.
Take Action! Tell your representative you support SB100 and urge them to do the same for a clean energy future in California.
Powering our state with entirely clean energy is not a pipedream. California already sources over a quarter of its electricity from wind and solar sources, empowering us to reach 50 percent renewable energy well before 2030. Also, solar energy prices have dropped 78 percent between 2009 and 2014 and renewable energy is now cheaper than fossil fuels. Most of all, innovation in the energy storage sector will soon be able to store and provide affordable renewable energy, literally rain or shine.
And so it is time for California to commit to zero-carbon energy. Clean energy can be extremely beneficial for our climate, as well as our health and our wallets. At a time when the Trump administration is making harmful and backward decisions on our climate and energy future, SB100 presents a golden opportunity for California to lead the nation.
Earthjustice is fighting for SB100 first and foremost for the Californian communities impacted by living in some of the worst air quality in the nation. California is home to six out of the top ten most polluted cities in the United States. More than 90 percent of Californians suffer from unhealthy air pollution at some point during the year. Further investments in natural gas will only make this worse.
If lawmakers fail to pass SB100, California will continue investing in polluting energy sourced from natural gas, leaving impacted communities behind.
It is clear that natural gas should no longer be considered a clean energy option due to the havoc it wreaks, such as:
Natural gas combustion contributes to ozone and particulate matter pollution.
Leaking natural gas pipelines and crumbling storage facilities pose safety risks for communities living nearby. For instance, eight Californians died in the San Bruno gas explosion in 2010, and thousands were sickened and displaced from their homes in the 2015 Aliso Canyon gas leak in Porter Ranch.  
Natural gas operations leak methane throughout the production pipeline, during its extraction, transportation and storage. Methane is 86 times stronger than carbon dioxide at trapping heat over a 20-year period—meaning that damage done to our climate is more rapid and intense.
While the Trump administration feeds an addiction to fossil fuels that harms public health and damages our environment, Californians know better than to continue down this dangerous path. Now that clean, healthy and safe energy alternatives are available and affordable, investing in more natural gas for our energy future is inexcusable.
As we wean California off fossil fuels and switch to 100 percent clean energy, SB100 will lead to the closure of polluting fossil fuel facilities which damage our climate and the health of our communities.
Not only will a transition to 100 percent zero-carbon energy restore our communities' health and our climate, it will also provide opportunities for clean energy careers throughout the state. In the Inland Empire alone, clean energy programs built 106 renewable energy power plants and created 41,000 jobs since 2010. California has more jobs in clean energy than all the coal jobs in the entire United States.
Our goal of 100 percent zero emissions cannot be accomplished without leadership with integrity. Earthjustice urges our state government leaders to keep SB100 clean of handouts to those special interest groups that seek to expand the fossil fuel industry rather than curtail it.
We stand behind California's elected officials who are prepared make the right, easy and smart choice for our energy future by supporting SB100 and helping us to achieve 100 percent clean, zero-carbon energy.
Come on, California, let's get to 100 percent zero. Tell your California representatives to support SB100.
Take Action! Tell your representative you support SB100 and urge them to do the same for a clean energy future in California.
ABOUT THIS SERIES
We don't have to imagine a zero-emissions future. We can live it. Our new Right to Zero blog series will track the Right to Zero campaign to transform our energy grid and transportation for a zero-emissions California. While the Trump administration fails to lead on climate and health issues in Washington, D.C., Californians are pushing for a zero-emissions state now. Follow Right to Zero to see how Earthjustice is fighting for zero-emissions technologies at our ports, power plants, freeways and bus routes.
Based in Sacramento, Erica is a policy advocate with Earthjustice's Community Partnerships Program. She works on a broad array of environmental issues, including water, toxics, wildlife protection and food safety.
The California Regional Office fights for the rights of all to a healthy environment regardless of where in the state they live; we fight to protect the magnificent natural spaces and wildlife found in California; and we fight to transition California to a zero-emissions future where cars, trucks, buildings, and power plants run on clean energy, not fossil fuels.