Artists Created a Virtual 360° Gallery to Inspire Climate Joy
They're bringing color, form, and story to a call for climate justice.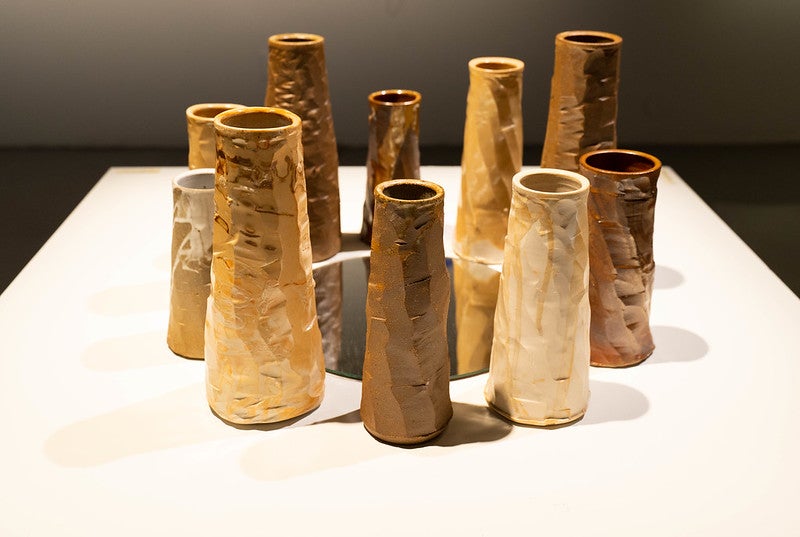 As communities emerge from the darkest days of a pandemic, dozens of artists have gathered their work to celebrate life on earth. Through a virtual 360° gallery presented by the Asian American Women Artist Association, visitors are transported to SOMArts Cultural Center in downtown San Francisco, where they can view Sowing Agency, an exhibit inspired by acts of climate resistance, small and large, around the world.
"There's so much knowledge to share, but narratives of people of color, of AAPI (Asian American and Pacific Islander) communities aren't usually shared unless you're part of the community," says curator and Earthjustice staffer Lisa Pradhan. "We felt it was important to pass that on."
Some artists do this by paying tribute to eco-cultural norms.
An installation by Chinese American artist Frances Kai-Hwa Wang is an homage to aunties who reuse and hand down items often destined for landfills over the course of generations — jars and takeout containers, rubber bands and twist ties, and, of course, plastic bags. "At any auntie's home, the world comes full circle," Wang wrote.
Some relate to the innate poetry of nature in our everyday lives.
Taiwanese artist Cindy Shih's watercolor, entitled "Uprooted," channels inspiration from a backyard garden to describe the immigrant experience. "In unfamiliar terrain, the carrots took on a life of [their] own, twisting and turning to sprout new life in haphazard ways, resulting in a beautiful metaphor for establishing new life in uncharted and precarious times."
Others deliver their message by appealing to a widely shared love of the outdoors.
Digital designs by Tibetan Filipino Canadian artist Tenzin Tsering aim "to demonstrate how our personal benefit from nature comes at a massive cost." Tsering's illustrations show how many individual choices and actions can add up to major harm or healing for the natural world.
Tucked into the darkest corner of the exhibit, a mixed media installation wades into the human connection to the seas.
Malaysian Chinese artist Kristiana Chan's "Bodies of Water" is an audio-video collage that honors the maternal force of the ocean for a local Chinese fishing community, while also reminding viewers of the vastness and vulnerability of the natural world.
And in the spirit of cross-movement solidarity that defines modern environmentalism, some works show that community can transcend borders and identities.
Photography by Filipinx activist Sunshine Velasco features environmental protectors who are defending Indigenous sacred sites and cultures, ocean and lands apart, from Hawaiʻi's Mauna Kea mountain to North Dakota on the Standing Rock Sioux reservation.
As visitors move through the space, they see works organized by the themes of water, food, and community, and a dialogue emerges. "You want the pieces to interact, and our brains start to create these conversations," says Pradhan, who also shares her hope that the exhibit can spark conversations about healing and joy.
"We spend a lot of time thinking about the severing of ties over time — of stewardship of the land, of languages, of healing traditions, including the grieving process. We live in heartbreaking times, but we still need to be able to move through these experiences."
To view the exhibit and read more about each piece, visit the SOWArts virtual gallery. For a photo collection of the exhibit, visit AAWAA's Flickr album.
Maz worked at Earthjustice from 2020–2021.