EPA's Message to the Public: Stop Talking Because We're Not Listening
Earthjustice attorney Lisa Evans was preparing to leave her house for an evening workout last month when her phone rang with a call from the Environmental Protection Agency.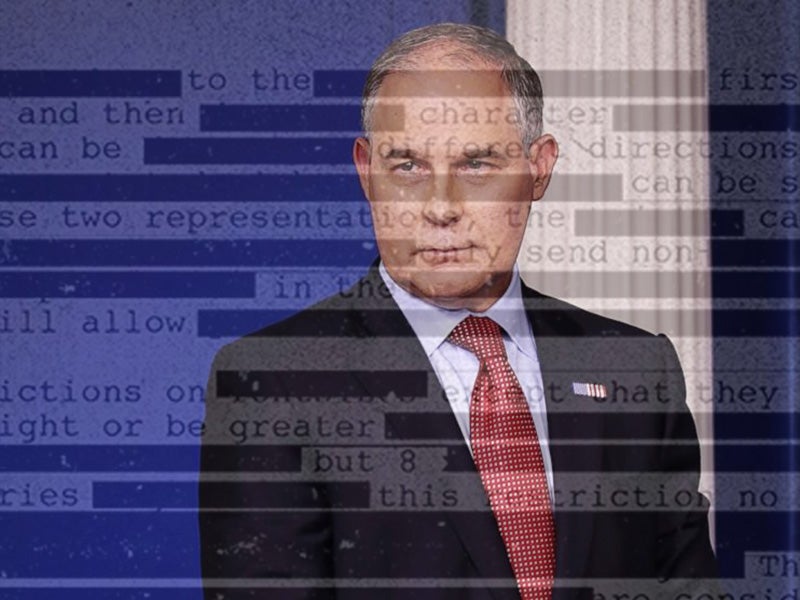 Earthjustice attorney Lisa Evans was preparing to leave her house for an evening workout last month when her phone rang with a call from the Environmental Protection Agency.
She took the call, curious about why the agency would be contacting her at 8 p.m. on a Thursday night. It was a senior-level staffer she'd known a long time. He was calling to tell her the 30-day extension she and others were granted to comment on new coal waste guidance had been nixed. If they wanted to comment on the 247-page document, which determines how states handle coal ash, one of the largest toxic waste streams in America, they would need to submit their comments by midnight.
They had four hours.  
The staffer apologized, but the decision was final.
Evans sprang into action. She emailed members of the public interest coalition she was working with on coal ash, thinking they might have begun compiling comments on the new rule. One had just started, and Evans urged her to submit these unfinished comments before the deadline. Then, Evans wrote a pointed letter to the EPA, requesting that any of the 50 groups she was working with be allowed to submit comments under the original extension deadline. The EPA never responded.
"This is hostile behavior that was meant to send a message," says Evans, who has spent more than 25 years working in and outside the Beltway on hazardous waste issues.
Unfortunately, Evans' experience has become the new norm under the Trump administration. Though previous administrations haven't always been fully cooperative with public interest groups, President Trump and his allies, like EPA administrator Scott Pruitt, are actively shutting people out of the democratic process while they gut environmental protections.
Rescinding the extension was just the latest in a series of antagonistic moves by the EPA. During the coal ash rule review period, public interest groups were repeatedly left out of conversations that would directly impact how coal ash—a deadly brew of arsenic, mercury and other toxic chemicals that's created when coal is burned—would be disposed of in their communities. As of February 2014, there were more than 200 documented cases of coal ash spills and contaminated sites around the country. The largest coal ash spill in U.S. history, the TVA Kingston spill in 2008, released over 5 million cubic yards of coal ash, snapping trees like twigs, knocking homes off their foundations and causing at least $1 billion of damage in Tennessee.
The Trump administration is also preventing people from receiving (what should be) public information. There are bizarre examples, like EPA Administrator Scott Pruitt's unprecedented decisions to spend $25,000 to install a soundproofed phone booth in his office, request 24/7 security detail and use private flights for government business. But other examples are more serious—and could cost more than just taxpayer money. 
For example, the EPA is currently refusing to tell the public why it delayed long overdue protections that would prevent coal plants from dumping toxic chemicals like arsenic and mercury into national waterways. Earthjustice filed a Freedom of Information Act (FOIA) request in April on behalf of environmental and public health advocates to shed some light on the EPA's decision, which would help protect drinking water sources and make thousands of river miles safer for swimming and fishing. Four months later, despite acknowledging that it has hundreds, if not thousands, of documents related to this decision, the EPA has produced only one document. Much of it was redacted. The rest of the documents are still under review by "senior management."
Earthjustice has also submitted a FOIA request for communications between the agency and Dow, as well as certain trade associations, after the EPA refused to ban the dangerous pesticide chlorpyrifos, which Dow manufacturers. Though long banned in the home, chlorpyrifos is still used in agriculture. It can poison farmworkers, their children and rural families. Scientists have overwhelmingly concluded that chlorpyrifos is harmful, and the EPA's own scientists found in 2016 that all food crop uses of chlorpyrifos lead to unsafe levels on food and in drinking water. In March, however, the agency denied a ban, claiming the science "remains unresolved."
According to the Washington Post, scrapping of both the water pollution regulations and the chlorpyrifos ban came after members of Trump administration met with representatives of industries that would be impacted by these new regulations.
The agency has yet to respond to either FOIA request, so Earthjustice has sued in response on both accounts. In addition, Earthjustice's Evans plans to continue pressing the EPA to accept comments compiled by the coal ash coalition before the extended deadline.  
"Cutting the public out of this process is contrary to the principles of open and transparent government," says Evans. "And now Pruitt has a cone of silence, so we won't hear anything—ever."
Jessica is a former award-winning journalist. She enjoys wild places and dispensing justice, so she considers her job here to be a pretty amazing fit.
Earthjustice's Clean Energy Program uses the power of the law and the strength of partnership to accelerate the transition to 100% clean energy.