Federal Agency Quietly Allows Oil to Leak Through Crude Export Ban
While Congress debates whether we should keep the crude oil export ban, a highly secretive federal agency decided to erode the ban on its own, without public input.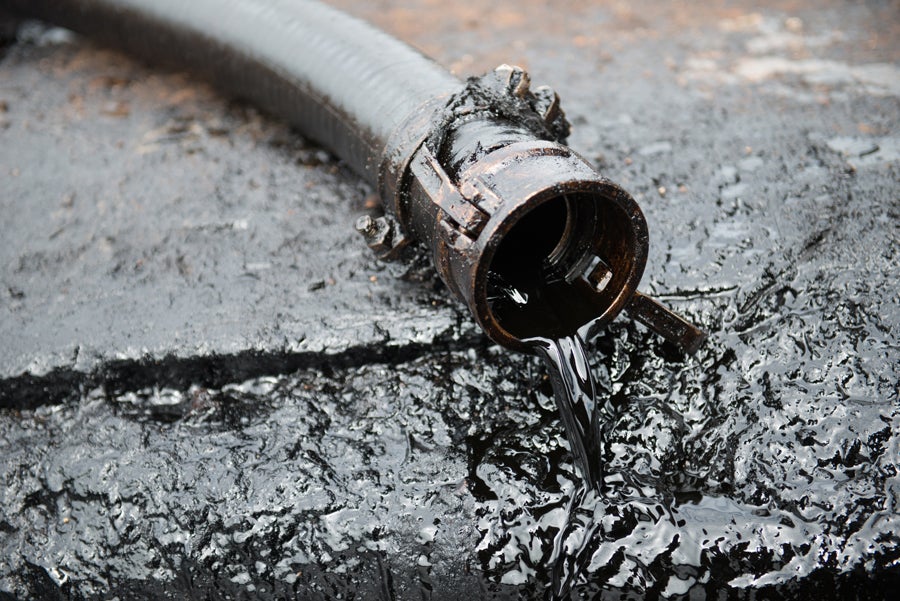 Forty years ago, the United States stopped exporting almost all domestic crude oil and put into place a strict licensing process that has come to be known as the crude export ban. The idea was that if we could keep American crude at home, we would reduce our reliance on foreign oil. But now, as more and more wells pump crude out of North Dakota and Texas in the biggest oil boom since the 1970s, foreign markets are singing siren songs to oil producers and their allies in Congress.
Senators Murkowski (R- AK) and Cruz (R-TX), among others, surrendered to the call and are seeking a full repeal of the oil export ban. Meanwhile, Senators Markey (D-MA) and Menendez (D-NJ) support the ban, a position also taken by U.S. oil refiners seeking to maximize their domestic crude sources. While this tug-of-war between factions within Congress and the oil industry continues to play out, a highly secretive federal agency has snatched the ball and ran.
The Bureau of Industry and Security, a small, self-described national security agency, specializes in the implementation and enforcement of such sensitive matters as the management of the Cuban embargo and weapons of mass destruction. It also enforces our "short supply" export controls of U.S. resources, an oddly diverse and small category that includes exports of unprocessed western red cedar, "horses for export by sea" and crude oil.
The bureau's regulations generally prohibit the export of both "crude oil" and "condensate," an especially light form of crude. However, condensate and heavier crudes that have been processed into petroleum products can usually be freely exported. Until last year, it was commonly understood that crude could only become an exportable petroleum product through complete processing, such as the refining process at an oil refinery. But in 2014, two oil producers boldly asked the bureau if they could export condensate that had been minimally processed through oil field equipment, but not fully refined. In confidential decisions issued to the companies, the bureau said yes.
After these secret rulings came out in press reports (the contents of which still remain undisclosed), other oil producers sought similar rulings, and some began freely exporting minimally processed condensate without asking for permission from the bureau. Then, late last year, new information popped up on the bureau's website that explained that exports of minimally processed condensate and crude are permitted. The bureau adopted this change without seeking public input, setting a dangerous precedent for the quiet whittling away of the crude export ban.
The new effective exemption for minimally processed crude may seem minor on its face, but it will have dire consequences for people and wildlife. The change will likely lead to an increase in the production, transport and consumption of oil, which will in turn lead to greater risks of oil spills and oil train derailments, as higher volumes of crude move through our towns on railroads and through our sensitive waterways like Puget Sound on tankers.
Beyond these immediate and direct harms, the erosion of the crude export ban will hurt our chances of meeting our international commitment to cap global warming at two additional degrees Celsius, a backstop that is needed to avoid catastrophic climate change. Under a likely forecast for our future reliance on coal, natural gas and oil, we will need to keep 75% of proven oil reserves safely buried between now and 2050 in order to have a good chance of staying under that cap. If the crude oil export ban is further weakened, it could lead to the release of as much as 4.4 billion tons of carbon dioxide between 2015 and 2050. The climate consequences associated with lifting the ban are real and are not trivial. Let's respect the gravity of those costs by demanding an open and thoroughly informed process for this decision and the many to come during our transition to a clean energy future.
On February 13, 2015, Earthjustice, on behalf of Oil Change International, Sierra Club, Sightline Institute, ForestEthics, Climate Solutions and Washington Environmental Council, appealed the bureau's new guidelines and requested that it instead begin a formal, public decision-making process to determine whether any new exemptions to the crude export ban should be enacted. We also filed a Freedom of Information Act request on behalf of Oil Change International and Sightline Institute to daylight the private documents supporting the condensate decisions.
As a supervising senior attorney in the Washington, D.C., office, Anna's work focuses on clean water issues.
Established in 1987, Earthjustice's Northwest Regional Office has been at the forefront of many of the most significant legal decisions safeguarding the Pacific Northwest's imperiled species, ancient forests, and waterways.