From Acadia to Glacier Bay, this National Parks Traveler Has Seen it All
Kurt Repanshek hasn't just visited about 90 National Park Service areas—he's been reporting on the nation's parks, monuments, seashores and battlefields for more than a decade.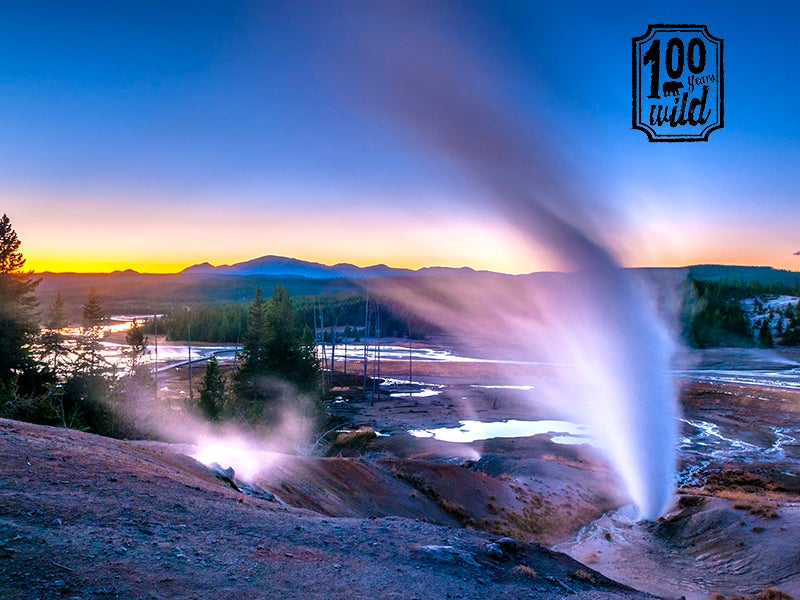 For the majority of Americans, visiting Yellowstone National Park is a once in a lifetime experience, but for Kurt Repanshek, it's an annual pilgrimage. But he doesn't just visit Yellowstone.
Repanshek, a New Jersey native, has been to about 90 National Park Service sites, including national parks, monuments, seashores and battlefields. He's climbed to the top of Grand Teton, cross-country skied the North Rim of the Grand Canyon and watched Glacier Bay's namesake glaciers calf from a kayak.
When Repanshek isn't exploring the national parks, he's writing about them. He's the editor-in-chief and founder of National Parks Traveler, an online magazine established in 2005 that's dedicated to covering the National Park Service and National Park system—everything from news and festivals to travel tips and guides.
We recently sat down with Repanshek to talk about the inspiration for his website and what he's learned from more than a decade of reporting on the national parks.
DT: What got you interested in writing about national parks?
KR: I've always loved national parks. When I was a youngster growing up in New Jersey, we got National Geographic every month. There was one issue with a story about this guy who lived in an area that got so much snow in the wintertime that he had to shovel snow off the roofs of lodges and cabins. This place was called Yellowstone, and the story was about Steve Fuller, the winter keeper in the Canyon area. I became enamored with Yellowstone.
DT: What are you hoping to achieve with the National Parks Traveler?
KR: The mission of the Traveler is to get people to appreciate the issues that the park system and the park service face. Everybody thinks everything is fine in the National Park Service and its parks. And perhaps outwardly it appears fine, but when you start digging into the actual management of the parks you quickly come to realize that there are a lot of issues that need to be addressed. So the Traveler hopes to both expose people to the wonders and cultural history of our public lands and national parks, as well as some of the issues that have to be tackled.
DT: What are some of the issues that the National Park Service faces?
KR: One of the foremost issues, of course, is funding. There's never enough funding. I ran across an interesting statistic yesterday that said the park service as an agency has a smaller budget than Austin, Texas. That really puts things into perspective; Austin, Texas, has 900,000 residents and the park service had 307 million visits last year.
There are also competing demands on the national parks. Some recreationists would like to see them opened up, for instance, for more mountain biking in the backcountry or rafting down rivers. There are also demands for more Wi-Fi in the parks so the millennial generation can take their "selfies" and post them immediately. There are all these pressures that are twisting and bending and affecting the mission of the national parks. We're at a critical point where we need to decide what we want the future of the parks to look like.
DT: What are some of the challenges you've faced with the Traveler?
KR: I'd like to delve deeper into issues and produce content more quickly. A little over a year ago, I wrote a piece on oil trains and the threats they pose to national parks. A lot of people probably don't realize how many parks these trains either go through or go by. But it took me five or six weeks to do that story. [Check out Earthjustice's work to stop oil trains in their tracks]
If the Traveler had more resources—staffing and budget-wise—I'd probably have gotten it done in a week. These parks have so much to offer, but they don't have the staff, time or money to get these important stories told.
DT: What's your favorite memory from all of your national park travels?
KR: One of my favorite trips ever was when my wife and I went up to Glacier Bay National Park on a small ship that was actually a converted World War II mine sweeper. It was a 97-foot-long ship called the Sea Wolf, and there were ten guests and five crew onboard. We spent six days cruising around Glacier Bay, and during the day we would get out and sea kayak. We even got to watch some of the glaciers calve into the bay from our kayaks. We also went out and hiked in the park and were surrounded by incredible birdlife. It was a truly fantastic experience, and I hope to get back there again.
As the National Park Service turns 100 this summer, the 100 Years Wild series is celebrating the value of public lands as refuges for wildlife and people, while also shining a light on the threats to these irreplaceable landscapes in a changing and warming world.
Diana was an undergraduate at Duke University, majoring in environmental science, with minors in English and economics, and was an intern with Earthjustice's editorial team in San Francisco.