From Acadia to Glacier Bay, this National Parks Traveler Has Seen it All
Kurt Repanshek hasn't just visited about 90 National Park Service areas—he's been reporting on the nation's parks, monuments, seashores and battlefields for more than a decade. (Spanish language version available.)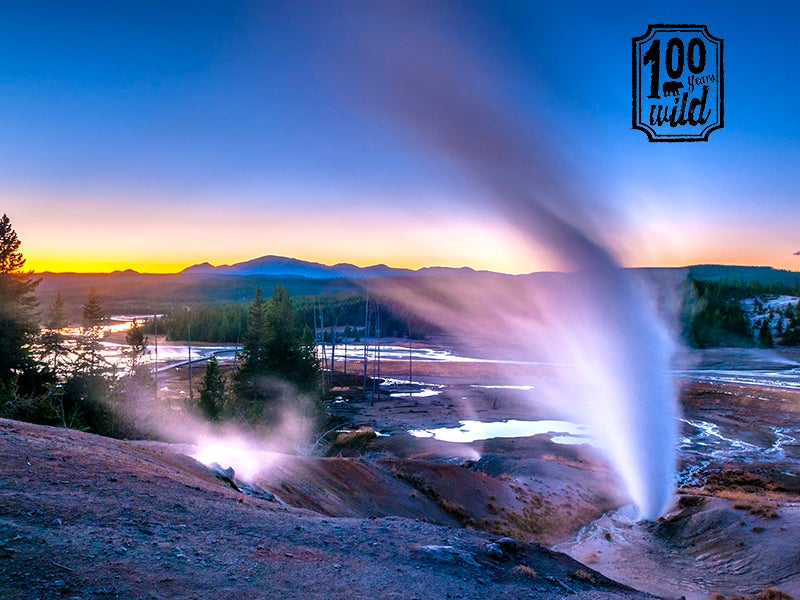 Este blog está disponible en español aquí.
For the majority of Americans, visiting Yellowstone National Park is a once in a lifetime experience, but for Kurt Repanshek, it's an annual pilgrimage. But he doesn't just visit Yellowstone.
Repanshek, a New Jersey native, has been to about 90 National Park Service sites, including national parks, monuments, seashores and battlefields. He's climbed to the top of Grand Teton, cross-country skied the North Rim of the Grand Canyon and watched Glacier Bay's namesake glaciers calf from a kayak.
When Repanshek isn't exploring the national parks, he's writing about them. He's the editor-in-chief and founder of National Parks Traveler, an online magazine established in 2005 that's dedicated to covering the National Park Service and National Park system—everything from news and festivals to travel tips and guides.
We recently sat down with Repanshek to talk about the inspiration for his website and what he's learned from more than a decade of reporting on the national parks.
DT: What got you interested in writing about national parks?
KR: I've always loved national parks. When I was a youngster growing up in New Jersey, we got National Geographic every month. There was one issue with a story about this guy who lived in an area that got so much snow in the wintertime that he had to shovel snow off the roofs of lodges and cabins. This place was called Yellowstone, and the story was about Steve Fuller, the winter keeper in the Canyon area. I became enamored with Yellowstone.
DT: What are you hoping to achieve with the National Parks Traveler?
KR: The mission of the Traveler is to get people to appreciate the issues that the park system and the park service face. Everybody thinks everything is fine in the National Park Service and its parks. And perhaps outwardly it appears fine, but when you start digging into the actual management of the parks you quickly come to realize that there are a lot of issues that need to be addressed. So the Traveler hopes to both expose people to the wonders and cultural history of our public lands and national parks, as well as some of the issues that have to be tackled.
DT: What are some of the issues that the National Park Service faces?
KR: One of the foremost issues, of course, is funding. There's never enough funding. I ran across an interesting statistic yesterday that said the park service as an agency has a smaller budget than Austin, Texas. That really puts things into perspective; Austin, Texas, has 900,000 residents and the park service had 307 million visits last year.
There are also competing demands on the national parks. Some recreationists would like to see them opened up, for instance, for more mountain biking in the backcountry or rafting down rivers. There are also demands for more Wi-Fi in the parks so the millennial generation can take their "selfies" and post them immediately. There are all these pressures that are twisting and bending and affecting the mission of the national parks. We're at a critical point where we need to decide what we want the future of the parks to look like.
DT: What are some of the challenges you've faced with the Traveler?
KR: I'd like to delve deeper into issues and produce content more quickly. A little over a year ago, I wrote a piece on oil trains and the threats they pose to national parks. A lot of people probably don't realize how many parks these trains either go through or go by. But it took me five or six weeks to do that story. [Check out Earthjustice's work to stop oil trains in their tracks]
If the Traveler had more resources—staffing and budget-wise—I'd probably have gotten it done in a week. These parks have so much to offer, but they don't have the staff, time or money to get these important stories told.
DT: What's your favorite memory from all of your national park travels?
KR: One of my favorite trips ever was when my wife and I went up to Glacier Bay National Park on a small ship that was actually a converted World War II mine sweeper. It was a 97-foot-long ship called the Sea Wolf, and there were ten guests and five crew onboard. We spent six days cruising around Glacier Bay, and during the day we would get out and sea kayak. We even got to watch some of the glaciers calve into the bay from our kayaks. We also went out and hiked in the park and were surrounded by incredible birdlife. It was a truly fantastic experience, and I hope to get back there again.
As the National Park Service turns 100 this summer, the 100 Years Wild series is celebrating the value of public lands as refuges for wildlife and people, while also shining a light on the threats to these irreplaceable landscapes in a changing and warming world.
De Acadia a Glacier Bay, Este Visitante a los Parques Nacionales Lo Ha Visto Todo
Para la mayoría de los americanos, visitar el Parque Nacional de Yellowstone es una experiencia única en la vida, pero para Kurt Repanshek, es una visita anual. Sin embargo, no visita Yellowstone solamente.
Repanshek, nativo de Nueva Jersey, ha estado en aproximadamente 90 sitios resguardados por el Servicio de Parques Nacionales, incluyendo parques nacionales, monumentos, playas y campos de batalla. Ha escalado la cima del Grand Teton, esquiado en las nieves del lado norte del Grand Canyon y ha visto glaciares cerca de Glacier Bay desde un kayak.
Cuando Repanshek no es encuentra explorando los parques nacionales, se le encuentra escribiendo artículos sobre ellos. Es fundador y editor de la revista National Parks Traveler, una revista en línea establecida en el 2005 que está dedicada a brindar cobertura al Servicio de Parques Nacionales y al sistema de Parques Nacionales—desde noticias y festivales hasta tips y guías de viaje.
Recientemente nos sentamos con Repanshek para platicar sobre los temas que lo inspiran para realizar su sitio web y lo que ha aprendido en más de una década de realizar reportajes sobre los parques nacionales.
DT: ¿Qué fue lo que lo inspiró en escribir sobre parques nacionales?
KR: Siempre he amado los parques nacionales. Cuando era niño, llegaba a mi casa la revista National Geographic cada mes. En una de ellas había un artículo sobre un hombre que vivía en una zona que recibía tantas nevadas en el invierno que tenía que quitar la nieve de los techos de los albergues y cabañas con pala. Ese lugar se llamaba Yellowstone, y el artículo hablaba de Steve Fuller, el vigilante invernal de la zona del cañón. Me enamoré de Yellowstone.
DT: ¿Qué espera lograr con National Parks Traveler?
KR: La misión de Traveler es lograr que la gente aprecie los problemas que el sistema de parques y el servicio de parques enfrentan. Toda la gente piensa que todo está bien con el Servicio de Parques Nacionales y sus parques. Quizás por fuera todo parece que está bien, pero cuando empiezas a investigar en la administración de los parques, te das cuenta rápidamente que hay muchos asuntos que necesitan resolverse. Así que Traveler espera poder exponer a la gente a las maravillas de nuestras tierras públicas y parques nacionales y su historia cultural, así como a los problemas que necesitan resolverse.
DT: ¿Cuáles son algunos de los problemas que enfrenta el Servicio de Parques Nacionales?
KR: Una de las cuestiones más importantes, por supuesto, es el patrocinio. Nunca hay suficientes fondos. Me tope con una estadística interesante ayer que decía que el servicio de parques como agencia tiene un presupuesto menor que la ciudad de Austin, Texas. Eso pone las cosas en perspectiva: Austin, Texas, tiene 900,000 residentes y el servicio de parques tuvo 307 millones de visitantes el año pasado.
Hay también peticiones opuestas en los parques nacionales. Algunos partidarios de las actividades recreativas quisieran abrirlos, por ejemplo, para más ciclismo de montaña o navegación en los ríos. Hay también peticiones para que haya más señal Wi-Fi en los parques y  que la generación llamada "millennial" pueda tomar sus fotos "selfies" y puedan postearlas inmediatamente. Todas estas presiones existentes están modificando y afectando la misión de los parques nacionales. Estamos en un punto crítico donde necesitamos decidir qué queremos como futuro para nuestros parques.
DT: ¿Cuáles son algunos de los retos con los que te has topado por Traveler?
KR: Me gustaría meterme de lleno a explorar los problemas de manera más profunda y producir contenido de manera más rápida. Hace poco más de un año, escribí una pieza sobre los trenes petroleros y las amenazas que representan para los parques nacionales. Mucha gente probablemente no se da cuenta por cuántos parques pasan estos trenes, ya sea por el centro de ellos o por su periferia. Pero me llevó de cinco a seis semanas escribir esa historia. [Dé un vistazo por el trabajo que realizó Earthjustice para detener los trenes petroleros]
Si Traveler tuviera más recursos—ya sea de personal o de presupuesto—probablemente hubiera podido escribirla en una semana. Estos parques tienen tanto qué ofrecer, pero no tienen el personal, ni el tiempo ni el dinero para lograr que estas historias importantes salgan a la luz.
DT: ¿Cuál es tu recuerdo favorito de todas tus visitas a los parques nacionales?
KR: Uno de mis viajes favoritos de todos los tiempos fue cuando mi esposa y yo fuimos al Parque Nacional Glacier Bay en un barco pequeño que en realidad era un buscador de minas de la Segunda Guerra Mundial que fue reconfigurado. Era un barco de 97 pies de largo y se llamaba Lobo de Mar, y llevaba diez pasajeros y cinco tripulantes a bordo. Pasamos seis días navegando alrededor de Glacier Bay, y durante el día salíamos a dar la vuelta al mar en kayak. Incluso podíamos ver algunos de los glaciares mientras se acercaban a la bahía desde nuestros kayaks. También salíamos a caminar por los senderos del parque rodeados de aves increíbles. Realmente fue una experiencia fantástica, y espero regresar allá algún día.
En conmemoración del centenario del Servicio de Parques Nacionales, la serie 100 Años Silvestre celebra el valor de las tierras públicas como refugio para la vida salvaje y para la gente mientras que al mismo tiempo le da un vistazo a las amenazas contra estos paisajes irremplazables en un mundo cambiante y cada vez más caluroso. 
Diana was an undergraduate at Duke University, majoring in environmental science, with minors in English and economics, and was an intern with Earthjustice's editorial team in San Francisco.