Goldman Prizewinner Helen Slottje: The Secret Weapon In the Fight Against Fracking
In 2010, Helen Holden Slottje, a lawyer in upstate New York pioneered a legal strategy to keep fracking out of communities using local zoning laws. Four years later, her hard work and bravery was rewarded with the Goldman Environmental Prize, sometimes referred to as the "Green Nobel." Read about Helen's work, and listen to an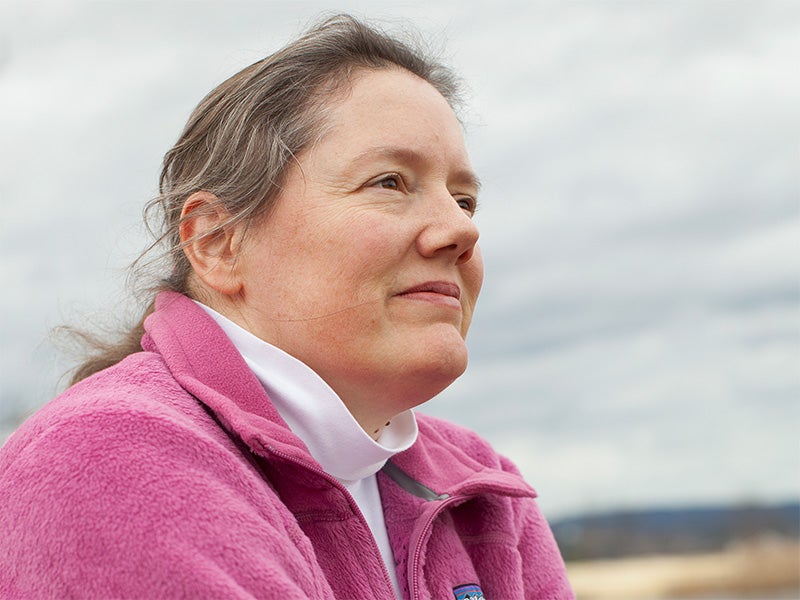 In 2010, Helen Holden Slottje, a lawyer in upstate New York pioneered a legal strategy to keep fracking out of communities using local zoning laws. She and her husband David spent the next four years going from town to town, sharing what they'd learned. Today, more than 170 communities in New York have fracking bans or moratoriums on the books.
This week, Helen's hard work and bravery were rewarded with the Goldman Environmental Prize, sometimes referred to as the "Green Nobel." She is one of six activists worldwide to be honored.
The first time I met Helen, we arranged to meet in the second-story of the Autumn Leaves independent bookstore in Ithaca, NY. Ringed by left-leaning books and plastered with posters advertising upcoming political events, it seemed a safe enough place to talk anti-fracking movement strategy. But I couldn't help looking over my shoulder to see who might be listening nearby. I apologized for being paranoid and said it was a habit learned in Washington, D.C., where you never know if lobbyists from the oil and gas industry might be sitting near you at a public cafe. Helen laughed knowingly and said it was a good habit. She too had learned to be cautious in her work.
In an interview with Salon, Helen reveals that she and David have intentionally kept a low profile, quietly doing their work, avoiding the media and ignoring detractors from the oil and gas industry.
But this week, Helen and David are getting their well-deserved turn in the limelight. And that's important—not just because good people doing good work deserve to be recognized for it, but because people fighting fracking across the country can learn from Helen and David. Their approach has worked in New York—arguably helping apply the necessary political pressure to keep the state's de facto moratorium on fracking in place while officials thoroughly study the health impacts of the practice. And it can work in other places too. Like in Dallas, TX which recently passed a measure prohibiting oil and gas wells within 1,500 feet of homes, a de facto fracking ban, and Los Angeles, which approved a moratorium on fracking until the impacts of the practice can be more thoroughly studied.
Salon dubbed Helen and David's community-by-community approach as "The Secret to Beating the Koch Brothers."
Well, looks like the secret's out, now. And I for one couldn't be happier. Congratulations, Helen. We are all so very proud and excited for you and can't wait to see what you do next!
Related Audio
Listen to an interview with Helen and learn about how and why she became involved in the fracking fight, and how she developed the pioneering legal strategy to keep fracking out of communities:
From 2007–2018, Kathleen partnered with clean energy coalitions and grassroots organizations, empowered communities to fight against fracking, and worked with the Policy & Legislation team to have their messages heard by legislators.
Established in 2008, Earthjustice's Northeast Office, located in New York City, is at the forefront of issues at the intersection of energy, environmental health, and social justice.