Looking for Climate Leadership in the Trump Era? Try Cities Like Los Angeles.
Angelenos are refusing to treat fossil fuel infrastructure as a necessary evil.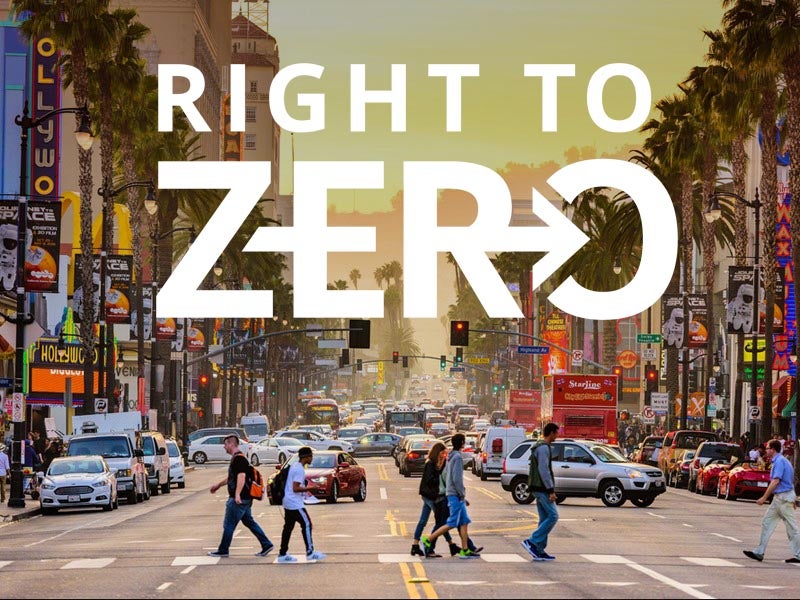 The picture of Los Angeles in the public imagination has long been that of jam-packed highways and skyscrapers capped with smog. But these days, LA is trying on a new role. The sprawling metropolis known for its car culture is quickly becoming a clean technology powerhouse as California switches from dirty, polluting fossil fuels to renewable energy.
Fighting for these solutions in Los Angeles is especially urgent. Today, California is home to eight out of the 10 cities with the worst air quality in the nation. People in Los Angeles know what it's like to worry about the impact of dirty air on our families – from asthma to heart disease to dementia, the thick smog in our air and our lungs takes a toll.
Angelenos are refusing to treat fossil fuel infrastructure as a necessary evil. Here are just a few examples.
In 2017, LA Metro, the Los Angeles Department of Transportation and LA City Council committed to switch to entirely zero-emissions electric buses by 2030. (I want to give a special thanks here to the Earthjustice supporters who rallied with us in our call for LA Metro to commit to electric buses in the spring.) That progress means the nation's second and third largest transit agencies are going all-in on clean, quiet electric buses, creating an important foothold for a growing climate solution in the United States. Southern California is now home to more than six manufacturers of electric vehicles, creating good jobs and making LA an epicenter of clean tech manufacturing in California.
Rebecca Schenker, director of strategy for electric bus manufacturer BYD, worries about the health of her kids, who go to preschool near a freeway. Now, she's working to electrify our transportation system, starting with BYD electric buses manufactured in Lancaster, in the high desert of northern LA County. If car-centric Los Angeles can make electric transportation work, we can prove to the nation that electric is the future.
Three California utilities are investing $1 billion to overhaul our infrastructure and better power those electric vehicles. That will help California leave polluting combustion engines in the past. As Lauren Renger, Southern California Edison's principal manager of air and climate, put it, "Why buy a CD when everyone else is streaming music? Zero-emissions electric is our future." 
At the Los Angeles Cleantech Incubator, over 40 companies are working on clean energy and zero emission transportation solutions covering everything from electric airplanes to energy storage and solar installation. The incubator's CEO, Matt Petersen, draws on his experience as the former chief sustainability officer for Los Angeles Mayor Eric Garcetti. In that role, Petersen worked on the solutions in the Sustainable City pLAn to guide environmental progress in Los Angeles. A notable milestone was San Pedro's recently completed Westmont Solar Project. The solar installment generates 16.4 megawatts of power, making it the world's most powerful rooftop solar project.
Years ago, environmental justice communities were the first to call for zero-emissions energy and transportation solutions. At a recent panel event in LA for our Right to Zero campaign, Taylor Thomas of East Yard Communities for Environmental Justice explained that solutions to air pollution and climate change should come from those most harmed. With the oil and natural gas industry "polluting our communities and corrupting our democracy," Thomas said, communities are fighting back by making their demands for cleaner and healthier options known to the powers that be. That includes pushing for zero emissions equipment at the Ports of Los Angeles and Long Beach to cleaner alternatives to expanding Interstate 710 for more diesel trucks.
The Southern California communities of Glendale, Oxnard and Santa Paula are combatting plans to build unnecessary new natural gas power plants. Instead, they're looking for ways to power their communities that don't harm their future – with tactics like renewable energy, storage for that energy, and efficiency measures like "demand response" that are already being deployed in California. After all, natural gas is no longer our cleanest option. Gas is not clean, it's not climate friendly, and it's not a necessary evil.
Earlier this month, Earthjustice assembled a panel of these local leaders in energy, transportation and environmental justice to answer the question "What does a zero-emissions California look like—and how is Los Angeles leading the way?" The panelists—and their achievements outlined above—demonstrate that a zero-emissions California is possible, necessary and coming soon.
ABOUT THIS SERIES
We don't have to imagine a zero-emissions future. We can live it. Our new Right to Zero blog series will track the Right to Zero campaign to transform our energy grid and transportation for a zero-emissions California. While the Trump administration fails to lead on climate and health issues in Washington, D.C., Californians are pushing for a zero-emissions state now. Follow Right to Zero to see how Earthjustice is fighting for zero-emissions technologies at our ports, power plants, freeways and bus routes.
Based in Los Angeles, Adrian works on clean air, clean energy, and healthy communities issues as a deputy managing attorney for Earthjustice's Right to Zero campaign. Follow him on Twitter @LASmogGuy.
The California Regional Office fights for the rights of all to a healthy environment regardless of where in the state they live; we fight to protect the magnificent natural spaces and wildlife found in California; and we fight to transition California to a zero-emissions future where cars, trucks, buildings, and power plants run on clean energy, not fossil fuels.