So far, the island's plans for rebuilding are at odds with its commitment to switch to 100% renewable energy.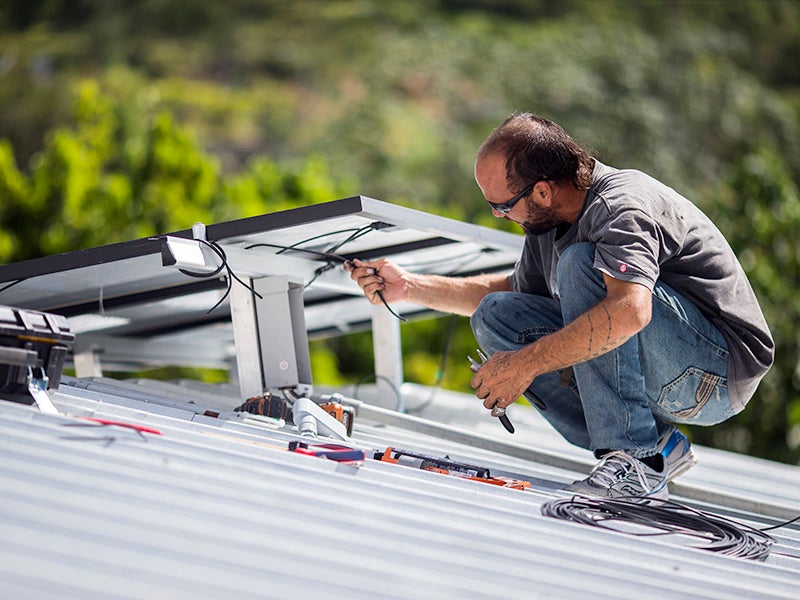 Leer en español.
Hurricane Maria blew through Puerto Rico in a matter of hours, but for many, the aftermath was the bigger disaster. In the months that followed, nearly 3,000 people died and the entire island was without power in what became the longest blackout in U.S. history.
Ruth Santiago, who works as a public interest lawyer in southeastern Puerto Rico, describes how the simplest tasks became very complicated.
"My mother, who was 86 years old at the time, is diabetic," Santiago says. "I was really worried about her insulin medication, keeping it at the right temperature. We were using a car battery with an inverter to power a small refrigerator and it wasn't working that well."
She and several neighbors shared a two-burner gas stove to cook their meals. Portable generators released noxious fumes that sent people to the hospital, and made so much noise that sleeping was impossible. Banks couldn't give people the cash they needed to buy food at stores that were cash-only.
"Hurricane Maria exposed the failure of the entire electrical system," says Earthjustice lawyer Laura Arroyo, who was born and raised in Puerto Rico. "People depend on energy to live. A lot of people died, but most didn't die from the direct impact of the hurricane, it was more about the sustained power outage."
Almost two years later, Puerto Ricans are still picking up the pieces. As the island territory slowly rebuilds, local residents are demanding that their government make smart decisions about the island's future, particularly when it comes to its electrical system.
On paper, the government and the Puerto Rico Electric Power Authority (PREPA), the government-owned utility company, seem to be responding.
In April, then-Gov. Ricardo Rosselló signed a law that commits the island to use renewable energy sources to generate all its electricity by 2050, with a phase out of coal combustion by 2028. With this law, Puerto Rico joins a growing list of U.S. states and cities that are making the jump to 100% clean energy.
Currently, the island's electrical grid depends almost solely on imported oil, coal, and methane. The government's plan to implement the shift to clean energy includes a 40% increase in the use of methane, imported from the U.S. mainland, as a way to bridge to renewable sources of energy.
This increase in methane is unnecessary, says Santiago, who works with community and environmental groups such as El Puente and Latino Climate Action Network. Last fall, she and other local experts presented PREPA with a plan that combined solar, wind, and wave energy alongside energy efficiency efforts, demand response programs, and battery storage systems. With that mix, Puerto Rico could not only fulfill the obligations outlined in the clean energy law, but it could also rebuild its grid to ensure the island is more resilient to future hurricanes.
Earthjustice attorneys are representing these citizens as they press the government for meaningful action.
"We know for a fact that we can already do large-scale renewable energy, without more investment in methane or any other fossil fuel. And customer self-supply, such as rooftop solar, is the lowest cost alternative," says Santiago. "Yet the government is proposing to build three offshore liquified methane ports and one land-based, as well as lots of combined cycle gas turbines. They want to make Puerto Rico the methane gas hub for the Caribbean."
---
Puerto Rico's existing electrical system consists mostly of a network of large centralized power plants in the less populated and less prosperous southern end of the island. Power is sent to the San Juan metropolitan area in the north, where 70% of the population lives and much of the demand is located.
The power travels along transmission lines that traverse the island's mountainous region and dense tropical forests. The infrastructure is old and malfunctions frequently. According to a 2016 report, Puerto Ricans were already suffering power outages before Hurricane Maria hit at rates four to five times higher than average U.S. customers.
The current system's reliance on imported fossil fuels is expensive for Puerto Rico consumers, who pay twice as much for their electricity as U.S. mainland residents. PREPA forecasts that Puerto Ricans will pay $1.2 billion for coal, oil, and methane this year alone. Those costs could continue to go up if they are forced to pay off a large portion of the bankrupt utility's debt, as proposed in the latest restructuring agreement.
"Everybody on the island realizes that the current system is not resilient and not affordable," says Earthjustice lawyer Raghu Murthy. "PREPA must end its addiction to imported fossil fuels. The plans produced by our clients demonstrate that distributed renewable energy can meet the island's energy needs."
The island's current reliance on imported fossil fuels has also had dire impacts on the environment and public health.
For example, Puerto Rico's one coal-fired power coal plant churns out 400,000 tons of toxic coal ash each year. Despite a 2017 law that prohibits coal ash from being stored on the island, this coal ash is buried at various sites where it leaches into the groundwater. AES, the massive power company based in Virginia that owns the coal plant, had been selling the coal ash at a nominal cost to be used as fill material in construction. Currently, there's an estimated 2 million tons of coal ash buried in backyards across southern Puerto Rico, in close proximity to the South Coast Aquifer, the only source of potable water for tens of thousands of people.
"A system reliant on fossil fuels doesn't work for the people of Puerto Rico," says Santiago, who lives near the coal plant, and has been fighting for years against its coal ash waste and toxic emissions into the air and groundwater.
---
For decades, Puerto Ricans have been pushing PREPA and the government to transition to clean energy and address the grave economic and environmental issues presented by the current system. In fact, before the current law was passed, a mandate already existed for the island to generate 12% of its energy from renewable sources by December 2015. As of 2017, just 2% came from renewables.
"Using methane isn't going to help us get to the new goal or even the existing one," Santiago says.
Last year, a coalition of grassroots organizations and environmental organizations released a proposal — Queremos Sol, or We Want Sun — that offers a path toward a truly sustainable future.
The plan outlines the technical steps needed to transform the grid to 100% clean energy by 2050, with an emphasis on rooftop solar and a decentralized system that moves the system away from transmission lines that go down in hurricanes. It also provides a way to finance this transition without privatizing PREPA, which recently announced its second plan for debt restructuring.
Solar energy is abundant in Puerto Rico. A 2009 study by the University of Puerto Rico at Mayagüez states that with the proper infrastructure, the island could more than meet its annual energy needs through renewables. Relying on clean energy would also be significantly less expensive than the current system — as little as $300 million a year to power 75 percent of Puerto Rico's homes, according to one estimate.
When PREPA releases the next draft of its 20-year plan, Earthjustice attorneys will represent groups such as El Puente, Latino Climate Action Network, Comité Diálogo Ambiental, and Cambio P.R. as they fight to put clean energy into the plan, and take dirty energy out.
"The grassroots community got the government to commit to 100%," says Murthy. "Now we're holding their feet to the fire."
Earthjustice will continue working with activists on the ground to move the government off its current proposal to use methane as a "bridge" to clean energy. According to Santiago, Earthjustice will be instrumental in helping to make the legal case and spreading the word across the island — and on the mainland — about why it is important to rebuild the electrical system in a way that allows the island to prosper economically while preserving its rich, abundant environment.
"After the hurricane, a lot of people in Puerto Rico are so exhausted, so overwhelmed by so many problems," says Arroyo. "Earthjustice is really critical now. We will be side by side with the grassroots organizations that are fighting against the government proposal for methane gas, and fighting to get them to go straight to solar."
Emilie has spent the past two decades as a journalist, speechwriter and communications strategist in Washington, D.C. At Earthjustice, she shares the stories of the people and issues at the heart of our clean energy litigation and policy work.
The Florida regional office wields the power of the law to protect our waterways and biodiversity, promote a just and reliable transition to clean energy, and defend communities disproportionately burdened by pollution.