Strengthen Protections for Those Who Help Grow Our Food
We live in one of the richest nations on earth, but nearly 3 million agricultural workers who cultivate and harvest our food lack the basic protections they need to keep themselves and their families safe from harmful pesticides.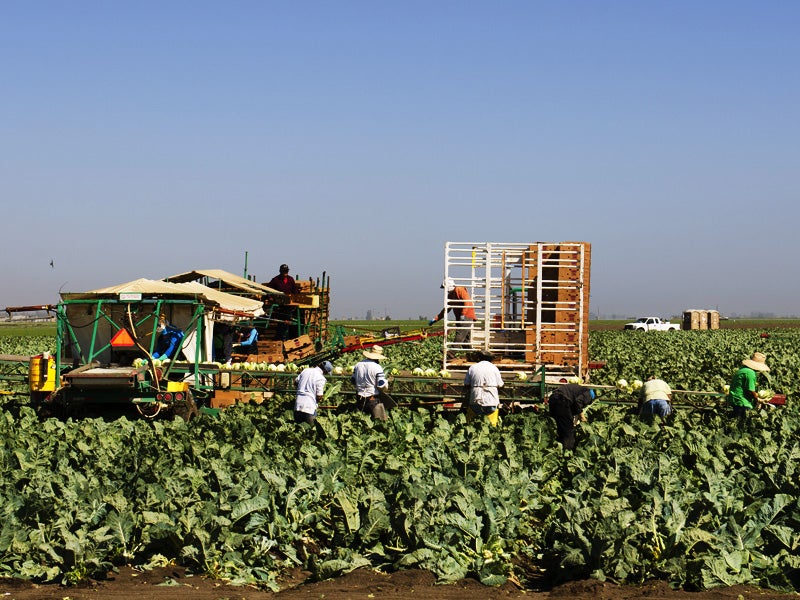 We live in one of the richest nations on earth. Most of us never miss a meal unless we choose to. But, ironically, the nearly 3 million agricultural workers who cultivate and harvest the food that ends up on our tables lack the basic protection they need to keep themselves and their families safe and healthy. Some 150,000 of these workers live in Florida and their work literally makes them sick while the U.S. Environmental Protection Agency, the agency tasked with safeguarding agricultural workers, delays strengthening needed protections.
Some 1.1 billion pounds of pesticides and herbicides are sprayed on farms and in greenhouses and nurseries each year in the U.S. But not only do these chemicals kill weeds and insects, they harm the workers who handle them directly and who labor in fields where crops have been treated with them. To make matters worse, workers often take pesticides home on their skin and their clothes, contaminating their homes and exposing their families. There are an estimated 20,000 pesticide poisonings among agricultural workers every year partly because of the lack of safety training and standards, protective equipment, or knowledge about protecting against workplace pesticide exposures. Workers who handle toxic chemicals in other industries — but whose workplace safety is regulated by the U.S. Department of Labor — receive more workplace protections.
Because of these exposures, agricultural workers suffer rashes, blisters, nausea, headaches, respiratory issues and stinging eyes. They have greater risks of cancer and neurological damage and live in fear of another exposure or medical problem.
It is time for EPA to improve and finalize the Worker Protection Standard for Agricultural Workers. An updated worker protection standard, which was proposed last summer after a decade of delay, would offer some benefits, like more frequent and thorough training.
But these standards do not go far enough to protect farmworkers or their families. EPA's proposal allows children as young as 16 to work as pesticide handlers, spraying and mixing dangerous chemicals and entering fields shortly after pesticides have been applied.
EPA's proposed standard would require employers to transport workers within 30 minutes of an exposure when an immediate emergency call for help should be required after a pesticide poisoning. EPA should also protect farmworkers by requiring medical monitoring, which would alert workers and employers when workers have been exposed to unsafe pesticide levels so they can take action.
The worker protection proposal should also be improved by restricting entry to farms and other properties that are adjacent to facilities that have been sprayed. The current proposal only restricts entry to areas next to fields that were sprayed on the same farm but doesn't protect people on neighboring farms that are affected by drift from pesticides that are carried by the wind.
If the needed protections are strengthened it could not come too soon for Betty Dubose, of Apopka, who worked in the muck farms of Lake Apopka, which was designated a superfund site because of the decades of environmental damage wrought there through agricultural work. When the muck farms closed, Betty went to work in a plant nursery and was showered with pesticides after being told by a supervisor that it was safe to go back in. She spent four days in the hospital after her face began to burn and itch and doctors told her she suffered from chemical poisoning. Decades have passed, yet Betty's face still bears the scars from that incident.
EPA should act now to finalize stronger standards, which the Obama Administration promised to do before 2016. Betty and millions of other farmworkers are counting on it.
This op-ed was first posted on PalmBeachPost.com on April 1, 2015.
Based in New York, Eve works with groups around the country to develop state policies that will reduce exposures to chemicals and pesticides.
The Florida regional office wields the power of the law to protect our waterways and biodiversity, promote a just and reliable transition to clean energy, and defend communities disproportionately burdened by pollution.