Wildlife Celebrities: Our Parks, Their Homes
Protecting national parks for human visitors also means keeping them safe for the many awe-inspiring creatures that live there.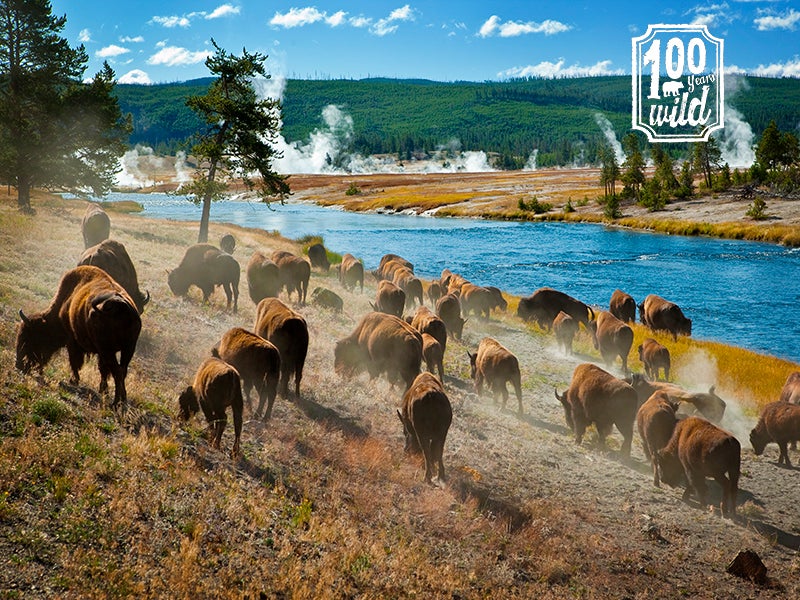 National parks provide countless acres of wilderness for millions of human visitors to enjoy each year, but they're also home to countless creatures great and small that rely on these protected lands for primary habitat or safe passage. Some individual creatures have become famous, with fans from all over the world traveling to our parks in hopes of catching a glimpse and snapping their photos.
This week, Earthjustice is highlighting some of the plant and animal celebrities we're working to protect, along with the national parks they call home.
Grizzly 399
Grizzly 399 garnered celebrity status with her bold personality while roaming the human-populated areas of Grand Teton National Park in northwestern Wyoming. The public also cherishes the 20-year old mother bear for her fertility; she's given birth to an exceptional number of cubs (16 so far). A bear of the modern age, Grizzly 399's impressive online presence allows you to track her recent sightings.
Sadly, in May 2016, Grizzly 399's youngest cub was killed after being struck by a car traveling through Grand Teton. Even more troubling, congressional leaders are proposing to remove Yellowstone's grizzly population from the endangered species list. Earthjustice has been fighting for years for the protection of grizzlies in the Greater Yellowstone Ecosystem. Most recently, Earthjustice successfully sued to stop federal agencies from authorizing the killing of four grizzly bears in Grand Teton.
OR-7 the wolf
OR-7 was the first wild wolf to set foot in California since 1924. His journey began in northeastern Oregon in 2009 when he was born into the Imnaha wolf pack. He became the seventh wolf to be tracked by radio transmitter in Oregon, earning him the moniker "OR-7." For five years, the Oregon Department of Fish and Wildlife followed his extraordinary journey through parts of Oregon and California, including Crater Lake National Park, until the battery in his radio collar eventually expired.
Though hunting nearly drove them to extinction in the 20th century, the gray wolves' comeback is a tale of resilience and the power of advocacy. Today, wolves in Yellowstone National Park and elsewhere are slowly recovering because of Endangered Species Act protections. But the fight is not over. Earthjustice is still working hard to uphold federal laws that protect wild wolves in national parks and beyond, even as Congress tries to remove wolves in certain states from the endangered species list for political reasons.
Yellowstone bison
The bison herd in Yellowstone National Park is the largest population living on public land, and Yellowstone is the only place bison have continuously lived since prehistoric times. People venture to Yellowstone from all over the world to marvel at the estimated 4,900 wild bison there, yet some visitors still struggle to understand what "wild" means. In May 2016, a father-son duo visiting Yellowstone removed a wild bison calf from its natural habitat and brought it to a ranger station over concerns that the animal was cold. After several unsuccessful attempts to reunite the newborn with its herd, park officials were forced to euthanize the calf.
From being slaughtered by the millions to being designated the national mammal of the United States, the American bison's revival over the past century has been extraordinary. Earthjustice continues to fight in court and on Capitol Hill to restore bison populations to their former strength.
Cecil the Lion
Though Cecil the Lion lived far from the national parks of the United States, his untimely death in Zimbabwe in July 2015 shined a global spotlight on the need to protect big game animals. He was killed by Walter Palmer, an American dentist from Minnesota, who reportedly purchased a license to kill the lion for $54,000. Visitors to Hwange National Park loved Cecil, leader of two prides of 19 lions, lionesses and cubs.
When news broke of Cecil's tragic death, global awareness of the ethics of big game hunting reached a new high. Environmental organizations joined forces with three major airlines to ban the transportation of hunting trophies on their flights. Australia and France banned hunters from taking lion trophies across their borders, and the U.S. added new protections for lions under the Endangered Species Act.
The General Sherman tree
Animals aren't the only celebrities in our national parks. Nestled in Sequoia National Park, the General Sherman tree stands as the largest living tree, by volume, in the world. Named after American Civil War General William Sherman, the sequoia boasts a volume of over 52,500 cubic feet and height equal to a 27-story building—and it's still growing!
In the early years of the National Park Service, the construction of roads and buildings combined with increased human traffic caused root damage to trees in the sequoia forest. Realizing the importance of forest conservation, the National Park Service began to limit tourist development with designated trails and fences. Today, the General Sherman continues to enjoy its protected superstar status in the park.
As stewards of America's wildlands, the National Park Service and park visitors alike have a duty to protect the wildlife that lived there long before we humans entered the picture. So as we celebrate the park service centennial this year, take time to appreciate the beauty of our national parks, but don't forget about the diverse and awe-inspiring creatures all around you.
As the National Park Service turns 100 this summer, the 100 Years Wild series is celebrating the value of public lands as refuges for wildlife and people, while also shining a light on the threats to these irreplaceable landscapes in a changing and warming world.
Vivian was a Communications Intern at Headquarters in San Francisco.