Wildlife Celebrities: Our Parks, Their Homes
Protecting national parks for human visitors also means keeping them safe for the many awe-inspiring creatures that live there. (Spanish language version available.)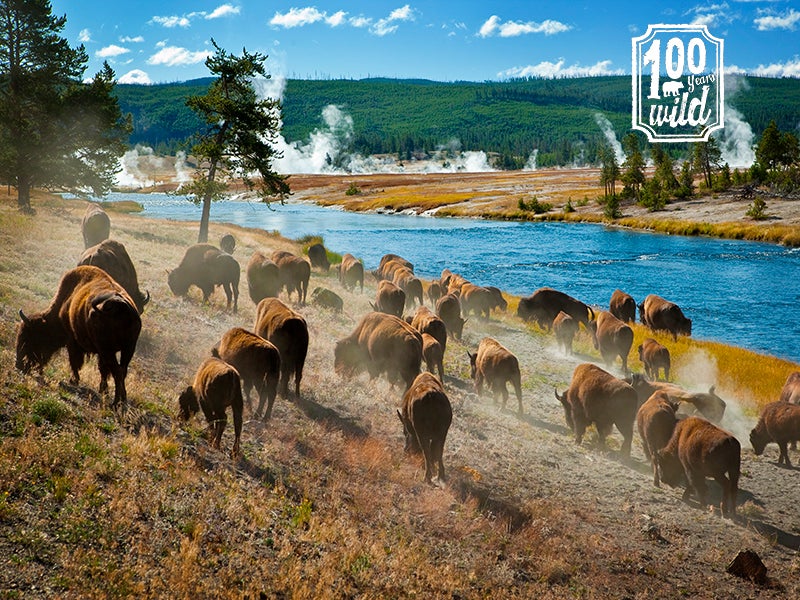 Este blog está disponible en español aquí.
National parks provide countless acres of wilderness for millions of human visitors to enjoy each year, but they're also home to countless creatures great and small that rely on these protected lands for primary habitat or safe passage. Some individual creatures have become famous, with fans from all over the world traveling to our parks in hopes of catching a glimpse and snapping their photos.
This week, Earthjustice is highlighting some of the plant and animal celebrities we're working to protect, along with the national parks they call home.
Grizzly 399
Grizzly 399 garnered celebrity status with her bold personality while roaming the human-populated areas of Grand Teton National Park in northwestern Wyoming. The public also cherishes the 20-year old mother bear for her fertility; she's given birth to an exceptional number of cubs (16 so far). A bear of the modern age, Grizzly 399's impressive online presence allows you to track her recent sightings.
Sadly, in May 2016, Grizzly 399's youngest cub was killed after being struck by a car traveling through Grand Teton. Even more troubling, congressional leaders are proposing to remove Yellowstone's grizzly population from the endangered species list. Earthjustice has been fighting for years for the protection of grizzlies in the Greater Yellowstone Ecosystem. Most recently, Earthjustice successfully sued to stop federal agencies from authorizing the killing of four grizzly bears in Grand Teton.
OR-7 the wolf
OR-7 was the first wild wolf to set foot in California since 1924. His journey began in northeastern Oregon in 2009 when he was born into the Imnaha wolf pack. He became the seventh wolf to be tracked by radio transmitter in Oregon, earning him the moniker "OR-7." For five years, the Oregon Department of Fish and Wildlife followed his extraordinary journey through parts of Oregon and California, including Crater Lake National Park, until the battery in his radio collar eventually expired.
Though hunting nearly drove them to extinction in the 20th century, the gray wolves' comeback is a tale of resilience and the power of advocacy. Today, wolves in Yellowstone National Park and elsewhere are slowly recovering because of Endangered Species Act protections. But the fight is not over. Earthjustice is still working hard to uphold federal laws that protect wild wolves in national parks and beyond, even as Congress tries to remove wolves in certain states from the endangered species list for political reasons.
Yellowstone bison
The bison herd in Yellowstone National Park is the largest population living on public land, and Yellowstone is the only place bison have continuously lived since prehistoric times. People venture to Yellowstone from all over the world to marvel at the estimated 4,900 wild bison there, yet some visitors still struggle to understand what "wild" means. In May 2016, a father-son duo visiting Yellowstone removed a wild bison calf from its natural habitat and brought it to a ranger station over concerns that the animal was cold. After several unsuccessful attempts to reunite the newborn with its herd, park officials were forced to euthanize the calf.
From being slaughtered by the millions to being designated the national mammal of the United States, the American bison's revival over the past century has been extraordinary. Earthjustice continues to fight in court and on Capitol Hill to restore bison populations to their former strength.
Cecil the Lion
Though Cecil the Lion lived far from the national parks of the United States, his untimely death in Zimbabwe in July 2015 shined a global spotlight on the need to protect big game animals. He was killed by Walter Palmer, an American dentist from Minnesota, who reportedly purchased a license to kill the lion for $54,000. Visitors to Hwange National Park loved Cecil, leader of two prides of 19 lions, lionesses and cubs.
When news broke of Cecil's tragic death, global awareness of the ethics of big game hunting reached a new high. Environmental organizations joined forces with three major airlines to ban the transportation of hunting trophies on their flights. Australia and France banned hunters from taking lion trophies across their borders, and the U.S. added new protections for lions under the Endangered Species Act.
The General Sherman tree
Animals aren't the only celebrities in our national parks. Nestled in Sequoia National Park, the General Sherman tree stands as the largest living tree, by volume, in the world. Named after American Civil War General William Sherman, the sequoia boasts a volume of over 52,500 cubic feet and height equal to a 27-story building—and it's still growing!
In the early years of the National Park Service, the construction of roads and buildings combined with increased human traffic caused root damage to trees in the sequoia forest. Realizing the importance of forest conservation, the National Park Service began to limit tourist development with designated trails and fences. Today, the General Sherman continues to enjoy its protected superstar status in the park.
As stewards of America's wildlands, the National Park Service and park visitors alike have a duty to protect the wildlife that lived there long before we humans entered the picture. So as we celebrate the park service centennial this year, take time to appreciate the beauty of our national parks, but don't forget about the diverse and awe-inspiring creatures all around you.
As the National Park Service turns 100 this summer, the 100 Years Wild series is celebrating the value of public lands as refuges for wildlife and people, while also shining a light on the threats to these irreplaceable landscapes in a changing and warming world.
Celebridades del Mundo Salvaje: Nuestros Parques, Su Hogar
Los parques nacionales brindan inmensas extensiones de tierra virgen para que millones de visitantes humanos disfruten cada año, pero también son el hogar de un número incontable de seres vivos de todos tamaños que dependen de estas tierras protegidas para su hábitat principal o como tránsito seguro. Algunos de estos animales se han vuelto famosos, y tienen fans que viajan de todas partes del mundo hacia nuestros parques con la esperanza de poder verlos en persona y tomarles fotos.
Esta semana Earthjustice quiere resaltar algunas de las celebridades de flora y fauna que estamos trabajando para proteger, al igual que a los parques nacionales que son su hogar.
Grizzly 399
Grizzly 399 se volvió una celebridad por su atrevida personalidad y por pasear dentro de las áreas de población humana del Parque Nacional Grand Teton al noroeste del estado de Wyoming. El público también le agarró cariño a esa madre osa de 20 años de edad por su fertilidad, porque ha dado a luz a un número excepcional de cachorros (16 hasta la fecha). Como osa de la era moderna, Grizzly 399 tiene una impresionante presencia en línea que permite seguirle la pista en sus avistamientos más recientes.
Tristemente, en mayo del 2016, el osezno más joven de Grizzly 399 murió después de haber sido atropellado por un auto que atravesaba el parque Grand Teton. Pero más problemático es que líderes del Congreso proponen eliminar la población de osos grizzly que habitan en Yellowstone de la lista de especies amenazadas. Earthjustice ha estado luchando por años para lograr protección para los grizzlies dentro del Gran Ecosistema de Yellowstone. Más recientemente, Earthjustice presentó una exitosa demanda para evitar que las agencias federales autorizaran la matanza de cuatro osos grizzly en Grand Teton.
OR-7 el lobo
OR-7 fue el primer lobo salvaje que logró llegar hacia California desde 1924. Su travesía comenzó en el noreste de Oregon en el 2009 con su nacimiento dentro de una manada de lobos llamada Imnaha. Se convirtió en el séptimo lobo en ser monitoreado por medio de un radio transmisor en Oregon, lo cual lo hizo acreedor a su apodo "OR-7." Por cinco años, el Departamento de Pesca y Vida Silvestre de Oregon le siguió la pista por áreas de Oregon y California, incluyendo dentro del Parque Nacional Crater Lake, hasta que eventualmente se le acabó la batería a su collar de radio.
A pesar de que la cacería casi lo extinguió en el siglo 20, el regreso de los lobos grises es una historia de adaptación y del poder del cabildeo. Hoy en día, los lobos del Parque Nacional de Yellowstone y de otras partes se están recuperando lentamente gracias a las protecciones brindadas por la Ley de Especies Amenazadas. Pero la lucha no ha terminado. Earthjustice continúa trabajando arduamente para hacer respetar las leyes federales que protegen a los lobos salvajes en parques nacionales y más allá, incluso mientras que el Congreso está intentando quitar a los lobos de ciertos estados de la lista de especies en peligro de extinción por razones políticas.
Bisontes de Yellowstone
El rebaño de bisontes en el Parque Nacional de Yellowstone es la población de bisontes más grande  viviendo en tierras públicas, y Yellowstone es el único lugar donde han vivido de manera continua desde la prehistoria. A la gente le gusta visitar Yellowstone desde todos los rincones del mundo para maravillarse ante aproximadamente 4,900 bisontes salvajes que ahí habitan, aún así, hay algunos visitantes que no comprenden del todo lo que significa "salvaje". En mayo del 2016, un dúo de padre-hijo que estaban visitando Yellowstone sacaron a una cría de bisonte salvaje de su hábitat natural y lo llevaron a la estación de guardias porque estaban preocupados y pensaron que el animal tenía frío. Después de varios intentos fallidos de reunir al recién nacido con su rebaño, los oficiales del parque se vieron obligados a hacerle eutanasia.
Después de que millones de ellos fueran sacrificados en un principio, hasta recibir la designación como el mamífero nacional de Estados Unidos, el renacimiento del bisonte americano a lo largo del siglo pasado ha sido algo extraordinario. Earthjustice continúa la lucha en las cortes y en Capitol Hill para restablecer la población de bisontes a sus altos niveles de antaño.
Cecil el León
Aunque Cecil el León vivía lejos de los parques nacionales de Estados Unidos, su muerte prematura en Zimbabwe en julio del 2015 llamó la atención mundial sobre la necesidad de proteger a los animales de caza mayor. Fue ejecutado por Walter Palmer, un dentista Americano de Minnesota, quién aparentemente compró una licencia para matar al león en 54 mil dólares. Los visitantes del Parque Nacional Hwange amaban a Cecil, líder de dos manadas de 19 leones, leonas y cachorros.
Cuando se publicó la noticia de la trágica muerte de Cecil, la conciencia mundial sobre la ética de cazar  grandes animales alcanzó un nuevo máximo. Organizaciones ambientalistas unieron esfuerzos con tres aerolíneas prominentes para prohibir el traslado de trofeos de caza en sus vuelos. Australia y Francia prohibieron a los cazadores transportar trofeos de león a través de sus fronteras, y Estados Unidos agregó nuevas protecciones para los leones bajo la Ley de Especies en Peligro de Extinción.
El árbol General Sherman
Los animales no son las únicas celebridades en nuestros parques nacionales. Asentado en el Parque Nacional Sequoia, el árbol General Sherman es el árbol vivo más grande, por volumen, en el mundo. Recibió su nombre en honor al General William Sherman de la Guerra Civil Americana, esta sequoia ostenta un volumen de más de 52,500 pies cúbicos y tiene la misma altura que un edificio de 27 pisos—¡y sigue creciendo!
En los primeros años del Servicio de Parques Nacionales, la construcción de caminos y edificios junto con un incremento en tránsito humano causó daños a las raíces de los árboles del bosque de sequoias. El Servicio de Parques Nacionales, consciente de la importancia de la conservación forestal, empezó a poner límites al desarrollo de turismo designando brechas y cercas. Hoy en día, el General Sherman continúa gozando de su categoría de super estrella protegida del parque.
Como guardianes de las tierras salvajes de América, tanto el Servicio de Parques Nacionales como los visitantes tienen la obligación de proteger la vida silvestre que ha existido y vivido ahí mucho tiempo antes de que los humanos entraran a la escena. Así que mientras celebramos el centenario del servicio de parques este año, tómese el tiempo de apreciar la belleza de nuestros parques nacionales, pero no olvide a los seres vivos tan diversos e impresionantes que se encuentran a su alrededor.
En conmemoración del centenario del Servicio de Parques Nacionales este verano, la serie 100 Años Silvestre está celebrando el valor de las tierras públicas como refugio para la vida salvaje y para la gente mientras que al mismo tiempo le echa un vistazo a las amenazas contra estos paisajes irremplazables en un mundo cambiante y cada vez más caluroso. 
Vivian was a Communications Intern at Headquarters in San Francisco.