Recap: This Week In The Standing Rock Sioux Tribe Litigation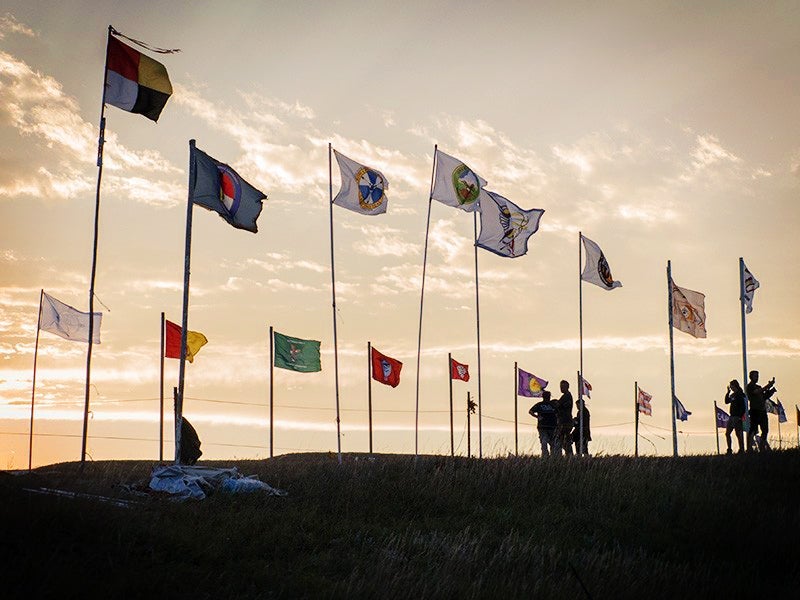 Overpass Light Brigade / CC BY-NC 2.0
This past week saw several developments in the Standing Rock Sioux Tribe's legal fight to protect its drinking water, sacred history and children's future from the Dakota Access oil pipeline. Represented by Earthjustice, the tribe filed a lawsuit on July 27 against the U.S. Army Corps of Engineers, after the agency granted permits needed for the pipeline to be constructed.
Here's what happened:
1. Last Sunday, the tribe's request for an emergency injunction pending appeal was denied.
The emergency injunction would have halted construction of the Dakota Access pipeline on private land within 20 miles of Lake Oahe during the appeal process; construction is now allowed to continue as the tribe's appeal is considered. But significantly, the D.C. Circuit Court of Appeals three-judge panel's Oct. 9 ruling acknowledged that the Obama administration still has the power to deny key permits for the pipeline.
2. The overall legal battle continues forward.
"This is not the end of this fight," says Dave Archambault II, Chairman of the Standing Rock Sioux Tribe. Both the appeal of the preliminary injunction request and the District Court litigation continue to proceed.
3. The Obama administration has reiterated its decision not to authorize construction on Army Corps land, in the interim.
In an Oct. 10 joint statement, the Departments of Justice, Army and Interior said, in part, "… the Army will not authorize constructing the Dakota Access Pipeline on Corps land bordering or under Lake Oahe. We repeat our request that the pipeline company voluntarily pause all construction activity within 20 miles east or west of Lake Oahe.…"
4. The Standing Rock Sioux Tribe urged supporters to contact President Obama and ask that all permits for the pipeline be rejected.
In an Oct. 13 letter to President Obama, senators Bernie Sanders, Patrick Leahy, Dianne Feinstein, Edward Markey and Benjamin Cardin asked that the Army Corps require a full environmental impact statement, with tribal consultation, for the Lake Oahe pipeline crossing, and suspend the project's current permits.
5. The first listening session to hear from tribes on reforming the tribal consultation process for infrastructure projects took place.
Held by the Depts. of Justice, Army and Interior in Phoenix, the Oct. 11 listening session came out of the administration's game-changing Sept. 9 statement, which opened the door for genuine problem-solving by, in part, calling for national reform to "ensure meaningful tribal input" on major projects, such as the Dakota Access Pipeline.