Vestiges of Environmental Racism: Closing California's Last Two Municipal Waste Incinerators
California must divert its resources away from the dying technology of incinerators and towards more sustainable methods of waste management.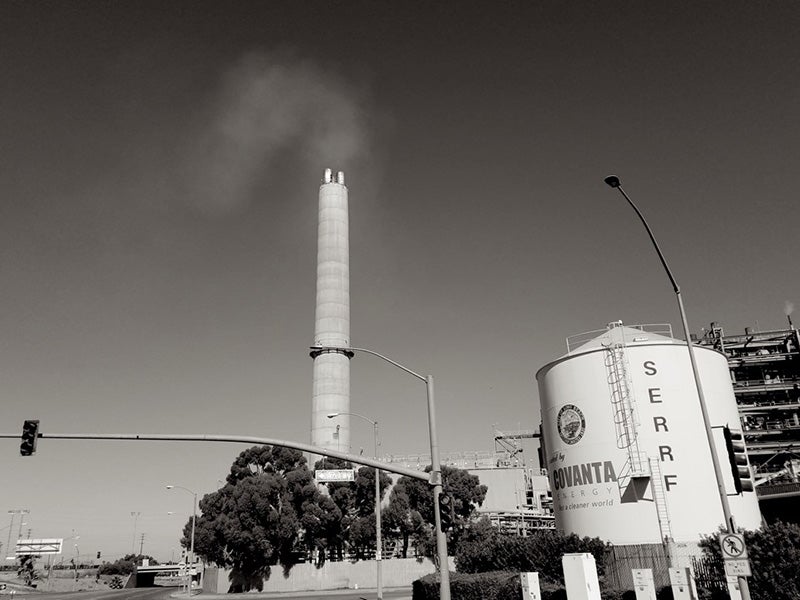 A new report examines the environmental, financial, and public health harms of incinerators with a focus on the two incinerators left in California and provides an overview of an alternative approach for managing waste through the implementation of a zero-waste strategy. (Leer en español)
There are two municipal solid waste incinerators still operating in California: the Southeast Resource Recovery Facility (SERRF) in Long Beach and the Covanta Stanislaus incinerator in Stanislaus County.
The problems with these incinerators in California are emblematic of the larger problems with incinerators across the country.
To start, these incinerators pollute the environment and harm public health by converting waste into harmful air emissions and toxic ash. Financially-strapped local governments and residents have also been forced to pay millions of dollars to subsidize the expensive maintenance and operations of these aging incinerators.
Further, SERRF and Covanta Stanislaus emit a large amount of greenhouse gases, while producing very little energy — contrary to their branding as "waste-to-energy" facilities.
These incinerators also stand in the way of a zero-waste future because they compete with more sustainable methods of waste management for the same materials and the same government funds.
Additionally, the State of California incentivizes local jurisdictions to send their waste to the incinerators through the use of "diversion credits" — credits towards meeting State goals to reduce waste for recycling and composting — and then does not provide adequate funding so that local jurisdictions can effectively transition to zero-waste.
Ultimately, these facilities are obstacles to a full investment in a zero-waste future for California residents and should not be subsidized or supported any longer.
Community groups across California, including East Yard Communities for Environmental Justice and Valley Improvement Projects, support the creation of a zero-waste economy in the State, which precludes the continued use of incinerators and landfills.
Zero-waste is both a goal and a strategy that aims to:
Conserve resources through various practices such as composting, recycling, and improved product design; and
Stop the incineration and landfilling of waste — practices that harm human health and the environment.
It does not make sense to continue to spend millions of dollars on facilities that burn and destroy materials — which then leads to continued extraction — instead of figuring out how to conserve these resources for future generations and protect public health and the environment from contamination.
To that end, East Yard Communities for Environmental Justice and Valley Improvement Projects make the following recommendations.
Recommendation: End Municipal Waste Incineration
California Legislature:
Ban the construction or approval of any new incinerators and thermal treatment facilities (e.g., gasification and pyrolysis) in California.
Ban the use of diversion credits — both foreign and domestic.
Local Governments:
Close the SERRF and Covanta Stanislaus incinerators as soon as their current contracts expire, in 2024 and 2027, respectively. In the meantime, local governments should minimize the use of the incinerators and divert waste into composting, recycling, reduction, and reuse.
Recommendation: Plan for a Zero-Waste Future
Local Governments:
Implement zero-waste plans in the City of Long Beach and Stanislaus County by no later than 2024 that actively incorporate community feedback and ideas from the beginning of the planning process through implementation.
Recommendation: Invest in a Zero-Waste Future
California Legislature:
Provide consistent funding from the State's General Fund for CalRecycle to effectively support and expand zero-waste programs and infrastructure, including grant and loan programs.
Local Governments:
Enact new funding mechanisms to provide long-term support for zero-waste programs, like recycling and composting.
The Report
Download Report | Leer en español
Related Resources
New Jersey's Dirty Secret: The Injustice of Incinerators and Trash Energy in New Jersey's Frontline Communities
A report highlights the health harms and injustice of burning trash in New Jersey's frontline communities and calls for the elimination of "clean energy" subsidies for New Jersey's polluting incinerators.
A Newark neighborhood that borders one of the most polluted bodies of water in the U.S. is pushing Covanta to take responsibility for the waste it emits into the surrounding community. Read the story.
Media Inquiries
Community Partnerships Program cpp@earthjustice.org
Earthjustice's Community Partnerships Program provides legal and advocacy resources to local leaders demanding a safe, just, and healthy environment in which their communities can thrive — no matter how long the fight. Learn more.