What You Need To Know About Title VI of the Civil Rights Act of 1964
The Civil Rights Act of 1964 outlawed discrimination on the basis of color, religion, national origin and gender. The text of the law is thematically organized into eleven sections, Title I to Title XI. Title VI is of particular significance. Find out why.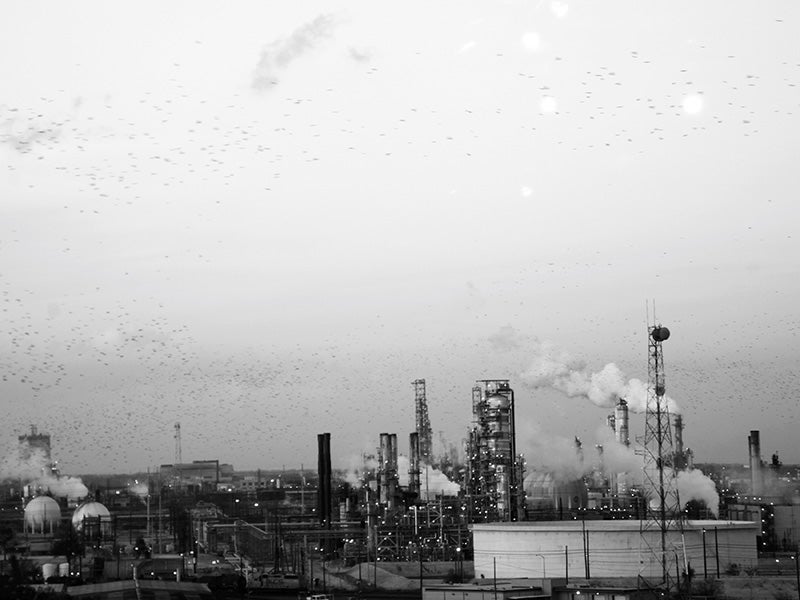 The Civil Rights Act of 1964 outlawed discrimination on the basis of color, religion, national origin and gender. The text of the law is thematically organized into eleven sections, Title I to Title XI. Title VI is of particular significance.
What is Title VI?
Under the Title VI section of the Civil Rights Act of 1964, any agency receiving federal money cannot discriminate on the basis of race, color or national origin.
It is a basic accountability system: if a recipient receives federal funds, that recipient cannot use those funds to discriminate.
Discrimination need not be intentional. It includes any decision that has an unjustified, unequal impact.
Spotlight: A Title VI complaint was filed in 2000 regarding expansion of ExxonMobil's Beaumont Refinery in Texas. The EPA accepted the complaint for investigation in 2003. No investigation has been made. In the years since, the refinery has expanded. It was found in "Significant Violation" of the Clean Air Act. Nearby residents suffer from elevated levels of asthma and breast cancer.
What does Title VI have to do with environmental and health protections?
States, cities and businesses receive money from the U.S. Environmental Protection Agency for a variety of services.
But they cannot receive that money and pollute in ways that would have an unjustified, unequal impact on the basis of color, national origin, gender, disability or age.
Communities of color have been, and continue to be, disproportionately exposed to environmental hazards due to regulatory decisions made by states, cities and corporations.
Does filing a Title VI complaint automatically stop a discriminating action?
No.
The EPA is supposed to determine within 20 days if a complaint merits an investigation, and to make a preliminary finding within 180 days. If the EPA finds discrimination, it must first ask the agency at fault to voluntarily fix the problem. If the agency doesn't, the EPA can hold back federal funds.
Meanwhile, polluting facilities at the focus of the complaint can continue to operate.
Why is Title VI so important?
It is one of the few enforceable civil rights laws that covers environmental actions.
Title VI is a powerful legal tool to hold agencies accountable for the downstream impacts of their decisions on communities of color that are already overburdened by environmental pollution.
The Civil Rights Act is already law. Why is this still an issue?
Laws are words on paper—they must be enforced.
The EPA has failed to fulfill its legal responsibilities to enforce Title VI.
How has the EPA responded to Title VI complaints?
Slowly, and poorly.
Some communities have been waiting for a response to their Title VI complaint for more than a decade.
A scathing report from NBC and Center for Public Integrity uncovered that more than 90% of complaints were rejected or dismissed.
In fact, of the hundreds of Title VI complaints received during its entire 20-plus-year-history, the EPA's Office of Civil Rights has never formally found that anyone's civil rights were violated.
Is the EPA improving its response to Title VI complaints?
No.
A proposed rule published Dec. 14, 2015, was intended to improve how the EPA handles Title VI complaints. It does not.
The proposal eliminates deadlines to act on complaints. And, the EPA wouldn't even have to investigate the complaints they determine do have merit.
What is Earthjustice doing?
We are pushing the EPA, through the courts and federal rulemaking process, to uphold its responsibility to enforce the Civil Rights Act.
Earthjustice has filed a federal court case on behalf of communities in California, Alabama, Michigan, New Mexico and Texas whose Title VI complaints have been stalled at the EPA for more than a decade.
Earthjustice attorneys are also fighting Title VI cases on behalf of communities in Alabama, California, Colorado, Hawaiʻi and North Carolina.
From The Frontlines Spotlight on a Title VI Complaint
Uniontown, Alabama, is one of hundreds of communities that has filed a Title VI complaint.
Six years ago, Uniontown inherited the worst coal ash disaster in U.S. history. One billion gallons of toxic coal ash—laced with heavy metal and chemicals such as arsenic, mercury and lead—had burst through a dam at the TVA Kingston Fossil Plant in Tennessee, destroying dozens of homes.
Train cars filled with the toxic waste began arriving at Arrowhead Landfill near Uniontown. When the coal ash left Tennessee, it was regarded as hazardous and treated as hazardous. But when it was unloaded from the train cars in Alabama, the coal ash was no longer treated as hazardous.
Earthjustice is representing residents in their Title VI complaint against the Alabama Department of Environmental Management for reissuing and modifying the Arrowhead Landfill's permit without proper and readily enforceable protections of public health. The EPA began its Title VI investigation on August 12, 2014, two years after the original complaint was filed. It is unclear, at this point, what the EPA will do.
Uniontown is not just a town. It is a homeland. The community is committed to protecting their families, their future—and the way of life they are not willing to surrender.
William Gibbs
"I wanted to move away from the noise and the hardness of the city. So I came here for some peace and quiet in the country. I wanted to hunt and fish and enjoy the weather in this beautiful place.
"And now, they've pushed this thing right on top of us."
A few months after the coal ash began arriving in Uniontown, Gibbs started seeing the paint peel off his truck.
Esther Calhoun
"We got our property from our parents, or we worked hard to buy that property. And that means a whole lot. And [now] what do I get? Coal ash.
"But the thing is, we're never gonna stop fighting. Because it doesn't make any sense that every time they want to put a dumping ground, it's in a black residence.
"We have to stick together. Then we have power. What we want is simple. We expect justice."
Mary Leila Schaeffer
"We had the waste of about a third of the population of the country [dumped at the landfill]. The county commission did not let us know. The mayor did not let us know. We had no voice in it, no concept of it.
"We found out when it was already a done deal."
The landfill receives industrial and municipal waste from 33 states. Schaeffer, Long, Calhoun and other residents formed the community group Black Belt Citizens for Health and Justice to fight the coal ash.
Norma Jean Harris
Harris lives about a quarter mile from the landfill. After the coal ash arrived, her water began to smell and taste strange. Now, she uses bottled water for cooking and drinking.
Many people in close proximity to the landfill have experienced problems with their water and are also using bottled water.
Booker P. Gibson
Gibson lives across the street from the landfill and saw discharges coming off the landfill onto his property. Later, some of Booker's animals became sick and died after being exposed to the liquid.
Timothy Moore, Jr.
The hill behind Timothy Moore, Jr., in this photo is actually a mountain of toxic coal ash in Arrowhead Landfill. The area used to be a flat field.
When dumped into unlined ponds or mines, the toxins from coal ash readily leach into drinking water supplies. Hundreds of coal ash dump sites across the country are known to have contaminated groundwater, wetlands, creeks and rivers. Find out where.
---
In addition to representing residents of Uniontown, Earthjustice is also fighting on behalf of five communities in a federal court case involving Title VI complaints stalled at the EPA for a decade or more. The EPA accepted the complaints about permits for a wood-incinerator power station in Flint, Mich., two gas-fired power plants in Pittsburg, Calif., a landfill in Tallassee, Ala., a hazardous waste facility in Chaves County, N.M., and an oil-refinery expansion along the Texas Gulf Coast. These permits are for facilities in predominantly low-income African-American or Latino neighborhoods.
We are also supporting residents in eastern North Carolina in a Title VI complaint alleging that the state's lax regulation of hog waste disposal discriminates against communities of color.
Our bodies should not be the dumping ground for dirty industries.
Chris Jordan-Bloch, Mariana Lo, Heather Ross, and Keith Rushing contributed.