El Ayuntamiento de Oakland vota para prohibir las exportaciones de carbón
Grupos comunitarios y ambientalistas aplauden al Ayuntamiento por proteger la salud y seguridad de los residentes de Oakland
Oakland, Calif.
—
Hoy, el Ayuntamiento de Oakland votó para aprobar una ordenanza que prohibiría el manejo y almacenamiento de carbón en la Ciudad de Oakland, que incluye una resolución para aplicar la ordenanza a la propuesta llamada Oakland Bulk and Oversized Terminal. El Ayuntamiento llevará a cabo una segunda votación durante su junta el 19 de julio.
Miembros de la comunidad y sus partidarios aplaudieron la acción del Ayuntamiento el día de hoy, agradeciendo a miembros del consejo: Rebecca Kaplan, Lynette Gibson-McElhaney, Annie Campbell-Washington, Noel Gallo, Larry Reid y Abel Guillen por sus votos para proteger la salud y seguridad de los residentes de Oakland, y también a Dan Kalb, miembro del consejo y al Alcalde Libby Schaaf por copatrocinar la ordenanza para prohibir el carbón.
"Respaldamos a los grupos comunitarios y felicitamos a la Ciudad por tomar una postura fuerte en contra del carbón y usar su poder para proteger a sus residentes," dijo Irene Gutiérrez, abogada de Earthjustice.
Información de contexto: Una porción de la antigua Base Militar de Oakland se está restructurando para que sirva como instalación de exportaciones al por mayor, conocida como Oakland Bulk and Oversized Terminal (OBOT). CCIG, la empresa constructora, prometió no incluir carbón entre las materias primas manejadas por la terminal, pero ahora está solicitando una alianza con cuatro condados de Utah que le permitan al estado exportar hasta 10 millones de toneladas de carbón de sus minas cada año. Una entidad de financiamiento de Utah aprobó $53 millones para adquirir espacio en Oakland Bulk Terminal para estas exportaciones. Este acuerdo se está llevando a cabo a espaldas del Ayuntamiento de Oakland y del Puerto, ya que ambos se oponen al carbón como una de esas materias primas que se pueden exportar a través de Oakland. Además, la empresa constructora le prometió a los residentes que el puerto, de propiedad municipal, estaría libre de carbón. Mientras que el alcalde, miembros del consejo y residentes han exigido un alto a esas charlas, la empresa constructora aún no ha abandonado los planes.
Aquellos que se oponen al plan de exportar carbón a través de Oakland han expresado sus preocupaciones sobre esta decisión y cómo afectará la seguridad de la comunidad, el medio ambiente y la salud pública. Según una compañía nacional de trenes, cada vagón abierto de carbón puede perder hasta una tonelada de polvo entre las minas y el puerto, resultando en la emisión de 60,000 libras de partículas finas tóxicas en comunidades cercanas al ferrocarril. Adicionalmente, este trato suprimirá bastante el gran compromiso que hizo California de reducir la contaminación de carbono, especialmente mientras el estado continúa padeciendo una sequía extrema, incendios forestales y otras señales de perturbación climática.
Lea el comunicado completo en línea: http://earthjustice.org/news/press/2016/oakland-city-council-votes-to-ban-coal-exports
*Nota: La ordenanza pasó la primera lectura, se convertirá en definitiva el 19 de julio.
Read this in English, here.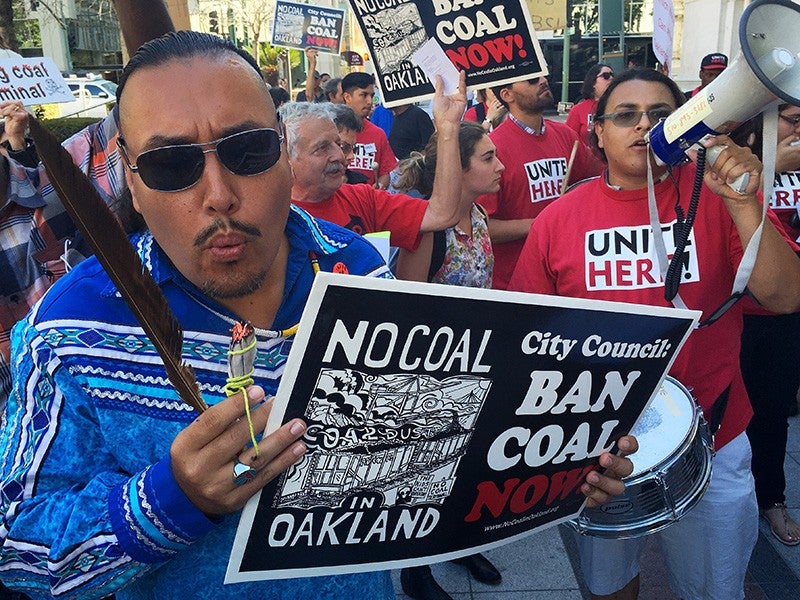 Earthjustice is the premier nonprofit environmental law organization. We wield the power of law and the strength of partnership to protect people's health, to preserve magnificent places and wildlife, to advance clean energy, and to combat climate change. We are here because the earth needs a good lawyer.