Groups Sue To Block Trump Rollback of Safeguards For America's Worst Toxic Water Pollution Source
Discharges from coal plants to public waters increase cancer and brain damage risk
Thomas Cmar, Earthjustice (708) 613-5061
,
Pete Harrison, Waterkeeper Alliance (828) 582-0422
,
Michael Kelly, Clean Water Action, (202) 393-5449
,
Trey Pollard, Sierra Club, (202) 904-9187
,
Tom Pelton, Environmental Integrity Project (443) 510-2574
Washington, D.C.
—
A coalition of environmental and public health advocates filed suit today to challenge a Trump administration rollback that could wipe out critical protections for cleaning up America's leading source of toxic water pollution: coal power plant waste.
The federal lawsuit seeks to invalidate an April 25 U.S. Environmental Protection Agency order that abruptly put an indefinite hold on a set of safeguards to control the amount of arsenic, mercury, cadmium, lead and other pollutants that spew from coal power plants into our public waters. By putting those protections on hold indefinitely, the Trump administration is allowing power plants to continue discharging toxics without any specific limits, using standards set 35 years ago.
"I don't think anything considered state of the art in 1982 would still be state of the art today, especially when you are talking about the number-one source of toxic water pollution in the country," said Earthjustice attorney Thomas Cmar. "EPA Administrator Scott Pruitt is not above the law and he doesn't have the power to roll back public health protections with the stroke of a pen."
Earthjustice filed the lawsuit on behalf of the Sierra Club, the Waterkeeper Alliance, and Clean Water Action in the District of Columbia's federal district court. Also joining the suit are the Environmental Integrity Project, PennEnvironment, Chesapeake Climate Action Network, Chesapeake Physicians for Social Responsibility, and Prairie Rivers Network, represented by the Environmental Integrity Project. The suit asks the court to find that the EPA didn't have legal authority to put the protections on hold, didn't give public notice or allow public participation before doing so, and selectively applied its action to prioritize the interests of the coal industry over public health.
"These standards would have tackled the biggest source of toxic water pollution in the country, and now the Trump EPA is trying to toss them out. It's indefensible," said Pete Harrison, an attorney for Waterkeeper Alliance. "The EPA didn't even pretend to seek public input before plowing ahead with this rollback that could allow millions of pounds of preventable toxic pollution to go into our water."
The toxics in coal plant waste raise cancer risk, make fish unsafe to eat, and can inflict lasting brain damage on children. Heavy metals in the waste, like lead, arsenic and mercury, don't degrade over time, and they can concentrate as they travel up the food chain, impacting fish and wildlife and ultimately collecting in our bodies and our children's bodies. Power plant pollution can also make municipal water bills more expensive, because water treatment plants may have to spend more money to ensure that they deliver safe water to their customers.
"By allowing power plants to continue to dump chemicals into drinking water sources, Trump's EPA is putting polluter profits above protecting public health," said Jennifer Peters, National Water Programs Director for Clean Water Action. "For decades, power plants have been dumping toxic metals and other harmful contaminants, including bromide, which creates cancer-causing byproducts during drinking water treatment. Absent strong safeguards to limit this pollution, drinking water systems and their customers will continue to bear the burden of unchecked power plant water pollution."
After decades of inaction, limits for these toxic discharges from coal power plants were finally updated by the Obama Administration in September 2015 due to a court order secured by some of the same groups filing suit today. The new safeguards would have required power plants to eliminate the vast majority of this pollution, protecting our nation's drinking water sources and making thousands of river miles safer for swimming and fishing.
Power plants were set to begin meeting these new safeguards starting in 2018, but EPA's Pruitt agreed to a coal industry request to reconsider the rule. Through the April 25 order, the EPA is telling the industry that it doesn't need to take any steps to modernize wastewater treatment while a potentially years-long rulemaking process plays out.
"EPA's action brings us back to the dark ages by not requiring industry to stay on schedule to curb toxic water pollution from power plants, the largest industrial source of this pollution," said Lisa Hallowell, Senior Attorney for the Environmental Integrity Project. "Instead of requiring modern pollution controls that cost only pennies a day, the Trump Administration is instead allowing this industry to continue to dump unlimited arsenic, selenium, and other toxic pollution into our nation's waters."
Mary Anne Hitt, Director of Sierra Club's Beyond Coal campaign, added:
"Today, we are making a firm declaration that we will not stand idly by as Trump's Administration tries to steer America back to an era where rivers caught on fire and polluters dumped their waste in our waterways with impunity. With the drinking water of millions of Americans at stake, we will fight tooth-and-nail to protect safeguards that restrict coal plants from dumping toxic heavy metals into our drinking water supplies and putting thousands of families at risk of poisoning each year. Though these irrational attacks against basic science and public health are horrifying, we are confident that common sense will win the day and the American people will prevail over polluter greed in the courts and in the streets."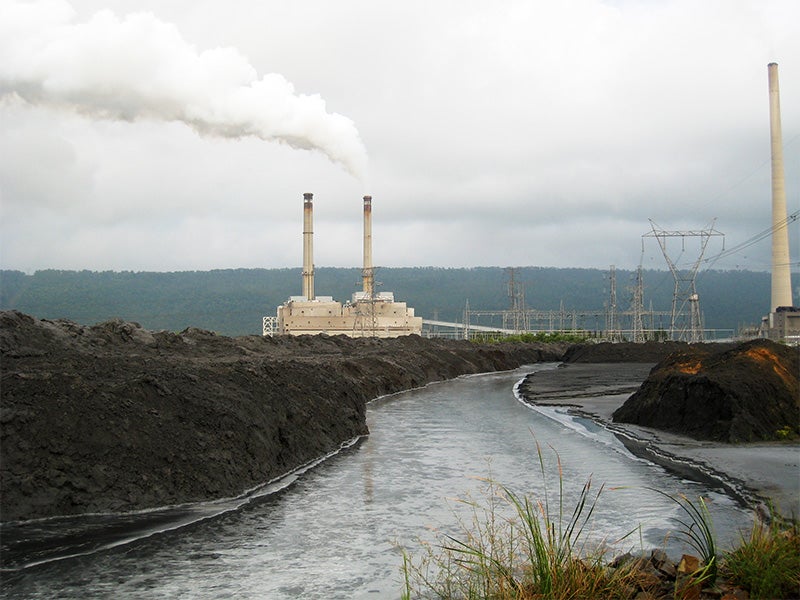 Earthjustice is the premier nonprofit environmental law organization. We wield the power of law and the strength of partnership to protect people's health, to preserve magnificent places and wildlife, to advance clean energy, and to combat climate change. We are here because the earth needs a good lawyer.