Senators Join Public Lands Groups To Call On Trump Administration To Listen To Overwhelming Public Support For National Monuments
As Interior moves to final stages of review, more than 2.7 million public comments support national monuments across the country
Zoe Woodcraft, Earthjustice, (415) 217-2071
Washington, D.C.
—
With more than 2.7 million comments submitted opposing the Department of the Interior's unprecedented national monument review as the 60-day public comment period closed last night, U.S. Senators Martin Heinrich (NM), Michael Bennet (CO), Maria Cantwell (WA), Catherine Cortez Masto (NV), Brian Schatz (HI) and Tom Udall (NM) joined public lands and waters and community advocates today to call on President Donald Trump and Secretary Ryan Zinke to listen to their constituents and keep existing monument protections in place.
Interior's national monument review was spurred by Trump's overarching executive order, which could unravel dozens of America's national monuments despite the strong outpouring of support from across the nation. In states where monuments are most at risk like Colorado, Arizona, Nevada and New Mexico, strong majorities of more than 80 percent want to keep protections for existing national monuments in place. Zinke's "review" of national monuments ends on August 24.

© Mapbox / © OpenStreetMap
The 27 national monuments currently under review. Six of the monuments are at particular risk. Learn why in National Monuments At Risk
"Erasing America's national monuments from the map would devastate our thriving outdoor recreation economy, which generates 68,000 jobs and $6.1 billion of annual economic activity in New Mexico alone. And it could easily lead us down a slippery slope toward the selloff of our public lands to the highest bidder and massive giveaways of public resources to special interests," said Senator Martin Heinrich (NM). "The Río Grande del Norte and Organ Mountains-Desert Peaks National Monuments in New Mexico are two of the most spectacular places on earth—and were the direct result of the efforts of the local communities who worked for years to protect their natural and cultural heritage for future generations and recognized the enormous potential of these new monuments to serve as destinations for both locals and visitors from around the world. I stand with millions of Americans who want to protect and conserve our public lands, watersheds, and wildlife for our children and all future generations to enjoy."
"The Trump administration's process to roll back our national monuments is not rooted in Western values, where we sit down, compare priorities, and find common ground," said Senator MichaelBennet (CO). "Throughout the comment period, Coloradans and people across the country agreed, sending a unified message: Leave our national monuments alone. We have heard this from businesses, too. It's why the Outdoor Retailer Show announced last week it is moving to Colorado because of our state's commitment to public lands.  If the administration takes this input seriously, it should leave our existing national monuments intact and protect our public lands for future generations."
"The Trump Administration's move to review several national monuments for possible reductions in protection is unprecedented and an assault on our nation's collective heritage," said Senator Maria Cantwell (WA). "I will fight any attempt to undermine protection for Bears Ears or any other national monument every step of the way."
"The two monuments currently under review in Nevada, Gold Butte and Basin and Range, have widespread public support and serve as economic drivers for our state," said Senator Catherine Cortez Masto (NV). "In Nevada alone, the outdoor recreation economy generates 148,000 jobs and $14.9 billion in economic value each year. The American people have made their voices heard—they do not support the Interior Department's monuments review and they do not want these protected public lands that connect us with natural beauty, recreation, and history to be sold off to private developers. I have heard those voices and will continue fighting to protect our public lands for present and future generations to enjoy."

Koa Matsuokay / NOAA
Baby honu (Hawaiian green sea turtles, Chelonia mydas). Learn more
"Papahānaumokuākea, Yellowstone, Acadia, and every other national park and monument are a testament to the beauty of this country. That's why we will fight to protect every tree, river, and outlook for future generations of Americans to learn from and enjoy," said Senator Brian Schatz (HI).
"For over a century, eight Republican and eight Democratic presidents have designated national monuments to preserve our nation's treasured places—and to help grow and sustain the thriving local economies built around these national monuments. New Mexico's Organ Mountains-Desert Peaks and Rio Grande del Norte national monuments are stars on the map attracting visitors from around the world. In Rio Grande del Norte's first year alone, the BLM reported a 40 percent increase in visitors to the area. Similarly, Organ Mountains-Desert Peaks has attracted visitors to the city of Las Cruces, where lodging tax revenue has grown from $1.87 million in 2013 to $2.04 million last year," said Senator Tom Udall (NM). "But now, President Trump is threatening to take away protections from monuments across the country—including Rio Grande del Norte and Organ Mountains-Desert Peaks, and Bears Ears in Southeastern Utah, the first-ever monument to be co-managed by Indian Tribes. I don't believe that the president has the authority to rescind or shrink national monument designations. But 'details' like the law haven't stopped him before, so I join New Mexicans and Americans from all backgrounds in fighting against this politically motivated attack on our public lands."
"Secretary Zinke asked the public to weigh in on national monuments, and he got an earful," said Trip Van Noppen, President of Earthjustice. "More than 2.5 million Americans unleashed a roar of support for iconic national monuments threatened by the Trump administration. National monuments protect our culture, our history, and our wild lands and waters. These powerful public comment numbers show that Americans don't want our national treasures auctioned off to private industry for drilling, mining, or logging. If President Trump attempts to gut these special places in violation of the Antiquities Act and in spite of this roar of public support, Earthjustice will see him in court."
"An attack on one national monument threatens all of our national parks and public lands," said Gene Karpinski, president of the League of Conservation Voters. "We need to protect these pristine places for future generations so they can keep benefiting local economies, preserving ecological wonders, and serving as reminders of our nation's rich and diverse history. It's no wonder communities across the country mobilized to submit over 2.7 million comments so quickly when people overwhelmingly disapprove of the Trump administration's extreme anti-environmental policies. Now it's time for President Trump and Secretary Zinke to listen."
"Many of these monuments were established to represent or celebrate the diverse heritage and cultures that make up this country," said Maite Arce, president and CEO of the Hispanic Access Foundation. "We have a moral obligation to protect these special places and our cherished outdoor heritage. These places are more than just acres of land, they are chapters in the great American story."
"America's National Monuments are among our nation's most democratic traditions, places where regardless of income or background every American can enjoy world class outdoor experiences," said Collin O'Mara, president and chief executive officer of the National Wildlife Federation. "Removing protections for the 27 Monuments under review will inevitably reduce public access and thus deprive future generations of Americans of their rightful natural heritage, while betraying decades of bipartisan support for dedicating these sites in perpetuity. We urge the Secretary of the Interior to oppose any action that would fail President Theodore Roosevelt's test of 'leaving this land even a better land for our descendants than it is for us.'"
"The Trump administration and Secretary Zinke have shown an alarming disrespect for America's shared public lands and cultural resources, which must be handed down to future generations healthy and intact," said Jamie Williams, president of The Wilderness Society. "The purported 'review' of national monuments and the rhetoric surrounding its announcement is yet another means to hand these lands over to the oil, gas, mining and logging industries under the false pretense that they will create millions of jobs. More than 2.3 million comments have flooded into the Department of the Interior in support of leaving America's national monuments as they are. A truly fair review—based on the facts and overwhelming public opinion—would conclude that every one of these monuments must remain intact to protect our shared American heritage."
"Now is the time for Sec. Zinke to open his eyes and heed the millions of Americans who want to see our nation's monuments and public lands protected for all time," said Sierra Club Executive Director Michael Brune. "Public lands and waters tell the story of our nation—a story that should be of our shared democracy, not a celebration of corporate greed."
"These national monuments belong to all Americans, and it is up to all Americans to protect them," said Theresa Pierno, President and CEO for National Parks Conservation Association. "The same law used to protect Bears Ears and Katahdin Woods and Waters was used to protect national park sites like the Statue of Liberty, Grand Canyon and Muir Woods. Imagine what our country would be like without these incredible places, protected just as they should be. Any attempt to undo or alter these places isn't just undermining a century-old law, it's a betrayal of the people who fought so hard for them, and the land, history and culture we've all spent generations safeguarding."
"The American people have spoken with resounding clarity that our national monuments should remain intact," said Brian Sybert, Executive Director, Conservation Lands Foundation. "Each National Monument is a promise to future generations that we respect our natural and cultural heritage and will continue to preserve and protect these important areas."
"National public lands are an integral part of the fabric of western communities and driver of local economies. The Mountain Pact, alongside fourteen local and county governments from the Intermountain West, sent a letter to Interior Secretary Zinke today urging the continued protection of national monuments. An attack on national monuments is an attack on all American public lands and the communities and economies that rely on them," said Diana Madson, Executive Director, The Mountain Pact.
"I've traveled the world and represented the United States at three Olympic Games. Our protected natural spaces make me feel proud to be an American. I don't just use these special places for training; these lands provide an escape from my rigorous athletic routine and allow me serene places to recharge. It would be a terrible loss to roll back protections on any of our national monuments," said Margaux Isaksen, Olympians for Public Lands.
 "Veterans have always been ardent protectors of the lands we love. Our monuments and natural wonders define who we are as a nation. These places hold a special purpose for our veterans returning from war, who find solitude and quiet in the outdoors critically important to heal from the wounds of war as they transition back to civilian life. It would be a terrible mistake to end protections of these sites. They must be protected for future generations, civilians and veterans alike," said Will Fischer, Director of Government Relations, VoteVets.org. 
 "More than 20,000 people of faith from across the country and across the religious spectrum including evangelicals and members of the black church sent in comments requesting that President Trump safeguard our national monuments, not rescind, revoke, or decrease their protections. These national monuments help tell the stories of all Americans and should be preserved for current and future generations," said Cassandra Carmichael, Executive Director, National Religious Partnership for the Environment.
 "National monuments are a Republican idea stretching back to the presidency of Theodore Roosevelt. That ethic of safeguarding America's natural heritage is patriotic, conservative, and more popular than ever. If Secretary Zinke has been honest about his desire to build trust and listen to the public, then he should no doubt heed the overwhelming support expressed for those monuments under review by the more than two million Americans who submitted comments," said David Jenkins, president of Conservatives for Responsible Stewardship.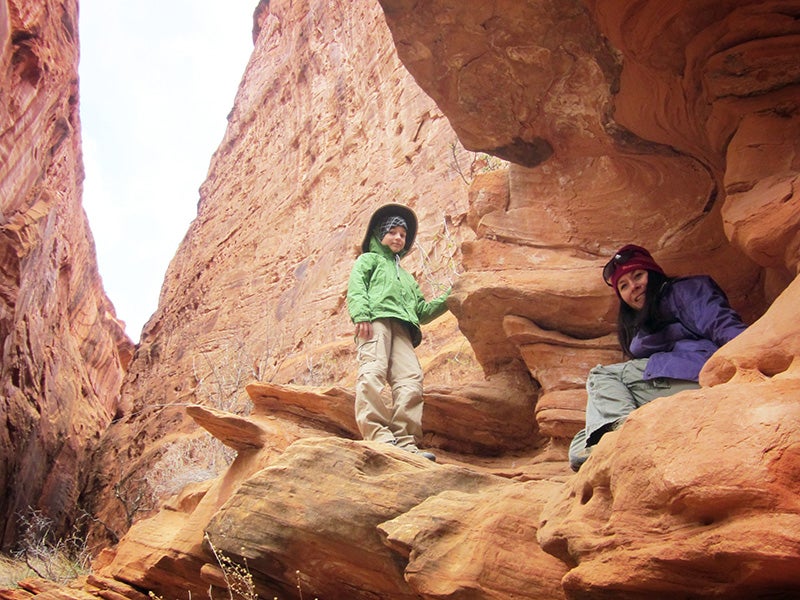 Earthjustice is the premier nonprofit environmental law organization. We wield the power of law and the strength of partnership to protect people's health, to preserve magnificent places and wildlife, to advance clean energy, and to combat climate change. We are here because the earth needs a good lawyer.