Trump Administration Bows to Polluters and Cuts First-Ever National Safeguards for Nation's No. 2 Toxic Pollution Threat
Coal ash waste linked to cancer, heart disease, stroke, brain damage
Lisa Evans, Earthjustice (781) 631-4119
Pete Harrison, Waterkeeper Alliance (828) 582-0422
Dalal Aboulhosn, Sierra Club (202) 675-6278
Michael Kelly, Clean Water Action (202) 393-5449
Andrew Rehn, Prairie Rivers Network (217) 344-2371 x 208
Tim Maloney, Hoosier Environmental Council (812) 369-8677
Tom Pelton, Environmental Integrity Project (443) 510-2574
Shelby Ward, Tennessee Clean Water Network, (865) 522-7007 ext. 102
Ruth Santiago, Comite Dialogo Ambiental, Inc. (781) 312-2223
Washington, D.C.
—
The U.S. Environmental Protection Agency decided today that it will "reconsider" the first-ever federal rule that provides health and environmental safeguards for communities near toxic coal ash waste dumps. 

Hundreds of contaminated sites and spills have been documented among the 1,400+ coal ash waste dumps across the country. See map.
In a letter to an industry trade group and to owners of coal-fired power plants that comes on the heels of their decision yesterday to delay the coal plant wastewater rule, the EPA indicated that it would grant two legal petitions that the industrial polluters filed to reconsider most of the EPA's environmental safeguards for coal ash, which is the toxic waste left over from coal-burning power plants.
For decades, coal ash was dumped into giant pits, where toxins can seep into water and soil and blow into the air. Coal ash waste is filled with some of some of the deadliest known toxins, including arsenic, lead, mercury and chromium. The toxics raise the risk for cancer, heart disease, and stroke, and can inflict lasting brain damage on children.
"This decision is a galling giveaway to industrial polluters, even by this Administration's standards of pandering to industry at the expense of the public," said Earthjustice attorney Lisa Evans. "The EPA is sending a crystal-clear message to families across the country: our job is to protect wealthy polluters, not you and your children. These toxic dumps should have been cleaned up decades ago. Americans will not stand idly by as the EPA puts their health and safety at risk—and neither will Earthjustice or our partners. We will fight for these critical safeguards."

Photo provided by Moapa Band of Paiutes
A massive cloud of toxic coal ash is seen blowing at the Moapa River Reservation. Learn more.
In October 2015, the first-ever EPA safeguards to protect communities near coal ash dumps went into effect after Earthjustice filed a lawsuit on behalf of public interest groups and a Native American tribe, the Moapa Band of Paiutes. The EPA received more than a half-million comments from people supporting the safeguards that the EPA nixed today.  
"By signaling the rollback of the nation's first-ever coal ash rule, EPA Administrator Scott Pruitt has continued his ruthless attack on common-sense environmental regulations," said Lisa Hallowell, Senior Attorney with the Environmental Integrity Project. "This rule is necessary to keep toxic pollutants out of the environment, yet the head of Trump's 'Environmental Protection Agency' is prioritizing polluters' profits over environmental protection."
Among the protections of the coal ash rule that the EPA now claims it is "appropriate" to revisit are: groundwater protection standards, cleanup standards, closure standards, regulation of waste piles, and deadlines to comply with those standards, as well as whether to subject "inactive" ash ponds—those that still have ash and water in them but don't continue to get coal ash added—to regulation at all. The industry petitions asked for broad weakening of health and environmental standards, which the EPA will now entertain. 
The EPA also signaled that the agency would ask the U.S. Court of Appeals (D.C. Circuit) to hold the litigation concerning the coal ash rule in abeyance while it reconsidered the rule. Oral argument in the case is scheduled for October 17, 2017. Lawsuits were brought against EPA in 2015 by both environmental groups and industry trade groups. 
"The Trump EPA is playing right into the hands of the wealthiest polluters in the country, ignoring the thousands of people who spoke out against eliminating vital environmental protections like the coal ash regulations," said Waterkeeper Alliance attorney Pete Harrison. "Most Americans simply don't buy into this administration's warped idea that we have to sacrifice clean water and public safety in order to achieve 'energy independence' and a strong economy."

Graphic by Earthjustice
Harm to human health from breathing and ingesting coal ash toxicants. See full infographic.
Among other things, EPA's 2015 coal ash rule required utilities to test the water near their coal ash dumps to make sure hazardous chemicals, like arsenic, lead, chromium, mercury and other toxins were not leaking into drinking water sources.
Coal ash contains concentrated levels of heavy metals, which are released to water when the ash is dumped into unlined pits. Requirements to monitor the water around dump sites—and to clean it up, if poisoned—are set to go into effect at all coal ash dumpsites next month. 
"EPA's willingness to consider massive roll backs of the safeguards that protect against coal ash spills and drinking water contamination threatens to hurt communities living near coal-fired power plants," said Dalal Aboulhosn, the Sierra Club's Deputy Legislative Director for Land and Water. "Science and safety must guide EPA's policy, not the bottom lines of polluters trying to avoid accountability."
EPA's action comes in response to petitions filed by the Utilities Solid Waste Activities Group, a trade organization that has long fought against the common-sense pollution protections for coal ash dumps, and by AES-PR, which operates a coal-fired power plant in Puerto Rico. Today, over 1,400 coal ash waste dumps are spread across the nation, and in at least 200 cases, the toxic waste is known to have contaminated water sources. About 70 percent of the toxic dumps are located in low-income areas. The impact on communities throughout the nation is immense.
"Without these regulations, the public has little to no information about huge waste dumps across Illinois," said Andrew Rehn, Water Resources Engineer for the Prairie Rivers Network. "There is no justification for keeping this information from the public. Reconsideration of the rule means jeopardizing the public's access to critical data that would provide clear insight into how these dumps are impacting Illinois's drinking water and community health."
Photo courtesy of United Mountain Defense
The single-largest toxic waste spill in U.S. history happened when a billion gallons of coal ash sludge burst through a dam at the Tennessee Valley Authority Kingston plant and covered 300 acres, destroying dozens of homes.
Federal protections are critical, because the dumps are ticking time bombs. In 2008, the single-largest toxic waste spill in U.S. history happened when a billion gallons of coal ash sludge burst through a dam at the Tennessee Valley Authority Kingston plant and covered 300 acres, destroying dozens of homes. In 2014, a portion of a coal ash dump in North Carolina collapsed, fouling 80 miles of the Dan River with toxic sludge. 
"It is disappointing to see this reversal from EPA," said Shelby Ward, Staff Attorney for the Tennessee Clean Water Network. "Tennessee communities have faced pollution from coal ash contaminates leaching into water for many years. Correcting these health and safety impacts is long overdue."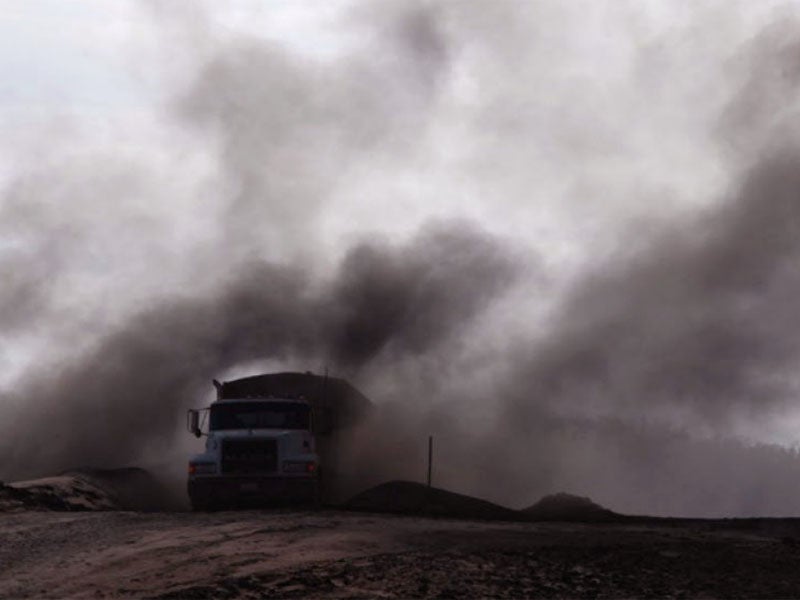 Earthjustice is the premier nonprofit environmental law organization. We wield the power of law and the strength of partnership to protect people's health, to preserve magnificent places and wildlife, to advance clean energy, and to combat climate change. We are here because the earth needs a good lawyer.