Groups Make Final Push in Court to Ban Pesticide Linked to Brain Damage
EPA must take immediate action to ban chlorpyrifos
Alejandro Dávila, Earthjustice, (202) 745-5229
David Cruz, League of United Latin American Citizens, (202) 833-6130
Elena Rios MD, National Hispanic Medical Association, (202) 628-5895
Erik Nicholson, United Farm Workers, (206) 255-5774
Jeannie Economos, Farmworker Association of Florida, (407) 886-5151
Maureen Swanson, Learning Disabilities Association of America, (724) 813-9684
Kate Kiely, Natural Resources Defense Council, (917) 553-5099
Ramon Ramirez, Pineros y Campesinos Unidos del Noroeste, (503) 989-0073
Ahna Kruzic, Pesticide Action Network, (510) 927-5379
Anne Katten, California Rural Legal Assistance Foundation, (916) 204-2876
Andrea Arenas, Labor Council for Latin American Advancement, (202) 508-6989
Ramon Ramirez, Pineros y Campesinos Unidos del Noroeste, (503) 989-0073
Virginia Ruiz, Farmworker Justice, (202) 800-2520
Seattle, WA
—
Final arguments challenging the Environmental Protection Agency's (EPA) refusal to ban a pesticide linked to brain damage in children will take place this morning in the 9th Circuit Court of Appeals. A coalition of labor and health organizations represented by Earthjustice, will ask a panel of three judges to overturn former EPA Administrator Scott Pruitt's decision not to ban chlorpyrifos, a dangerous nerve agent that can damage the developing brains of children, increasing the risk for reduced IQ, loss of working memory, and attention deficit disorders.
Arguments will be streamed live starting at around 10:30 am PT. An attorney from the New York Attorney General's office will also present arguments on behalf of seven states, which intervened in the case and are also calling for a ban on chlorpyrifos.
What You Need To Know About Chlorpyrifos
"We are asking the court to protect children and farmworkers by ordering EPA to ban chlorpyrifos," said Patti Goldman, Earthjustice attorney. "EPA has repeatedly found chlorpyrifos too toxic to be on our food and fields. By failing to ban chlorpyrifos in the face of these findings, EPA is flouting the law and putting children in harm's way."
While a decision is not expected Monday, this is the last hearing where the health and labor groups, as well as states, will present their arguments to the court of appeals and answer the judges' questions. After the argument, the judges will issue a written ruling, which could be within weeks or months.
In March of 2017, the EPA refused to ban chlorpyrifos wrongly claiming the science is "unresolved" and decided it would study the issue until 2022. That decision came weeks after Pruitt met with the head of Dow Chemical, which sells chlorpyrifos under the name of Lorsban. In refusing a ban, the EPA reversed its own proposal to ban all food crop uses of chlorpyrifos, which is used on apples, oranges, broccoli, and more. This pesticide has been banned from home use for about two decades as it is too toxic to children. Hawaii banned chlorpyrifos from agricultural use in June.
"It's long been clear that EPA was negligent in allowing chlorpyrifos to continue poisoning our children's brains and our farmworkers. Our agricultural fields should be a source of nutrition, not poison," said Sindy Benavides, chief executive officer at the League of United Latin American Citizens. "Today we fight in court to overcome corporations like Dow chemical and the imprudent actions of former EPA Administrator, Scott Pruitt. All children and workers deserve a safe place work environment where they will not be exposed to unnecessary risks."
"Years of verifiable research prove chlorpyrifos should never be on our fruits and vegetables. This nerve agent is acutely toxic to farmworkers, even in the smallest doses, and is linked to lower IQ and attention deficit disorder in children," said Dr. Elena Rios, president of the National Hispanic Medical Association. "We hope the court will soon see the overwhelming evidence and rule in our favor, as EPA under this administration is blinded by profit and can't be trusted with public health."
"Last year Scott Pruitt halted progress on getting chlorpyrifos off food crops, in large part to help the manufacturer, Dow Chemical, to keep profiting off this dangerous pesticide," said Ramon Ramirez, president of Pineros y Campesinos Unidos del Noroeste (PCUN). "The fight continues however, today in the courts. And we won't stop until a chlorpyrifos ban is in place, and families and farmworkers are protected from preventable illness."
"Pruitt's EPA failed farmworkers and children when it refused to ban chlorpyrifos despite all the science that called for the opposite," said Virginia Ruiz, director of occupational and environmental health at Farmworker Justice. "We hope judges will soon amend this grave mistake. Farmworkers, families and developing children must be safe from chlorpyrifos and most importantly, from preventable illness."
"Chlorpyrifos should already be banned from the food we feed our kids, just like it's banned from our homes," said Maureen Swanson, director of Healthy Children Project at the Learning Disabilities Association of America. "Unfortunately, EPA is ignoring the science and siding with the chemical industry. We are nonetheless hopeful that the courts will side with the facts. Children should not face a life of struggles with learning and behavior problems due to a pesticide."
"EPA's backtracking has put children and farmworker health at risk by purposely overlooking the harms of a terrible pesticide," said Anne Katten, Pesticide and Work Safety Project director at the CRLA Foundation. "We are hopeful the courts will soon correct this wrongdoing, and make a chlorpyrifos ban a reality. Our fields must be made safe for farmworkers, and our fruits and vegetables must be safe for our children."
"Chlorpyrifos exposure is an issue of public health and justice for farmworkers. In fact, children of farmworkers are the most exposed and vulnerable to this neurotoxic pesticide," said Jeannie Economos from the Farmworker Association of Florida. "We anticipate the court to uphold the decision to ban chlorpyrifos as was decided by the previous EPA administration. Farmworker children deserve the same protections as all other children."
"It's time to stop playing politics with children's health," said Mae Wu, senior attorney at the Natural Resources Defense Council (NRDC). "This toxic pesticide has no place on the fruits and vegetables we feed our families. We look forward to continuing to make this case in court, and will not stop fighting to keep our kids safe from polluters and their friends in power."
"Scott Pruitt is unconcerned with the multiple impacts chlorpyrifos has on farmworkers and their families, as well as the neurodevelopmental harm we know it causes on children," said Erik Nicholson, United Farm Workers of America national vice-president. "So now we turn to the courts to fight back against the usage of chlorpyrifos, and we won't stop until this pesticide is banned. Farmworkers and families should not be put in jeopardy."
"Latinos account for 75 percent of agricultural workers in the U.S., this means that the negative health impacts of pesticides disproportionately affect Latino families," said Hector Sanchez Barba, Labor Council for Latin American Advancement executive director. Our communities can no longer be exposed to these toxic chemicals. Kids and babies are being affected by continued exposure. Chlorpyrifos needs to be banned now for the sake of our community's future."
"It's absurd that we have to ask the court to force EPA to do its job," said Kristin Schafer, Pesticide Action Network executive director, one of the plaintiffs in the original 2007 case. "Scientists have known for years that chlorpyrifos puts the health of farmworkers and children in danger. Instead of acting on this evidence, EPA has chosen to ignore it — putting Dow Chemical's profits before public health."
Earthjustice is representing the League of United Latin American Citizens, National Hispanic Medical Association, Farmworker Justice, Learning Disabilities Association of America, California Rural Legal Assistance (CRLA) Foundation, Farmworker Association of Florida, Natural Resources Defense Council, United Farm Workers of America, Pineros y Campesinos Unidos del Noroeste, Pesticide Action Network, Labor Council For Latin American Advancement and GreenLatinos.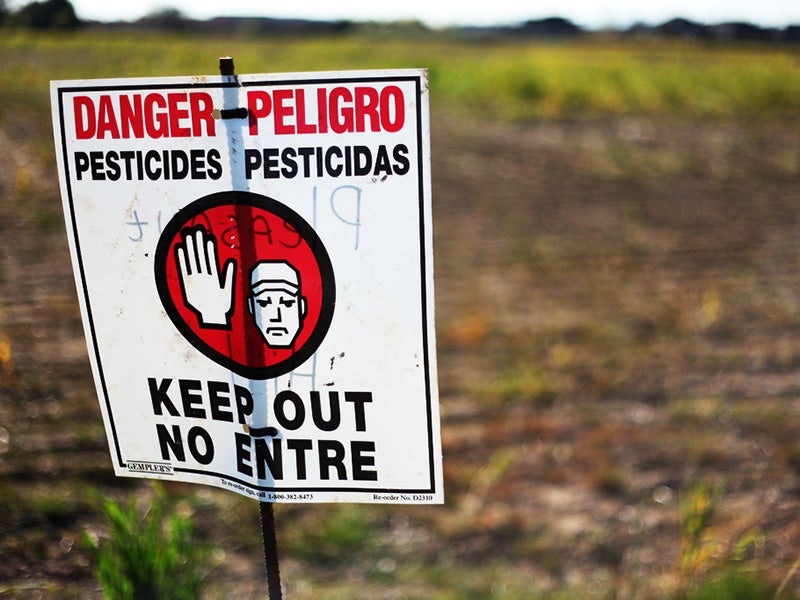 Earthjustice is the premier nonprofit environmental law organization. We wield the power of law and the strength of partnership to protect people's health, to preserve magnificent places and wildlife, to advance clean energy, and to combat climate change. We are here because the earth needs a good lawyer.