New Report: Most Power Plants Violating Federal Rules Mandating Cleanup of Toxic Coal Ash Dumps
Seven years after EPA Coal Ash Rule, 96% of coal plants are not planning any treatment of contaminated groundwater
Washington, D.C.
—
Seven years after the U.S. Environmental Protection Agency imposed the first federal rules requiring the cleanup of coal ash waste dumps, only about half of the power plants that are contaminating groundwater agree that cleanup is necessary, and 96 percent of these power plants are not proposing any groundwater treatment. Only one plant out of 292 is planning a comprehensive cleanup.
The failure of the vast majority of power companies to follow the 2015 Coal Ash Rule has serious consequences for water quality and public health. Monitoring data shows that 91 percent of U.S. coal-fired plants have ash landfills or waste ponds that are leaking arsenic, lead, mercury, selenium, and other metals into groundwater at dangerous levels, often threatening streams, rivers, and drinking water aquifers.
These are among the conclusions of a new report, "Poisonous Coverup: The Widespread Failure of the Power Industry to Clean Up Coal Ash Dumps," by the Environmental Integrity Project (EIP) and Earthjustice. The report found that some power companies are illegally manipulating data and monitoring systems to avoid cleanup requirements and proposing inadequate cleanup strategies that will not restore groundwater quality.
The report also ranks the top 10 worst contaminated coal ash sites in the U.S. — including in Texas, Nevada, North Carolina, Pennsylvania, and Maryland — and examines their cleanup status and compliance with the Coal Ash Rule (see list below). In addition, the authors compiled detailed information on groundwater contamination at 292 coal plants in 43 states (see pages 54-67 in the report).
"In every state where coal is burned, power companies are violating federal health protections," said Lisa Evans, Senior Attorney at Earthjustice. "Coal plant owners are ignoring the law and avoiding cleanup because they don't want to pay for it. Coal ash waste is causing widespread water contamination that threatens drinking water supplies and the environment."
Abel Russ, Senior Attorney at the Environmental Integrity Project and co-author of the report, said: "We know that the contamination of groundwater at these coal plants will get worse if nothing is done to control the source of pollution. We have an opportunity to clean these sites up before they create a much larger problem. If the industry would simply follow the rules, we could make significant progress."
Although coal consumption has declined across the U.S. over the last decade, the power industry continues to generate about 70 million tons of coal ash annually. After 100 years of burning coal, U.S. power plants have generated a total of about five billion tons of coal ash — enough toxic waste to reach the moon in train cars.
Although no comprehensive study has been performed on the subject, drinking water wells in at least 15 communities across the U.S. have been contaminated by metals from coal ash — including in Indiana, Maryland, North Carolina, Michigan and other states — and the true number may be much higher.
In 2015, in response to catastrophic coal ash spills at Duke Energy's Dan River Generating Station and nearly 160 cases of water contamination across the U.S., EPA established the first-ever regulations governing coal ash disposal, called the Coal Combustion Residuals Rule, also known as the Coal Ash Rule.
The primary goals of the 2015 Coal Ash Rule were to stop the continued disposal of coal ash in leaking ash ponds, to close ash ponds and landfills in a safe manner, to monitor groundwater for contamination, and to clean up contaminated sites and restore groundwater quality.
An examination of public records and data from coal plants across the U.S. by Earthjustice and EIP reveals that the first goal has been partly achieved, because most coal plants are no longer sending coal ash to unlined ash ponds. But the "Poisonous Coverup" report shows that the other goals of the Coal Ash Rule have been thwarted by the utility industry, which is illegally manipulating data and monitoring systems to make contaminated sites look clean and to avoid cleanup.
The main findings of the report include the following, with the data based on self-reported monitoring by the industry that was made public as a requirement of the 2015 Coal Ash Rule:
The coal ash dumps at 91 percent of coal-fired power plants in the U.S. (265 of 292) are contaminating the groundwater with toxic pollutants. But only 4 percent of the plants (11) have selected cleanup plans that includes treating some of the contaminated groundwater. Of these, only 1 plant is planning a comprehensive cleanup, with 10 plants proposing incomplete cleanup plans.
At nearly half of these plants (123 of the 265 contaminated plants), owners are not planning to take any cleanup action and most have denied responsibility for the contamination.
The remaining 142 plants with contaminated groundwater agree that cleanup is necessary and have submitted a plan detailing possible cleanup options, but only 38 of these have committed to a specific cleanup plan. This is despite the Coal Ash Rule's requirement to select a remedy "as soon as feasible." At most disposal units, plant owners have illegally delayed remedy selection for three or more years.
The Coal Ash Rule requires cleanup of both the source of pollution (coal ash) and the groundwater. Of the 38 plants that have committed to at least one cleanup action, 27 are not doing the second part: treating groundwater. They are instead relying on "monitored natural attenuation," which simply means watching and waiting for the pollution to disperse.
Because some power plants have multiple waste disposal sites, there are a total of 515 coal ash waste ponds evaluated in this report. Of these, there are 372 unlined ash ponds within five feet of groundwater, and many of these are sitting in groundwater. The majority (200) are being closed without removing the ash, despite being in or dangerously close to groundwater. Companies have closed 81 ponds by removing the ash and have scheduled the closure of another 91 by removal.
About 70 percent of the coal ash ponds in or dangerously close to groundwater are located in lower income neighborhoods and/or communities of color.
The "Poisonous Coverup" report analyzes the cleanup status of the 10 worst contamination sites in the U.S., and includes pollution data on all known coal ash waste sites across the U.S. for which information is available. Below is a summary of the worst sites:
Cleanup status of the top 10 worst coal ash contamination sites:
Texas: San Miguel Electric Cooperative's San Miguel Electric Plant, south of San Antonio. This plant has two coal ash ponds and an ash pile and some of the most contaminated groundwater in the country, including with cobalt at 488 X safe levels. The owners say they plan to close both ponds, but without removing the ash from one that may be sitting in groundwater. In addition, the site's groundwater monitoring network is flawed in ways that may undermine cleanup.
Nevada: NV Energy's retired Reid Gardner station, northeast of Las Vegas. Despite having lithium concentrations in the groundwater at 161 X safe levels and arsenic and 121 X safe levels, the owners have failed to admit responsibility or select a remedy and continue to violate the Coal Ash Rule in a number of ways.
Wyoming: PacifiCorp's Naughton Power Plant, near Kemmerer. The six ash waste ponds at this plant are leaking selenium into groundwater at 150 X safe levels, lead at 16 X safe levels, and arsenic at 10 X safe levels. The owners are pursuing an incomplete cleanup plan and have only selected a remedy for one of the six ponds.
Wyoming: PacifiCorp's Jim Bridger Power Plant, near Point of Rocks. This plant has two coal ash ponds and an ash landfill, and groundwater monitoring nearby shows lithium at 164 X safe levels and sulfate at 125 X safe levels. The owners are cleaning up only one of the ponds, leaving a pond and a landfill to continue leaking into the groundwater.
North Carolina: Duke Energy's Allen Steam Station is located west of Charlotte on the shore of the Catawba River. The plant has two ash ponds and a landfill and groundwater monitoring that shows cobalt at 466 X safe levels and lithium at 12 X safe levels. The owner is moving ash to a new landfill on the site but does not plan to treat the groundwater.
Pennsylvania: GenOn's New Castle Generating Plant, northwest of Pittsburgh. This plant closed in 2016, but still has a large, leaking ash disposal area. Groundwater monitoring shows arsenic at 372 X safe levels and lithium at 54 X safe levels. The owner is not planning to take any cleanup action, incorrectly claiming exemptions from the Coal Ash Rule.
Maryland: GenOn's Brandywine coal ash landfill, southeast of Washington, D.C., which holds waste from three power plants in the area. This dump is contaminating local streams and groundwater, with monitoring wells showing lithium at 222 X safe levels and cobalt at 47 X safe levels. The owners are doing nothing to clean up the site and appear to be avoiding cleanup requirements by falsely claiming that most of the landfill is exempt from the Coal Ash Rule.
Mississippi: Cooperative Energy's R.D. Morrow power plant in Purvis had two ash ponds and a landfill and stopped burning coal in 2018. The owners closed the ponds and removed their ash in 2021, and capped the landfill without removing the ash. But the company has not treated the contaminated groundwater, even though monitoring wells show molybdenum at 176 X safe levels and lithium at 167 X safe levels.
Utah: PacifiCorp's Hunter Power Plant near Castle Dale, southeast of Salt Lake City. This plant has an ash landfill and pond, and groundwater beneath then with lithium at 210 X safe levels and cobalt at 28 X safe levels. The owners installed groundwater collection wells to capture the leachate, but monitoring data suggest they are not working.
Tennessee: The Tennessee Valley Authority (TVA's) Allen Fossil Plant near Memphis. This now-closed power plant has contaminated groundwater, including with arsenic at 294 X safe levels and is threatening the drinking water aquifer that serves Memphis. The owners are removing the ash from two onsite ash ponds, but only treating the groundwater and conducting monitoring at one of the two ash ponds.
Quotes from local organizations about the report's conclusions:
Fred Tutman, Patuxent Riverkeeper, MD: "This report chronicles the bad faith of big coal in America that has created public and environmental health problems that will take generations to clean up in some cases. All in pursuit of ill-gotten profits while they seek to evade sustainability or accountability. It's an ugly story and people need to take heed."
Indra Frank, Environmental Health & Water Policy Director, Hoosier Environmental Council, IN: "Coal ash has already contaminated drinking water wells in four Indiana communities, threatened drinking water in a fifth, and has rendered groundwater unusable at ten other sites. The cleanups required by the rule have to happen to stop the damage to our state's natural resources."
Robyn Jackson, Interim Executive Director, Diné C.A.R.E. (Citizens Against Ruining Our Environment), AZ: "Communities across the Four Corners region, including Diné (Navajo) communities have long suffered from a legacy of harmful environmental and public health externalities from fossil fuel exploitation, including pollution from coal ash waste generated from the Four Corners Power Plant and its connected coal mine facility. Our Indigenous communities deserve a livable future without a contaminated landscape, for the continuation of our nation in our ancestral territory. Utility owners need to comply with the Coal Ash Rule and all regulating agencies, like EPA need to protect our communities and sacred landscapes."
Michele Irwin, SW Wyoming Organizer, Powder River Basin Resource Council: "This report highlights the failure of most companies to follow the Coal Ash Rule. This inaction leaves a legacy of waste that needs to be addressed. In SW Wyoming, we have two coal plants, with a total of nine ash ponds, most with groundwater leakage, and plans to cap in place. Instead, a cleanup plan that acknowledges the opportunity to take advantage of changing markets could generate revenue, provide jobs, and actually clean up the environmental hazards, especially the water."
Proposed solutions:
In addition to analyzing problems with coal ash cleanup, the "Poisonous Coverup" report also details solutions to help accelerate cleanup and protect public health. The proposed solutions include the following:
Industry must fully comply with the federal Coal Ash Rule. Plant owners must remove coal ash from groundwater, immediately install treatment systems that restore groundwater quality, install an adequate number of monitoring wells, and stop falsely attributing contamination to unnamed "alternate" sources.
Increased federal oversight. Greater EPA oversight could stop the widespread violations perpetuated by coal plants nationwide. At some of the worst sites, EPA may have to enter into enforceable consent decrees to ensure that cleanup is done correctly.
EPA should require enforceable cleanup schedules. Although the Coal Ash Rule requires the owners of sites in corrective action to select a cleanup plan "as soon as feasible," many owners are exploiting this language to delay selecting and implementing cleanup plans. This must end, with enforceable cleanup schedules.
Plant-wide cleanup requirements. Often contamination is caused by older coal ash disposal units that are exempt from the current Coal Ash Rule. EPA must close existing loopholes and establish cleanup requirements for all coal ash dumps including ponds and landfills that are no longer in use.
Testing of drinking water near ash dumps. There is currently no general requirement for coal plants to test drinking water wells in communities next to their plants. It is therefore essential that plants test all drinking water wells on their properties and within a half mile of their ash dumps to protect the health of fenceline communities.
Prohibition of dangerous coal ash reuse. Use of coal ash as a substitute for clean fill (e.g., soil) spreads toxic waste to residential neighborhoods, rural areas, and mining communities. EPA must prohibit the use of coal ash as fill unless full protective measures such as liners, monitoring, and caps are required everywhere it is placed.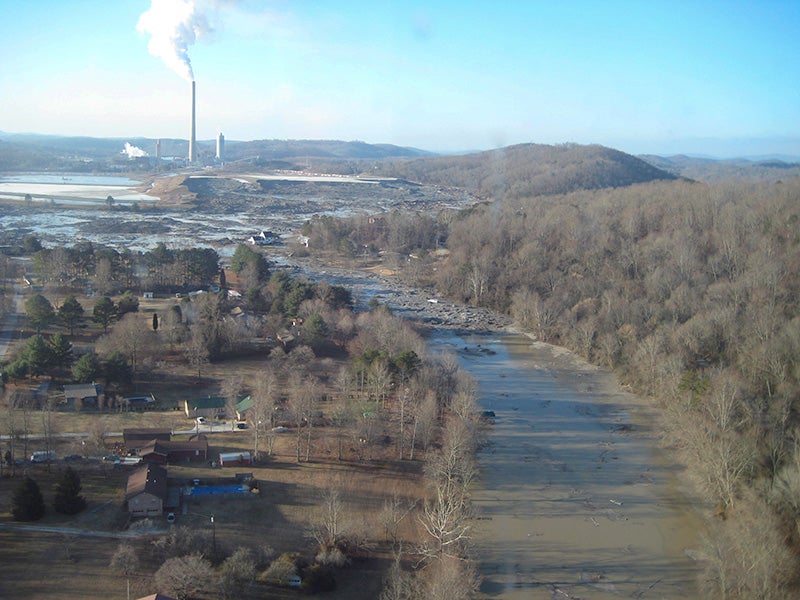 Earthjustice is the premier nonprofit environmental law organization. We wield the power of law and the strength of partnership to protect people's health, to preserve magnificent places and wildlife, to advance clean energy, and to combat climate change. We are here because the earth needs a good lawyer.